Important Facts for Prelims (16th February 2019)
Great Barrier Reef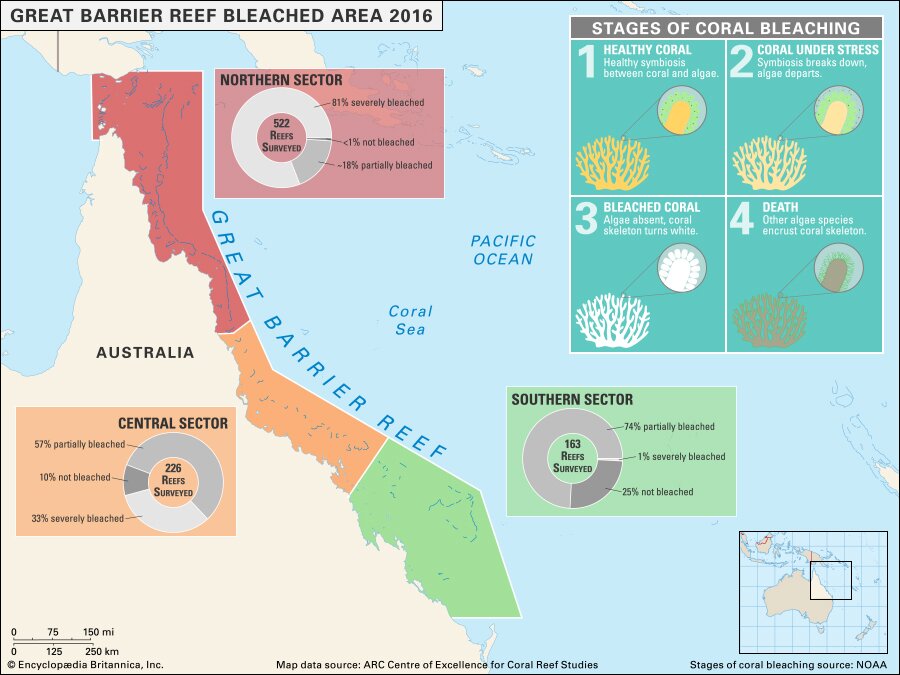 Recent runoff from floods in northern Australia is flowing onto parts of the Barrier Reef, starving coral of light and providing fodder for the predatory crown-of-thorns starfish.
The predatory crown-of-thorns starfish, which eat coral, have also proliferated on the reef due to pollution and agricultural runoff.
Further, these floods are causing algae to grow in some areas which provides a brilliant food source to allow the population of starfish to thrive.
Coral reef and seagrass need light to maintain their growth and health. The floods have spilled sediment onto the reef which has reduced water quality and much-needed sunlight.
It can be noted that the reef has already suffered from back-to-back coral bleaching in 2016 and 2017, where swathes have been killed by rising sea temperatures linked to climate change.
The Great Barrier Reef is the world's largest coral reef system composed of over 2,900 individual reefs and 900 islands stretching for over 2,300 kilometres over an area of approximately 344,400 square kilometres (133,000 sq mi).
The reef is located in the Coral Sea, off the coast of Queensland, Australia.
The Great Barrier Reef can be seen from outer space and is the world's biggest single structure made by living organisms. This reef structure is composed of and built by billions of tiny organisms, known as coral polyps.
It supports a wide diversity of life and was selected as a World Heritage Site in 1981.