Elections in Ukraine
Recently, Volodymyr Zelenskiy has been elected as the new president of Ukraine.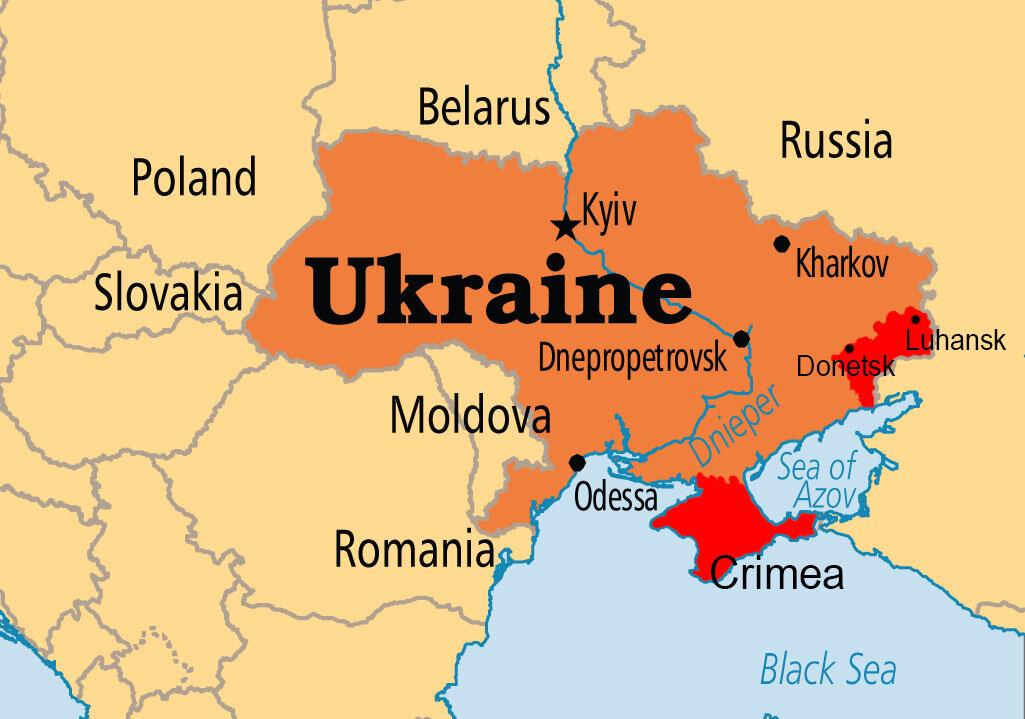 Volodymyr Zelenskiy belongs to the servant of the people party. He is also a political satirist with no political background.
Issues Ukraine is Facing
Confrontation with Russia

Ukraine is at loggerheads with Russia over the occupation of Crimean peninsula by Russia.
The annexation of Crimea from Ukraine followed a Russian military intervention in Crimea that took place in the aftermath of the 2014 Ukrainian revolution and was part of wider unrest across southern and eastern Ukraine.
Last year Russia also arrested 24 Ukrainian naval officers from Kerch Strait for alleged border violations.
Ukraine is also seeking North Atlantic Treaty Organization (NATO) and European Union membership, a move that would be offensive to Russia and that could obstruct attempts to resolve other tensions with Russia.
Euromaidan Movement
Euromaidan (European Square) was a wave of demonstrations and civil unrest in Ukraine, which began in November 2013 with public protests in Maidan Nezalezhnosti ("Independence Square") in Kyiv, Ukraine.
The separatist movement in East Ukraine

The Donbass region (the Donetsk and Luhansk regions) of eastern Ukraine is facing a pro-Russian separatist movement since 2014.
According to the Ukrainian government, the movement is actively supported by the Russian government and Russian paramilitaries make up to between 15% to 80% of the separatists fighting against Ukraine government.
Normandy Format
Normandy format is also known as the Normandy contact group, or the Normandy Four is a diplomatic group of senior representatives of the four countries (Germany, Russia, Ukraine, and France) to resolve the war in Eastern Ukraine.
Corruption

Corruption was one the key reason behind the ouster of a sitting president, Petro Poroshenko.
Transparency International's Corruption Perceptions Index shows Ukraine at 120 among 188 countries.
The newly elected president has vowed various severe measures against corruption.

Economic Crisis

Ukraine's economy is recovering from the severe decline in the economy it experienced after the 2014 unrest, yet the gross domestic product is still substantially below its level in 2013.
In December 2018 the International Monetary Fund (IMF) has given US$3.9 billion packages to Ukraine.
But further assistance is conditional on Ukraine making key reforms and tackling corruption.
India-Ukraine Relations
Immediately after the breakup of the Soviet Union, the Government of India recognized the Republic of Ukraine as a sovereign independent country in December 1991.
The Embassy of India in Kyiv was established in May 1992 and Ukraine opened its Mission in New Delhi in February 1993.
India and Ukraine enjoy warm and friendly relations and cooperate in areas like Culture, Arts, Education, Mutual Legal Assistance, Outer Space cooperation.
Defense Relations

India and Ukraine also have significant defense cooperation. Ukraine has been a source of military technology and equipment for India since its independence.
Indian companies are collaborating with Ukrainian companies in this area.
India is dependent on Ukraine's military-industrial complex which plays an instrumental role in the modernization and upkeep of its air force.

Diaspora

Ukraine also has a significant size of the Indian community excluding students, it is estimated to be about two thousand.
There are above 8,000 Indian students enrolled in various Ukrainian medical/technical universities.