Ease of Doing Business Rankings of the States: DPIIT
Why in News
Recently, the Department for Promotion of Industry and Internal Trade (DPIIT), Ministry of Commerce and Industry released the 4th edition of Ease of Doing Business Rankings based on the State Business Reform Action Plan (State BRAP).
Andhra Pradesh has topped the rankings followed by Uttar Pradesh, Telangana, Madhya Pradesh and Jharkhand. Tripura, Sikkim, Odisha were among the worst performers.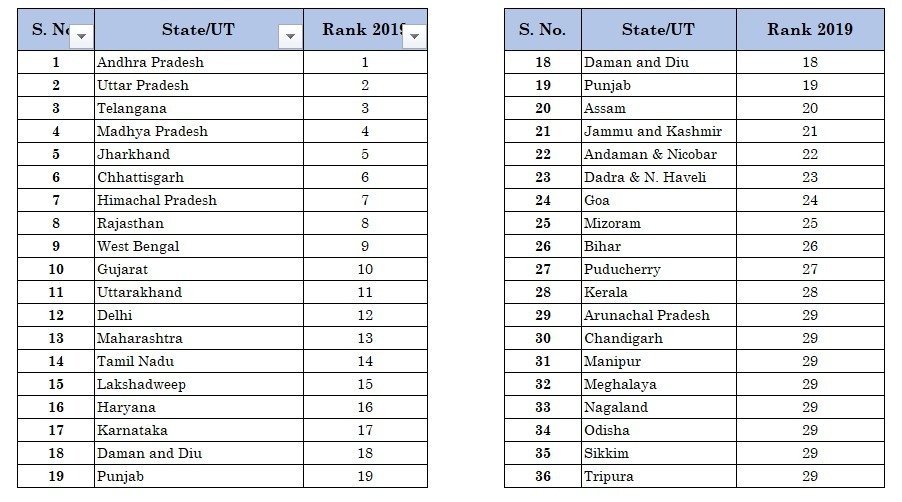 Key Points
Andhra Pradesh has achieved 100% compliance with BRAP.


It is the first State to take measures to revive the economy hit by the global pandemic and revive the small and medium scale industries with a ReSTART package.
The ReSTART package includes the payment of sanctioned incentives, working capital loans, preferential market access etc. to MSME units.

Ease of Doing Business (EODB) : It is a joint initiative by the Department for Promotion of Industry and Internal Trade (DPIIT) and the World Bank to improve the overall business environment in the States.


Ranking of all the States and Union Territories is done, based on the implementation of BRAP by them.

Business Reform Action Plan (BRAP):


It was launched in 2015.
BRAP 2019 contains a list of 80 reforms (187 reform action points) to be implemented by 19 State departments.
These reforms cover 12 business regulatory areas such as Access to Information, Single Window System, Labour, Environment, etc.
Objective : It was introduced to encourage a healthy competition between states.


This would help in attracting investments and increasing Ease of Doing Business in each State.

Background: India ranked 63rd out of 190 countries in Doing Business 2020: World Bank Report.


This was a jump of 79 places since 2014 due to a number of reforms by the central government since then including BRAP.
The Doing Business report, introduced in 2003, provides an assessment of objective measures of business regulations and their enforcement across 190 economies on ten parameters affecting a business through its life cycle.