Why Do People End Their Lives?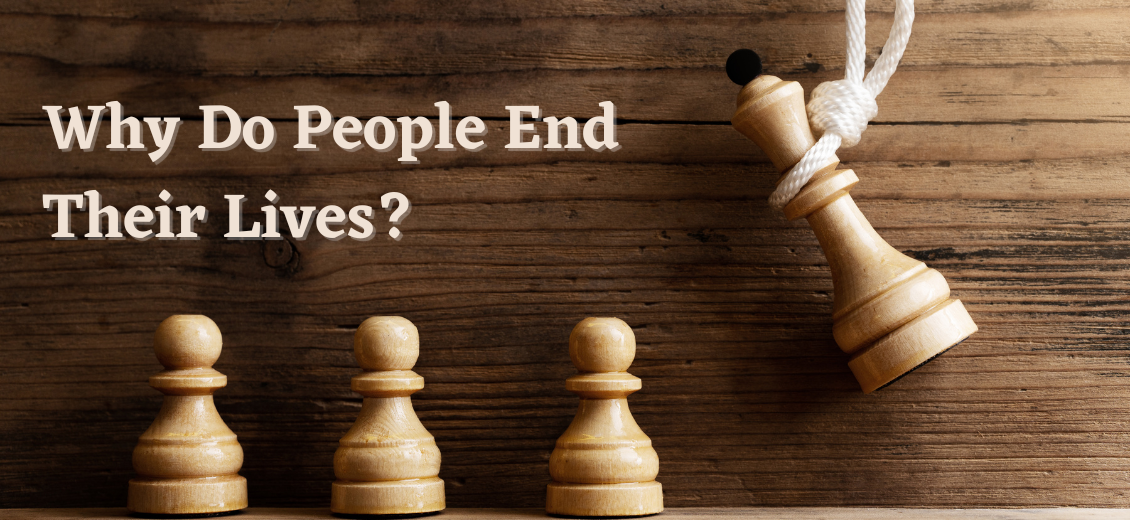 My best friend Amy* and I studied in the same school. She was in 10th, and I was in 11th grade. We would meet almost every day at school during free periods or recess, discussing stingy teachers or the latest crushes, giggling away our worries for good.
In February, just like any other spring day, we met during a free period of hers, and I decided that much wouldn't be missed during a business studies class. So we began roaming about the white and grey corridors of our school and stopped only at the girl's restroom on the third floor. I asked her how is everything at her home. To which she replied, " Everything is fine, same old, same old." There was no tinge of sadness this time when she spoke of her family. Time went by, chatting about this or that and soon the free period was over and with it, our time to part ways arrived too.
Three days later, during a free period, my classmates and I were waiting for the substitute teacher who'd sit for the class. Suddenly my English teacher, Mrs Sujitha Mathew**, made her way towards us. She was standing at the door with a woeful expression, something I had never seen before. "Do you know one of your juniors is no more? She took her own life", she informed us.
Adding further details, she said, " You might know her, the tall girl with curly hair, Amisha***." I dropped whatever I was doing and heard her as Mrs Mathew doled out the rest of the ghastly details.
*The name has been changed to maintain the privacy of the deceased. **The name has been changed to maintain privacy. ***The name has been changed to maintain the privacy of the deceased
"Last night, she was found hanging from the ceiling fan of her room. She sent out her younger brother to buy a packet of wafers, after which she did it to herself" I heard her with thick tears gushing out my eyes as words fell off her mouth. A million questions buzzed my mind. Why did she do this? She could have at least told me! We only met the other day, roaming in the corridors without a worry. Did I not understand some of the things she said? Why did she not tell me if something was bothering her? Wasn't I a good friend? And numerous other questions kept throwing daggers for some days… Now, after 11 years, having lived a little more life than Amy, I understand that people often go through some circumstances where they feel trapped, and there seems to be no possible alternative to that particular circumstance.
A similar incident occurred a few years later when the elder brother of a girl I used to teach jumped in front of a moving train. Similar questions ate away the hearts and minds of his family members. The distraught mother would cry away her nights, not knowing why her son took such an extreme step and blaming herself every single day for her negligence towards him.
Whenever a person takes their life, there are numerous reasons behind it, ranging from the incapability to share their feelings with anyone else to societal judgement. In a country like India, where countless societal stigmas exist, it wouldn't be alien if an individual felt burdened by them. Sometimes these stereotypes and stigmas make people's lives so miserable that the only alternative apart from bearing with them is to give up and take their own lives. Surprisingly, these societal stigmas aren't native to India but have affected individuals worldwide. According to WHO's data, more than 700,000 people take their own lives worldwide every year, and many more people attempt it. That's why suicide is now known as a global health issue. In India alone, more than 100,000 people end up committing suicide.
The question here is why so many people gravitate toward ending their own lives. And what are we doing to decrease these numbers? Let's try to find some answers to these questions.
What causes Suicidal tendencies?
Suicidal behaviour or tendencies in an individual can be triggered either by a single incident or a series of events accumulated over time. When the trauma inflicted by these events doesn't get a way to be let out, a person might begin considering ending their lives as a possible way out of their dismal situation.
Even though statistics show that adolescents and people of low or middle-income groups are more prone to taking their own lives, it can't be said that the triggering of suicidal thoughts is limited to unstable teenage years and economic factors. There are numerous other reasons which can lead a person to commit or think of committing suicide, some of which have been listed below:
mental health problems
bullying or discrimination, including racism and gender-based discrimination
different types of abuse, including domestic, sexual or physical abuse
bereavement, including losing a loved one to suicide
the end of a relationship
long-term physical pain or illness
adjusting to a significant change, such as retirement or redundancy
money problems
housing problems, including homelessness
isolation or loneliness
being in prison
feeling inadequate or a failure
addiction or substance abuse
pregnancy, childbirth or postnatal depression
doubts about your sexual or gender identity
cultural pressure, such as forced marriage
other forms of trauma
Even after identifying these reasons, nobody can point out a fixated reason behind the person's agony who has taken their own life or is thinking about it.
Who are at risk?
According to some of the research conducted over the years, it has been observed that people in high-income countries usually commit suicide due to mental disorders.
There is no relation between suicides and a person's socio-economic status, age or gender, but if WHOs data is to be believed, individuals between 15-19 years of age are more prone to suicide than individuals of other age groups.
Additionally, people who have witnessed any conflict, disaster, violence, abuse, or loss and a sense of isolation are strongly associated with suicidal behaviour. There is also a study which shockingly claims that men and people of the LGBTQAI+ community are more susceptible to suicide due to numerous societal pressures, stigmas and discrimination against them.
How is India faring in this matter?
In India, 1,53,052 suicides were reported in 2020, showing an increase of 10.0% compared to 2019, with the majority of suicides being reported in Maharashtra (19,909). During the Covid pandemic, it was observed that 'Family Problems' and 'Illness' were the major causes of suicides, accounting for 33.6% and 18.0% of total suicides, respectively, in 2020.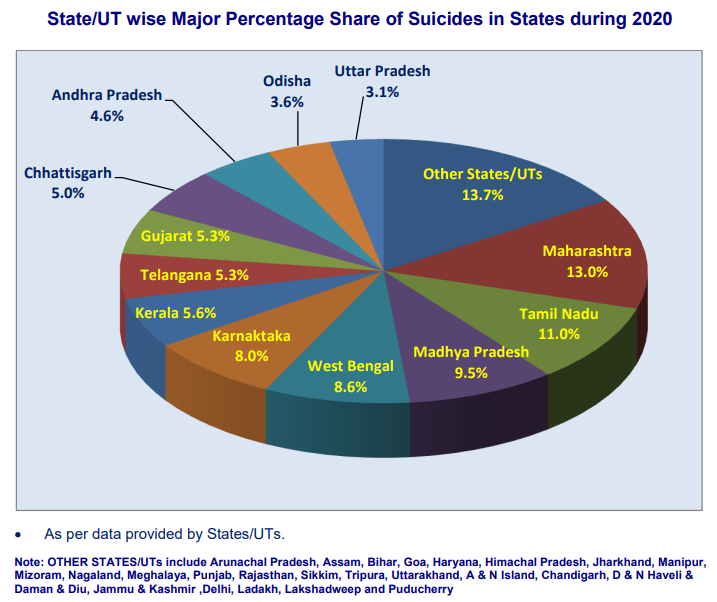 The male : female ratio of suicide in the country in 2020 stood at 70.9 : 29.1, following the world trend of men being more prone to suicide and suicidal thoughts. The female victims usually had 'Marriage Related Issues' (specifically in 'Dowry Related Issues') and 'Impotency/Infertility.' People falling in the age group of 18-30 years of age and those between 30 to 45 years of age have been found to be the most vulnerable groups.
How to prevent it?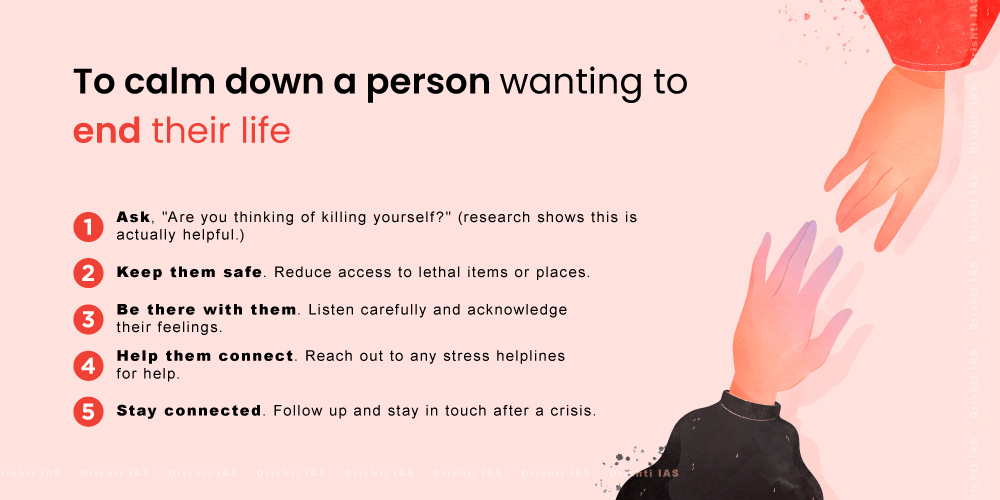 Often, when we come across a stressed person, we think it is better to leave them be. Usually, the fear of being intrusive prevents us from asking them this one simple question- Is something bothering you? We fail to understand the power this question holds, the ability to deliver a person's life from harm's way.
If you come across a person who has expressed their wish to end their life or think that the person has at least thought of ways to commit suicide, ask the person what is bothering them. Make them feel that they are not alone and have people there to hear them. Further, motivate them to seek professional help from a mental health practitioner.
According to America's Centre for Disease Control and Prevention (CDC), certain things can be done whenever we encounter a suicide-prone person. Read them on.
Ask, "Are you thinking of killing yourself?" (research shows this is actually helpful.)
Keep them safe. Reduce access to lethal items or places.
Be there with them. Listen carefully and acknowledge their feelings.
Help them connect. Reach out to any stress helplines for help.
Stay connected. Follow up and stay in touch after a crisis.
The role of family and friends becomes very crucial here. They can ease the situation by being there for the person having such thoughts or attempting to take their own life. The most important thing here is to understand that such a person should not be left alone at any cost. If your support as a family or a friend is insufficient for the aggrieved, don't hesitate to ask for professional help.
Conclusion
Every suicide has a long-lasting impact on families, friends, communities, countries and the world. Losing a person you love or have known closely or remotely leaves a thousand questions for us to ponder, the most important one being- Where did we go wrong? Being friends, family, and a whole community, why could we not see the signs of what was about to come?
So, as a society, we should be more prompt and empathetic towards people around us. You never know what a person is going through.
So on this World Suicide Prevention Day (September 10, 2022), let's resolve to be more kind and compassionate towards people and to check up on our friends and family regularly. All I know is that many a time, one single conversation can save a person from ending their life.
Sanchayita Pattanayak
Suicide Helpline numbers that you can use in time of need:
Delhi:
Sanjeevani:
011 24311918, 011 24318883 (Monday to Friday)
26862222, 26864488, 40769002 (Monday to Saturday)
Timings: 10 am to 4 pm
Mumbai:
I-call
9152987821
Timings: 10 AM to 8 PM (Monday to Saturday)
Vandravela Foundation
1860 266 2345, 1800 233 3330
Timings: 24×7
Secunderabad, Telangana:
Roshni Trust:
+91 40 6620 2000, +91 40 6620 2001
Timings: 11 am to 9 pm (Monday to Saturday)