Savitribai: A Knight Born To Win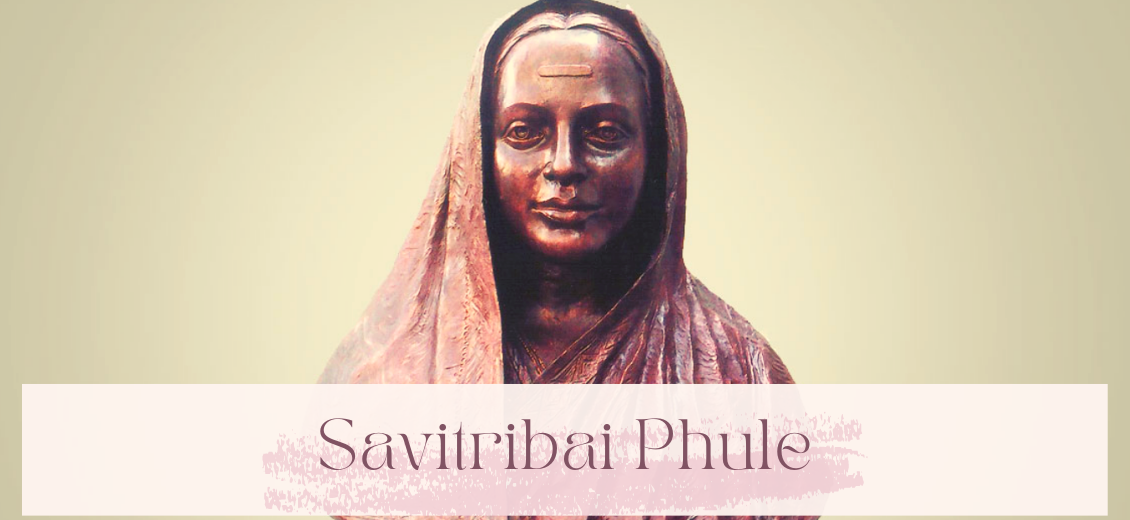 "Savitribai Phule carried an extra saree because trolls of that time would pelt her with dung & stones for
breaking caste & gender barriers to get herself educated & to educate the marginalised.
Her resistance paved the way for the education we take for granted today,"
Right to women's education has been a widely debated subject for many years. Even though many countries have specific women's rights in education, a few are still struggling. One of the few countries that is still striving to have the right to women's education fully implemented is unquestionably India. In several states of India, millions of women are still not permitted to have a proper education, especially for Dalits. Many women fought for women's rights to education over time and among them Savitribhai Phule was the first revolutionary icon in India who fought for women's education.
Savitribai Phule was born on 3 January 1831 at Naigaon in Maharashtra's Satara district as the eldest daughter of Lakshmi and Khandoji Neveshe Patil. She belonged to the Mali community, which was a backward caste. Savitribhai was a social reformer, educationalist, and poet who lived in the 19th century. Her husband, Jyotirao Phule, was also a social reformer, thinker, and social activist. Along with her husband, she dedicated her life and executed her thoughts and feelings through writings and poems to abolish the discrimination that prevailed at the time. She believed that education was the only medium to remove poverty and improve gender equality. Therefore she encouraged women to use education to break the shell of male and caste prejudices.
As a girl who was born in a backward caste, she had a miserable life. Savitribhai was not educated at the time of her marriage, as she was an untouchable and a woman. Luckily, Jyotirao Phule, her husband, was a man who believed in the value of education. At that time in India, public education was available only to a few. Ultimately, he was forced to leave school because of his caste. Brahmins were the only caste group that could receive an education. But some Scottish missionary schools were open to all and he enrolled his name in such a school and studied till class VII with the encouragement of his fellow Persian scholar Ghaffar Baig Munshi and a British official, Lizit Sahab.
Jyotirao was a man of great will. He believed education can change the ideology of the caste system. So he started his first battle by teaching his wife how to read and write. After receiving training under him, at the age of 21, and Savitri, 17, together they initiated a school for women in 1848, the country's first school for women, started by Indians. She also took a teacher's training course at an institute run by an American missionary in Ahmednagar and in Pune's Normal School.
Later, along with her husband and his mentor Sagunabai, Savitri Bhai started to run eighteen schools in Pune. Sagunabai was a revolutionary feminist. These schools focused on women's education. She also made an effective change in the curriculum. It included mathematics, science, and social studies rather than Brahmanical texts like Vedas and Shastras. Later, it was revealed that Sagunabai was Jyotirao Phule's mentor.
Even though Savitri Bhai had faced oppression, she did not submit to her defeat. She was running three schools in Pune with around 150 girl students by the end of 1851. At one time, the number of girls enrolled in Phule's schools outnumbered that of boys in government schools.
In 1849, the couple had to move out of Jyotirao's father's house since the work was considered a sin according to Brahminical texts. They stayed at a friend's place, where they met Fatima Sheikh. Fatima Sheikh knew how to read and write already. Her brother Usman was a friend of Jyotiba. Usman encouraged Fatima to take a teacher training course. She is known as the first Muslim woman teacher in India.
Savitribai was also a passionate author and poet. She published Kavya Phule in 1854 and Bavan Kashi Subodh Ratnakar in 1892. She influenced many women to speak up for equal rights from her works. In 1852 Savitribai called for women's gatherings to talk about the issues that they were facing. Every caste was welcome to join the meeting. She also campaigned against child marriage while supporting widow remarriage.
Savitribai Phule passed away on 10 March 1897. She surrendered to death at the age of 66 while suffering from bubonic plague. Today, she is considered the first woman teacher and the mother of Indian feminism. Even though she is not here today, her works still live on. Her achievements and bravery still shower affection on people.
Rise, to learn and act!
"Weak and oppressed! Rise my brother
Come out of living in slavery.
Manu-follower Peshwas is dead and gone
Manu's the one who barred us from education.
Givers of knowledge– the English have come
Learn, you've had no chance in a millennium.
We'll teach our children and ourselves to learn
Receive knowledge, become wise to discern.
An upsurge of jealousy in my soul
Crying out for knowledge to be whole.
This festering wound, the mark of caste
I'll blot out from my life at last.
In Baliraja's kingdom, let's beware
Our glorious mast, unfurl and flare.
Let all say, "Misery go and kingdom come!"
Awake, arise, and educate
Smash traditions-liberate!
We'll come together and learn
Policy-righteousness-religion.
Slumber not but blow the trumpet
O Brahman, dare not you upset.
Give a war cry, rise fast
Rise, to learn and act."
Betzy Brize