Indian Army: An Inspiration to the World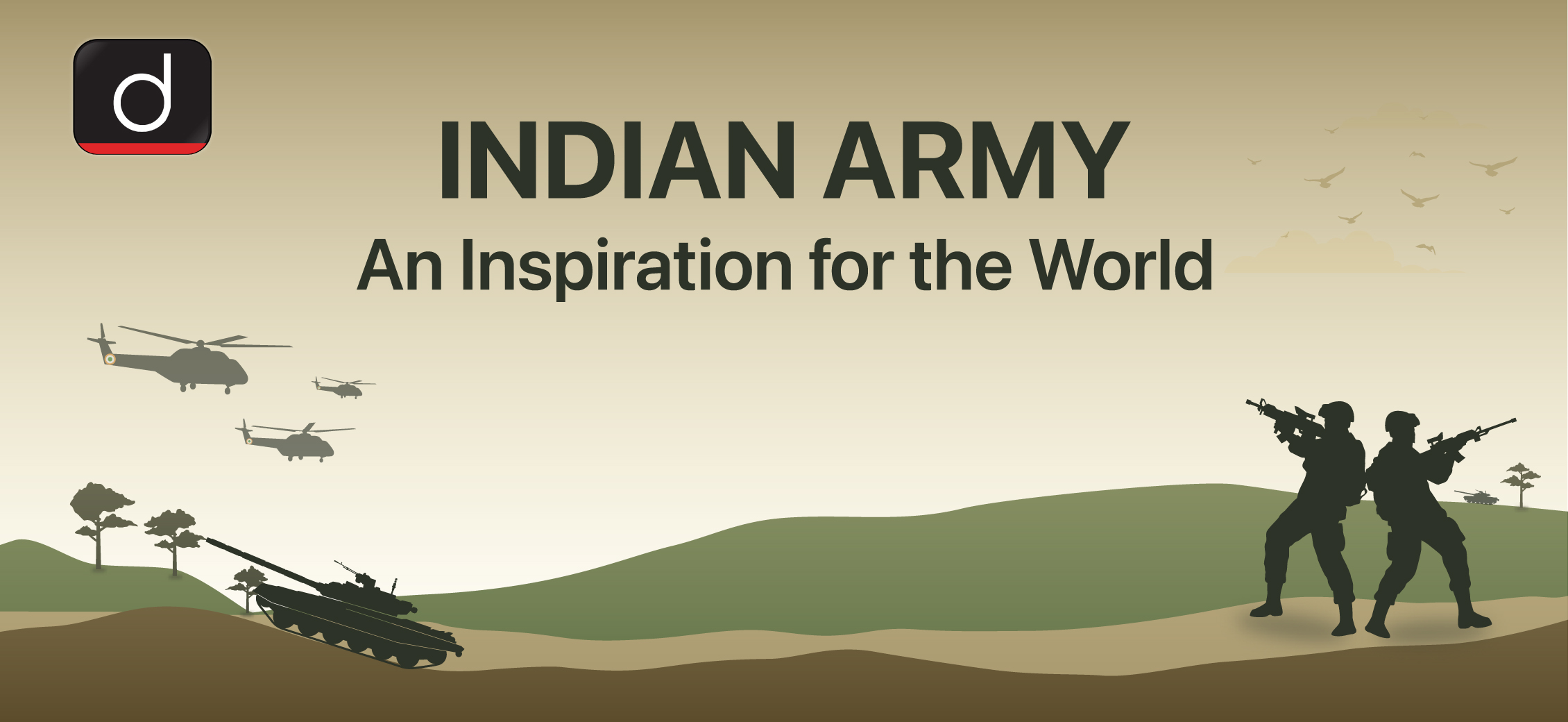 Winter has slowed us all down. Many plants and animals have gone into a dormant state to conserve their energy and survive the difficult period. It is a challenge to come out of comforters and start the day in the cold mornings. Homeless people have become susceptible to sickness and even death because of extreme cold weather. Despite all these harsh conditions, Indian soldiers posted on LoC are guarding country's border, protecting country's sovereignty, and are abiding by Indian army's motto 'Service before self'. Our soldiers' willpower, disciplined lifestyle and unparallel patriotism is commendable.
Indian army came into existence way before India's independence. It originated from armies of East India Company which later became the British Indian Army, and the Princely States Armies also known as Imperial Service Troops. After independence all these armies were merged into the National Army of India. Every year on 15th January India celebrates Indian Army Day. This day marks the transfer of military power from British to India when Indian Army got its first Indian Commander in Chief, Field Marshal K.M.Cariappa who replaced the last British Commander in Chief of India, General Francis Bucher in 1949. Our soldiers who sacrifice their lives for the country are honored on this day.
Though, we must have heard it many a times that Indian army is among world's largest armies but you might not know that the Indian Army is an all-volunteer force in the world (the largest all-volunteer force) comprises more than 81,000 active troops and a support element of close to 1,160,000 troops. Indian army has a regimental system where an enlisted troupe normally spends their entire career in the regiment. Some regiments are formed on the basis of religious, ethnic or regional identities (e.g. Gorkha Regiment, Sikh Regiment, Assam Regiment etc.), but there are also regiments that not limited to ethnic, religious or regional identities (e.g. the parachute regiment and the Brigade of Guards). Depending on geography and operation, they are divided into seven commands - Army Training Command, Central Command, Eastern Command, Northern Command, Southern Command, South Western Command, and Western Command.
In last 75 years, Indian Army has fought five battles, out of which four were with Pakistan, and one was with China. In four wars India gave a crushing defeat to Pakistan. Apart from fighting these wars Indian army has done countless operations for the safety of our motherland. As vigilantly as the Indian Army protects the country by standing on the border, equally and bravely they fight with their lives on the internal borders of the country. Highly competent Indian Army has also got chances of getting involved in many peacekeeping missions organized by the United States of America. Some of these peacekeeping missions were conducted in Lebanon, Angola, Cambodia, Vietnam, and many other countries.
Some notable operations conducted by Indian Army are as follows:
Operation Vijay- It was launched by the Indian Army in 1961 to free Goa from the control of the Portuguese.
Operation Blue Star- Who can forget about Indian Army's continuous efforts to save Golden temple and people inside it in 1984 from the claws of Sikh separatists.
Operation Black Thunder- Operation Black Thunder was launched by DGP Gill to remove the militants from the Golden Temple in Amritsar.
Operation Poomalai- Operation Poomalai was launched in 1987 by the Indian Air Force to help the Indian Army Defense Force who had gone to establish peace in Jaffna, Sri Lanka.
Operation Virat- A counter-insurgency operation launched in April 1988 against the LTTE in northern Sri Lanka.
Operation Trishul- A counter-insurgency operation launched against the LTTE in northern Sri Lanka in April 1988 by the Indian Peace Keeping Force along with Operation Viraat.
Operation Checkmate- A counter-insurgency operation launched by the Indian Peace Keeping Force against the LTTE in northern Sri Lanka in June 1988.
Operation Cactus- Operation Cactus was launched by the Indian Armed Forces in 1988 to remove the mercenaries who had carried out a coup in Malé, Maldives.
Operation Bajrang- In 1990, a military campaign was launched against ULFA in Assam.
Operation Rhino- In 1992, a military operation was launched to find out the bases of ULFA in Assam.
Operation Vijay(2)- A military operation by the Indian Army to push back the intruders from the Kargil sector in the 1999 Kargil War.
Operation Parakram- In response to the attack on the Indian Parliament in 2001, India deployed its troops along the India-Pakistan border.
Operation Vajra Sakti- In 2002, a campaign was launched to get the Akshardham temple of Gandhinagar, Gujarat evacuated from the terrorists.
Operation goodwill- In the year 2005, a campaign was launched for humanitarian work in Jammu and Kashmir.
Operation Dhangu Suraksha- Military exercise conducted in January 2016 against the attack on the airbase in Pathankot, Punjab.
Operation Samudra Setu- This Operation Samudra Setu was launched on 5 May 2020 as a national effort to bring back Indian citizens from abroad during Covid-19.
Indian Army is counted among the best armies of the world for the battles fought on earth and these few operations are enough to prove this. Both men and women soldiers are given equal importance and opportunity in the Indian Army. In the last six years, the participation of women in the Indian Army has increased. According to the statistics of the government, currently 9118 women are employed in the Indian Army. They are being given permanent commission in many departments of the army. In 2020, the Supreme Court of India ruled that all women army officers will be eligible for permanent commissions, allowing them to be in commanding roles. Women in Indian army have proved their steel time and again.
According to a recent study released by Defence website Military Direct, after China, superpower USA and Russia, India has the 4th strongest military power in the world. The Indian Army is well-equipped with powerful equipment and weapons. The Indian Army has 296 aircraft of its own. There are 4730 tanks and more than 10 thousand armored vehicles. The Army also has 100 self-propelled cannons and 4040 towed cannons. Apart from this, there are 374 rocket launchers. The Indian Army itself has all the battle tanks, nuclear missiles, Intercontinental ballistic missiles (ICBMs), cruise missiles, tactical ballistic missiles, helicopters of the Army Aviation Corps and many other branches, which handle different matters in difficult circumstances.
Our soldiers' job is the most selfless and demanding job as they must leave their family, friends, home, and everything else behind to stay strong on the ground for protecting the nation and citizens. They protect everyone irrespective of their cast, creed, culture & religion as everyone is equal for them. They courageously choose a profession that demands everything from them, make sure their nation and people are safer and relentlessly train to fulfil this demand every single day. Our soldiers are our saviours and true heroes. Indian Army is indeed an epitome of inspiration.
Sources:
https://www.vedantu.com/english/indian-army-essay
https://economictimes.indiatimes.com/news/defence/india-has-worlds-fourth-strongest-military-military-directs-
https://www.jagranjosh.com/general-knowledge/india-vs-china-comparative-analysis-of-navy-army-and-air-force-in-hindi-1515576008-2
https://www.spslandforces.com/story/?id=569&h=Indian-Army-andldquo;Nation-Above-Allandrdquo;
https://www.aajtak.in/india/news/photo/top-ten-armies-of-the-world-all-you-need-to-know-tstrd-1464718-2022-05-16-6
Priyanka Todariya
Priyanka Todariya is a Public Administration post-graduate and a communications professional who has extensively worked for several government entities and state governments like Uttar Pradesh and Gujarat.