How to Succeed in the Midst of Struggles?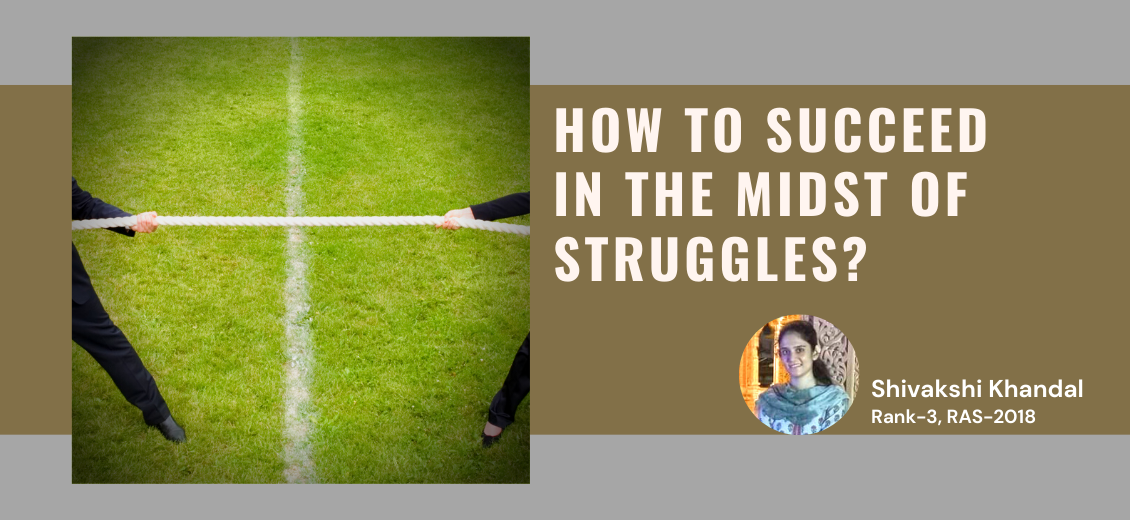 "Strength and growth come only through continuous effort and struggle" — Napoleon Hill.
Every individual at any stage of life faces some difficult times but winner is the one who knows the art of dealing with them. I am Shivakshi Khandal, Rank-3 in RAS-2018. I have felt the urge to share my preparation experiences in order to motivate future aspirants.
Focus, consistency and perseverance are three key things. I have believed in quality & not the quantity. By saying that, I meant read with concentration. Whatever you read, read with wholeheartedness and not just you "have to" read. Try to take interest in the topic, your burden will go off. Civil service demands a person with cool mind.
Let's talk something about my life. I have lost my father two months before my personality test. Even during preliminary and mains exam he was severely ill. I believe I have given tribute to my late father. Life is uncertain. Shocks are common, but once you become focused and dedicated you become a "shock absorber". When we have responsibilities on our shoulders, we are compelled to make full use of limited time available for us.
When we have ample amount of time, we have a tendency to waste. All three stages of this exam demands time management. A simple question, who becomes a topper? A very obvious answer, the one who knows how to manage or utilize time. I have stayed away from social media. This has helped me a lot in stabilizing my concentration. Though I have used YouTube, that too for a purpose.
Another aspect of this exam is our expectations. I think one should not expect too much. Unexpected things happen. We don't have control over happenings. In Bhagwat Geeta, it is said,

. We should focus on what we are doing, our actions and not on results because "karma" is in our hands not the fruits. I believed in myself, worked hard regularly throughout the journey, tried to avoid distractions. Understand that procrastination is your biggest enemy. We have a general tendency to leave things for tomorrow. If we carry on this practice, one day we will be overburdened.
I have seen people quitting in the midst of journey. Don't be afraid of failures. Remember, "You may encounter many defeats but you must not be defeated" — Maya Angelou
Diverting your attention towards mains answer writing, I would like to quote "it takes six months to build a Rolls Royce while 13 hours to build a Toyota". Things take time. Practice is the only key to near-perfect answer writing. I am saying "near-perfect" because I believe "perfect" is a vague term. Nobody is perfect, everyone just tries to progress towards perfection. Learn new things and retain in the exam. Don't become a "specialist" when you are appearing for a "generalist" exam. Pictorial representation has a power to attract, try to make your answers readable. The language of the answers should be easy. After all, your work domain will be with public. Try to avoid "one answer fits all" approach. Get your answers checked by your peers. Just promise to yourself "everyday, in every way I will become better and better." and yes, it really worked for me.
I believe an aspirant should pursue a hobby during preparation or should get indulged in any recreational activity to stay motivated. This will actually help an aspirant later in the interview process. Spare time could be spent with the family. Keep positive people around and ignore the negative ones. I would like to mention 'work in silence, let your success beat the drums'. Do not share your plans with someone who is not very interested in you or they might demotivate you later. This was the simplest thing I have followed. Credit for everything goes to my parents. They have supported me even after getting an unexpectedly low score in GATE-2017. Sometimes, we create an illusion around us that we are chosen for struggling and not winning but we should know that the more we struggle the more we become strong. Strength brings much needed confidence and confidence brings success.
Some of my own lines:
"Failures occur often
but success can be tasted once.
Once tasted,
hard work is never wasted."
Keep studying! Have faith in yourself!
Thank you
Shivakshi Khandal, Rank-3 in RAS-2018