Information Sharing and Transparency in Government
What is Information?
Information is data that has been organized or classified and has some significant value for the recipient. Information is the processed data on which conclusions and responses are based.
Information plays a key role in decision making. The significance of the decision making depends on the accuracy, completeness and timing of the information.
Data is a new oil and information is emulated by data processing.
What is Information Sharing?
Information sharing is the voluntary act of making information available to others controlled by one entity.
The interchange of data across multiple companies, individuals, and technology is referred to as information sharing.
Wide distributed networks, intranets, cross-platform compatibility, application porting, and IP protocol standardization have all enabled a tremendous growth in global information interchange.
How to Maintain Transparency in Information Sharing as per ethics is concern?
Transparency entails revealing information and operating in an open and honest manner.
The availability of information is a critical component in achieving transparency.
Transparency and effectiveness of information sharing is dependent on the relevance, transparency, accuracy and timing of the information.
Transparency in information sharing assures the accountability and responsibility of the government.
Innovation in information technology is the basic requirement for maintaining transparency.
Right to Information Act
The Right to information (RTI) gained power when the Universal Declaration of Human Rights was adopted in 1948 providing everyone the right to seek, receive, information and ideas through any media and regardless of frontiers.
Objectives of the Act:

To empower the citizens
To promote transparency and accountability
To contain corruption
To enhance people's participation in the democratic process.

Reasons for Adoption of Information Act:

The factors responsible for adoption of information act are as follows:

Corruption and scandals
International pressure and activism
Modernization and the information society

Significance:

The RTI Act, 2005 did not create a new bureaucracy for implementing the law. Instead, it tasked and mandated officials in every office to change their attitude and duty from one of secrecy to one of sharing and openness.

It carefully and deliberately empowered the Information Commission to be the highest authority in the country with the mandate to order any office in the country to provide information as per the provisions of the Act. And it empowered the Commission to fine any official who did not follow the mandate.

The right to information has been seen as the key to strengthening participatory democracy and ushering in people centered governance.
Access to information can empower the poor and the weaker sections of society to demand and get information about public policies and actions, thereby leading to their welfare.
Improves decision making by public authority by removing unnecessary secrecy.
E-Procurement
Central Public Procurement Portal:

National Informatics Center (NIC), Ministry of Electronics & Information Technology, in close association with the Procurement Policy Division, Ministry of Finance, has developed, hosted and implemented the Central Public Procurement Portal customized to cater to the electronic procurement/ tendering requirements of the Central Government Departments and other organizations.
The primary objective of the portal is to provide a single point access to the information on procurements made across various Ministries and the line Departments.

Online Procurement is done through the Government e Market Place (GeM)

GeM is a one-stop National Public Procurement Portal to facilitate online procurement of common use Goods & Services required by various Central and State Government Departments/Organizations/Public Sector Undertakings (PSUs).
It also provides the tools of e-bidding and reverse e-auction to facilitate the government users achieve the best value for their money.

Vision:

To bring an evolution in public procurement, promoting a transparent, efficient and inclusive marketplace.

Mission:

Institute a unified procurement policy to encourage behavorial change and drive reform.
Establish a lean, dynamic organization capable of continuous innovation and market driven decision making.
Build an easy to use, fully automated platform to ensure transparency and efficiency in procurement.
Demonstrate commitment to delivering value by ensuring the right quality at the right price.
Create a sustainable ecosystem covering all stakeholders and driving inclusive development in India.

Values:

Commitment
Responsiveness
Ownership and Accountability
Transparency and Integrity
Social Inclusion
Innovate to simplify
E-Governance
E-Governance can be defined as the application of information and communication technology (ICT) for providing government services, exchange of information, transactions, integration of previously existing services and information portals.
Reasons for Opting e-Governance:

Governance per se has become very complex.
Increase in citizens' expectations from the government.

Objectives:

Better delivery service to citizens.
Ushering in transparency and accountability.
Empowering people through information.
Improve efficiency within Government i.e. between center-state or inter-states.
Improve interface with business and industry.

Pillars of e-Governance:

People
Process
Technology
Resources

Types of Interaction in e-Governance

G2G i.e., Government to Government
G2C i.e., Government to Citizen
G2B i.e., Government to Business
G2E i.e., Government to Employees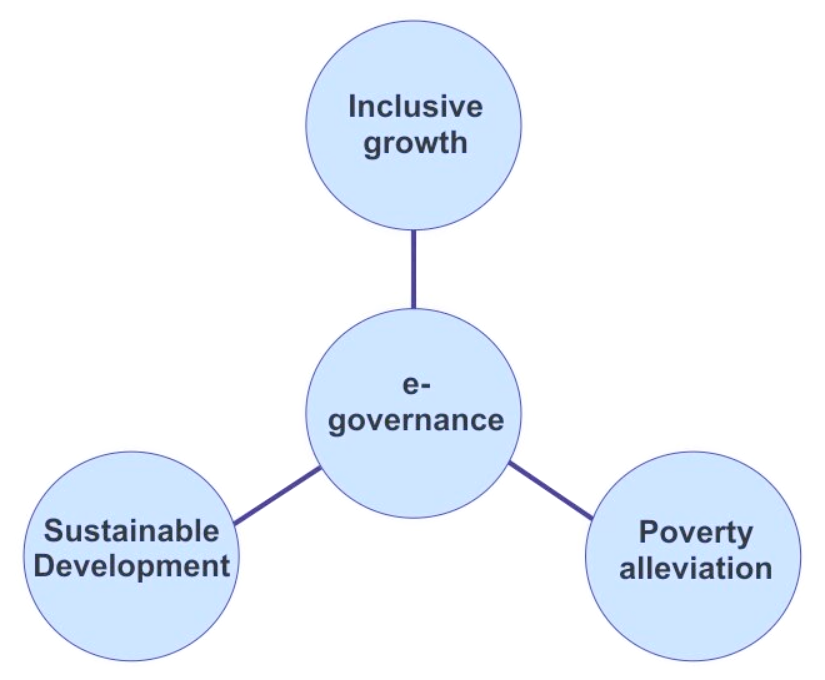 Significance of the Transparency and Information Sharing
The most important aspect of sustaining transparency and information sharing is removing communication barriers.
Transparency and information sharing are crucial for increasing quality of life.
Citizens' support and participation in the management of public services is vital to maintaining openness and accountability.
Transparency in information sharing is required for effective governance and the maintenance of governance efficacy.
UPSC Civil Services Examination, Previous Year Question (Mains)
Q. In recent times, there has been an increasing concern in India to develop effective civil service ethics, code of conduct, transparency measures, ethics and integrity systems and anti-corruption agencies. In view of this, there is a need being
Anticipating specific threats to ethical standards and integrity in the civil services,
Strengthening the ethical competence of civil servant and
Developing administrative processes and practices which promote ethical values and integrity in civil services. Suggest institutional measures to address the above three issues.