Smart Meter National Programme
Energy Efficiency Services Limited (EESL) has installed over 5 lakh smart meters in Uttar Pradesh, Delhi, Haryana, Bihar and Andhra Pradesh. These meters have been distributed under the Smart Meter National Programme (SMNP).
EESL's Smart Meter National Programme (SMNP) is working to eventually replace 25 crore conventional meters with smart meters across India.
The smart meters are installed as per guidelines issued by the Central Electricity Authority.
Smart meters are part of the overall Advanced Metering Infrastructure solution (AMI) that measures and records consumers' electricity usage at different times of the day and sends this information to the energy supplier through GPRS technology.


This gives consumers better access to information and enables them to make more informed decisions on the use of electricity in their homes.
This can immediately control the Aggregate Technical and Commercial (AT&C) losses, due to power pilferage, bypassing meters, defective meters, or errors in meter reading.
Every kilowatt of power drawn from the grid is accounted for – and billed, thereby reviving revenues of the distributing companies (discoms).

The programme is expected to better billing efficiency by 75 to 100% while increasing the revenues of the utility companies to Rs. 1,38,100 crore.
EESL recovers the cost of these meters through the monetisation of energy savings, resulting from enhanced billing accuracy, avoided meter reading costs and other efficiencies.
Energy Efficiency Services Limited
Energy Efficiency Services Limited (EESL) is a joint venture of four national Public-Sector Undertakings – NTPC Limited, Power Finance Corporation Limited, Rural Electrification Corporation Limited and POWERGRID Corporation of India Limited, under the Ministry of Power.
It was founded in the year 2009 by the Government of India.
As South Asia's first and foremost energy efficiency leader, EESL leads the market-related activities of the National Mission for Enhanced Energy Efficiency (NMEEE), one of the eight national missions under the Prime Minister's National Action Plan on Climate Change.


NMEEE consist of four initiatives to enhance energy efficiency in energy intensive industries which are as follows: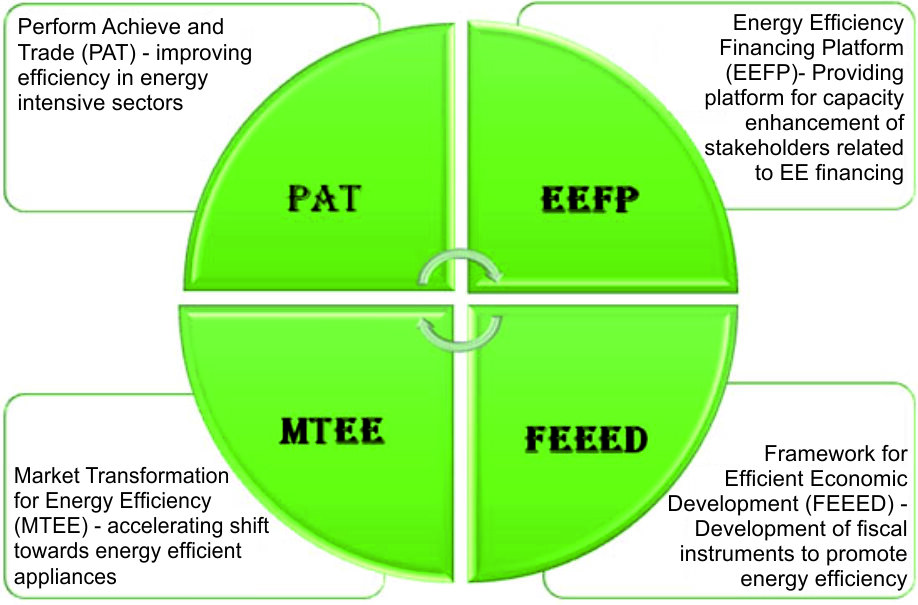 EESL is implementing the world's largest energy efficiency portfolio:


Unnat Jyoti by Affordable LEDs for All (UJALA): World's largest zero-subsidy domestic LED bulb programme
Street Lighting National Programme (SLNP): World's largest street light replacement programme
Agriculture Demand Side management (AgDSM): To reduce the energy intensity of agriculture pumping sector by carrying out efficiency up gradation of agricultural pump sets.