Hubli-Ankola Railway Line Project
Why in News
The Hubballi-Ankola railway line project, saw stiff opposition from a majority of the board members of the Karnataka State Wildlife Board.
Key Points
The proposed 164.44-km railway line passes through forests between two major protected areas — Kali Tiger Reserve and Bedthi Conservation Reserve.
More than 80% the line has to pass through the dense forest lands of the Western Ghats, and this entails the diversion of 727 hectares of prime forests.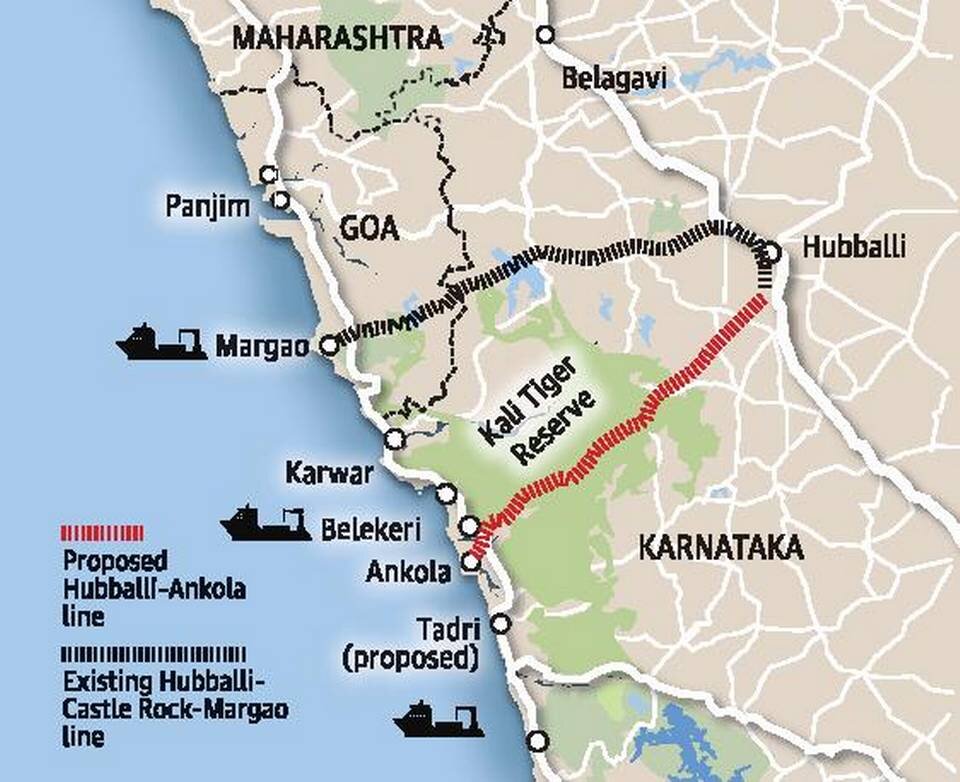 Kali Tiger Reserve
Kali Tiger Reserve is located in the central portion of Uttara Kannada district of Karnataka state.
The Tiger Reserve comprises two important protected areas of the region viz., Dandeli Wildlife Sanctuary and Anshi National Park.
These two protected areas are contiguous to each other and form a single tract of protected area located in the biologically sensitive Western Ghats.
Forests of the Tiger Reserve are primarily moist deciduous and semi-evergreen, with excellent patches of evergreen forests in the western most parts as well as in deep valleys.
Animals found in the Tiger Reserve include Tiger, Leopard, Elephant, Bison, Wild dog, Sambar, Spotted deer, Sloth bear, Wild boar, Hanuman langur, Bonnet macaque, varieties of reptiles and birds, etc.
State Boards for Wildlife
SBWL is constituted under the Wildlife Protection Act, 1972.
The SBWL is headed by the Chief Minister, with the Forest Minister of the State as the Vice Chair.
State Boards for Wildlife advises the state governments in selection and management of protected areas and other matters connected with the protection of wildlife..