Global Innovation Index-2019
The Government of India, has launched the Global Innovation Index (GII) in New Delhi.
This is the first time that the GII is being launched in an emerging economy.
The Department for Promotion of Industry and Internal Trade (DPIIT) of Ministry of Commerce and Industry, Government of India, World Intellectual Property Organization (WIPO) and Confederation of Indian Industry (CII) are co hosting the event.
India's Performance
India's ranking in the Global Innovation Index is 52 which shows an improvement of 5 points from the last years ranking (57).
India's rankings has been consistently increasing over the last few years and is among the top in the world in innovation drivers such as Information and Communication Technology (ICT), services exports, graduates in science and engineering, the quality of universities, gross capital formation (a measure of economy-wide investments) and creative goods exports.
India stands out in the world's top science and technology clusters, with Bengaluru, Mumbai, and New Delhi featuring among the top 100 global clusters.
India continues to be the most innovative economy in central and southern Asia (a distinction held since 2011).
Global Performance
Switzerland tops the GII index followed by Sweden, United States of America, Netherlands, United Kingdom, Finland, Denmark, Singapore, Germany and Israel.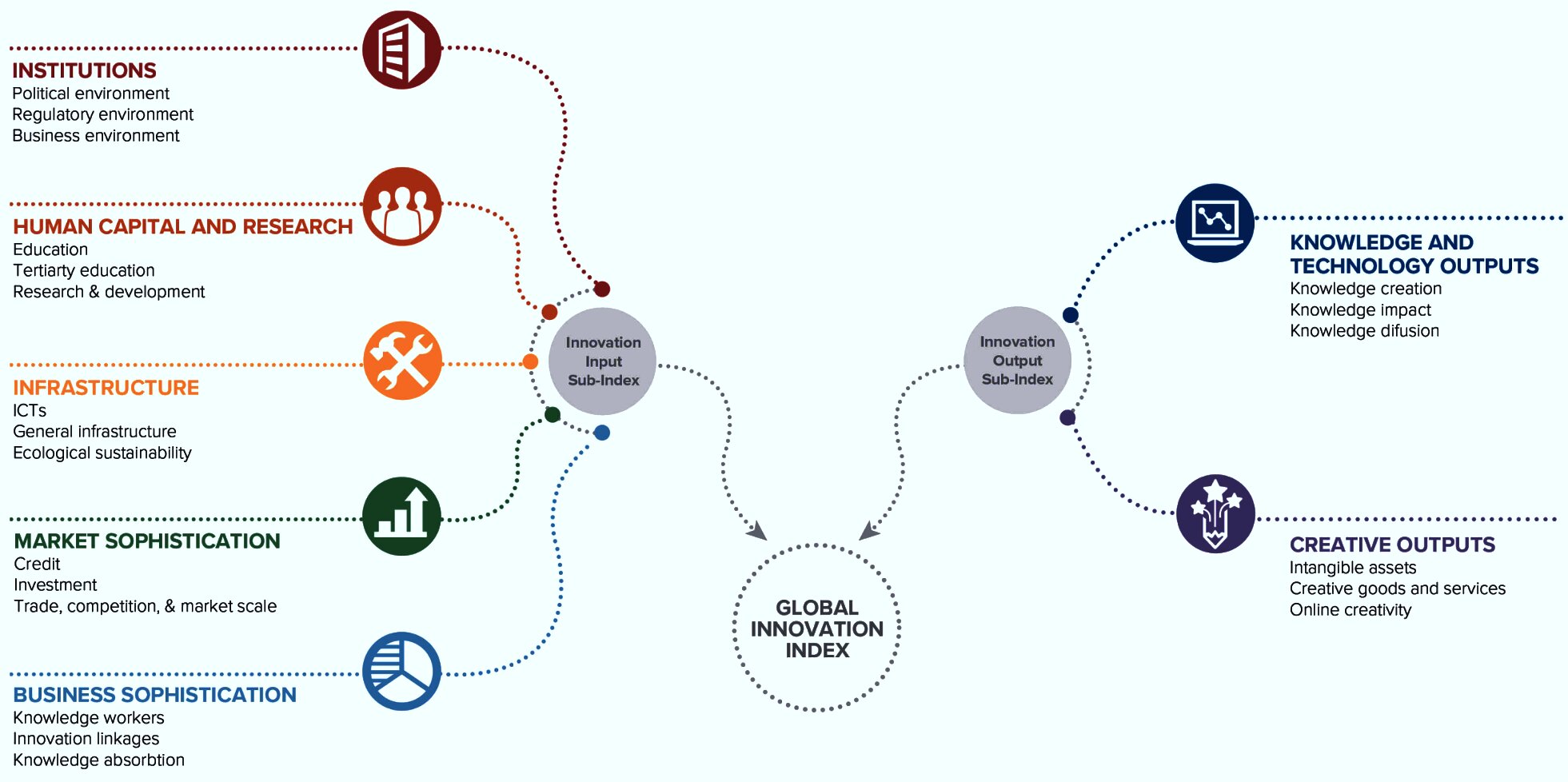 Global Innovation Index
The theme of GII- 2019 (12th edition) is "Creating Healthy Lives - The Future of Medical Innovation" which aims to explore the role of medical innovation as it shapes the future of healthcare.
It is published annually by Cornell University, INSEAD and the UN World Intellectual Property Organization (WIPO).
The GII relies on two sub-indices :


Innovation Input Sub-Index.
Innovation Output Sub-Index.

These sub indices are built around several key pillars namely , Input pillar and Output pillar :


Input pillars capture elements of the national economy that enable innovative activities


Institutions
Human capital and research
Infrastructure
Market sophistication
Business sophistication.

Output pillars capture actual evidence of innovation outputs:


Knowledge and technology outputs
Creative outputs.