EIU's Financial Inclusion Report
Why in News?
According to the Economist Intelligence Unit's 2019 Global Microscope on Financial Inclusion report, India (ranked at 5th position) is among the top nations with the most conducive environment for financial inclusion.
The Global Microscope assesses the enabling environment for financial inclusion across 5 categories and 55 countries.
It covers five domains:


Government and Policy Support
Stability and Integrity
Products and Outlets
Consumer Protection
Infrastructure

The 2019 edition featured 11 new gender-focused indicators that measured financial inclusion for both women and men.
EIU is the research and analysis division of The Economist Group, the sister company to The Economist newspaper. It has its office in London, UK.
Key Findings
The overall environment for financial inclusion has improved globally with India, Colombia, Peru, Uruguay and Mexico having the most favourable conditions for inclusive finance.
However, only one-third of countries include a gender approach in their financial inclusion strategies, and even fewer have set clear, gender-related goals.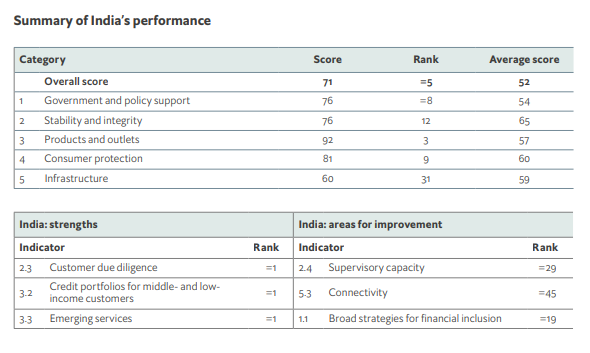 Financial Inclusion and India
The Reserve Bank of India (RBI) has prepared a draft National Strategy for Financial Inclusion to deepen financial services' coverage in the country. The strategy is expected to be finalised in 2019 and will cover a five-year period.
The RBI has set up a high-level committee to review the existing status of digitisation and devise a medium-term strategy for increasing digital payments.
In August 2019, the RBI released the Enabling Framework for Regulatory Sandbox (RS), which created the basis for a regulatory sandbox that allows fintech start-ups to live-test innovative products and services.