Certified Jute Seeds
Why in News
The Ministry of Textiles has launched a Certified Jute Seed Distribution Plan under Jute ICARE Program.
Jute Corporation of India (JCI) had in 2019, signed an MoU (Memorandum of Understanding) with National Seeds Corporation for commercial distribution of 1,000 Metric Tonne certified jute seeds for the year 2021-22.
Key Points
Certified Jute Seed Distribution Plan:


It will expand usage of certified seeds to over 55% area under Jute Cultivation.


Certified seed shall be the progeny of foundation seed and its production shall be so handled as to maintain specific genetic identity and purity according to the standards prescribed for the crop being certified.

It will extend the benefit of certified seeds to nearly 5 lakh farmers.
Usage of certified jute seeds has resulted in improved quality of jute by 1 grade and enhanced productivity by 15% thereby increasing income of jute farmers by about Rs. 10,000/hectare.

Jute ICARE Program:


Launch: Improved Cultivation and Advanced Retting Exercise for Jute (Jute ICARE) was launched in 2015.


The programme was initiated by the National Jute Board (NJB) in association with Central Research Institute for Research in Jute and Allied Fibres (CRIJAF) & Jute Corporation of India (JCI).

Aims: At mechanization in jute farming in a farmer-friendly way and accelerated retting using microbial consortium for improved income for jute farmers.
Following Inputs are Provided:


100% Certified Seeds at subsidized rate.
Demonstration of scientific jute cultivation practices for adoption at farmers' fields with mechanical intervention distribution of seed drill / Nail Weeder/Cycle Weeder.
Demonstration of Microbial retting using CRIJAF SONA, a microbial consortium and also distribution to the farmers.


Retting is the process of extracting fiber from the stem of the plants.

So far, Government has supported 2.60 lakhs farmers under ICARE Program.

Other Steps Taken to Promote Jute Industry:


Increased in MSP: The Minimum Support Price (MSP) for Jute has been increased from Rs. 2400 in 2014-15 to Rs. 4225 in 2020-21.
Retting Tanks: Construction of 46000 Retting Tanks has been approved for increasing productivity, quality and income of Jute Farmers, which will be done by the convergence of Central Government Schemes like MNREGA, PMKSY, RKVY and ICARE.


This will reduce retting time by 7 days and generate 46 lakh man-days of employment for the rural mass of Jute Growing States.

Jute Packaging Materials Act, 1987: Through the Jute Packaging Materials (JPM) Act, the Government is protecting the interests of about 4 lakh workers and 40 lakh farm families.


The Act provides for the compulsory use of jute packaging material in the supply and distribution of certain commodities in the interests of production of raw jute and jute packaging material, and of persons engaged in the production thereof, and for matters connected therewith.

Jute Geo-Textiles (JGT): The Cabinet Committee on Economic Affairs (CCEA) has approved a Technical Textiles Mission which includes Jute Geo-Textiles.


JGT is one of the most important diversified jute products. It can be applied in many fields like civil engineering, soil erosion control, road pavement construction and protection of river banks.

Jute SMART:


It is an e-government initiative which was launched in December 2016 to promote transparency in the jute sector.
It provides an integrated platform for procurement of sacking by Government agencies.

Collaboration between the National Jute Board and the National Institute of Design, Ahmedabad:


A Jute Design Cell for development of Jute Shopping Bags and Lifestyle Accessories has been set up at the Innovative Centre for Natural Fibres (ICNF) of National Institute of Design (NID), Ahmedabad.
Jute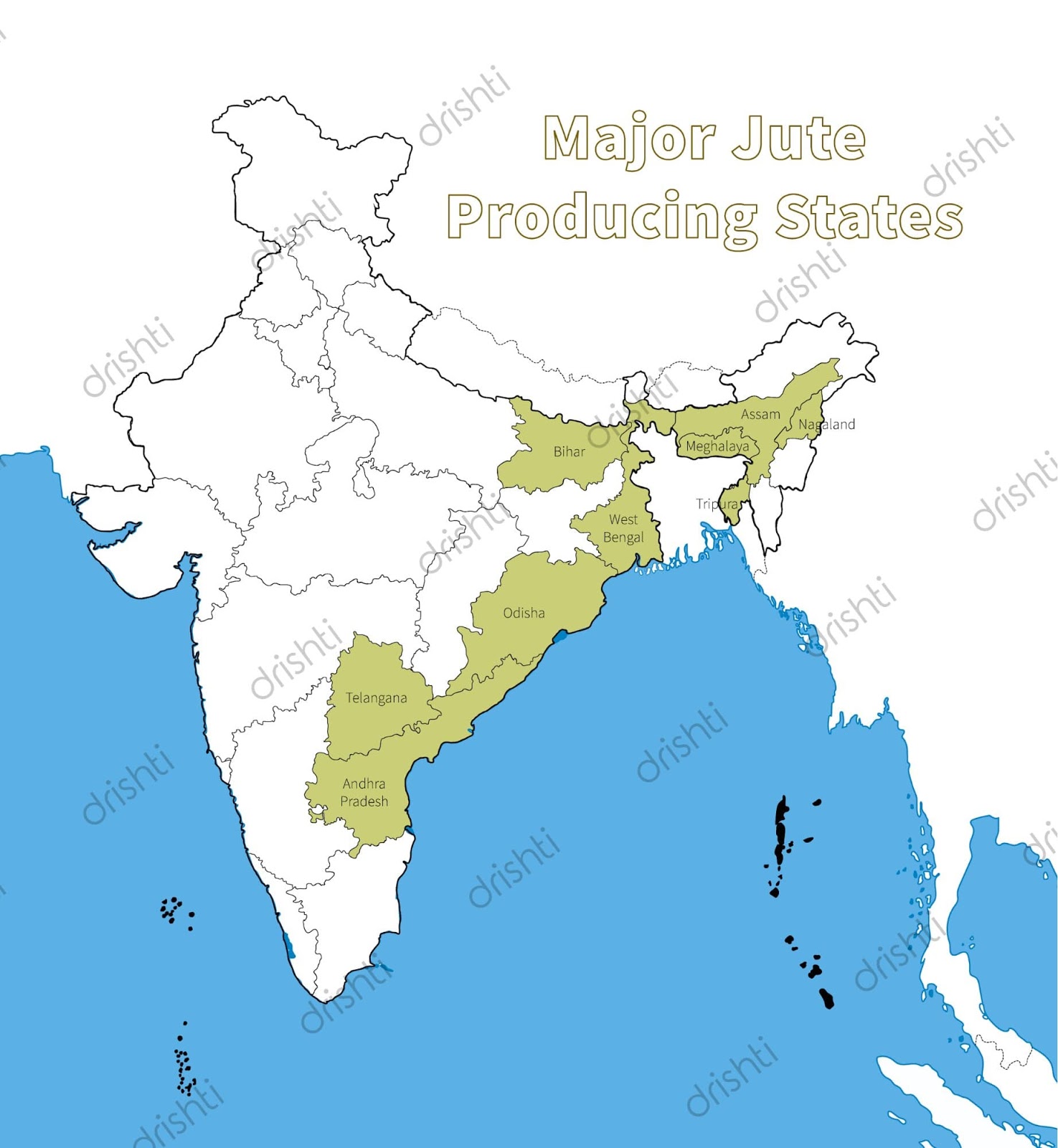 Temperature: Between 25-35°C
Rainfall: Around 150-250 cm
Soil Type: Well drained alluvial soil.
Production:


India is the largest producer of jute.
It is mainly concentrated in eastern India because of the rich alluvial soil of Ganga-Brahmaputra delta.
Major jute producing states include West Bengal, Bihar, Odisha, Assam, Andhra Pradesh, Meghalaya and Tripura.

Uses:


It is known as the golden fibre. It is used in making gunny bags, mats, ropes, yarn, carpets and other artefacts.

Government Initiatives:


Golden Fibre Revolution and Technology Mission on Jute and Mesta are two of the government initiatives to boost jute production in India.


Due to its high cost, it is losing market to synthetic fibres and packing materials, particularly nylon.