Nelson Mandela - The Harbinger Of Equality In South Africa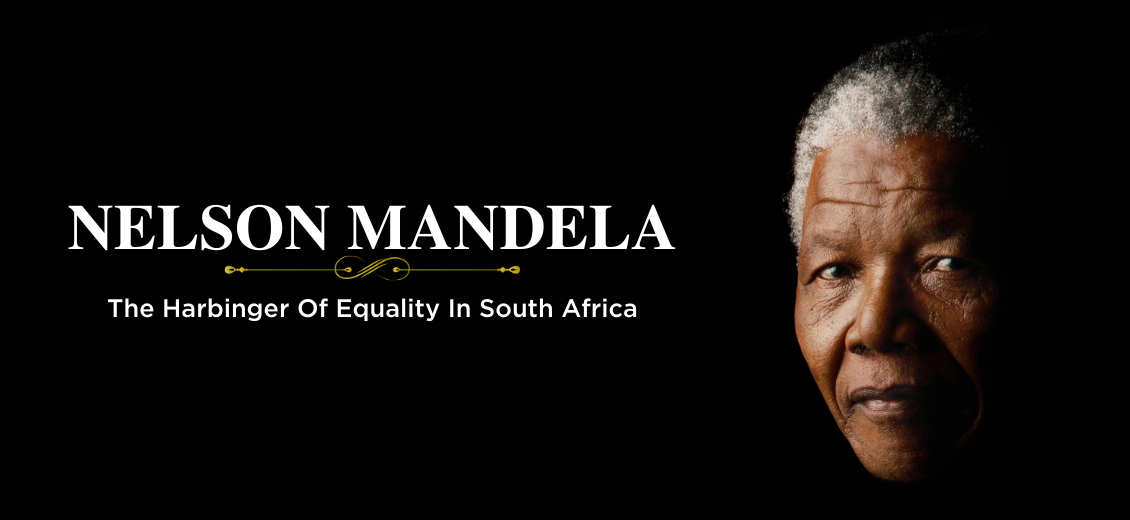 South Africa's former president Nelson Mandela's 104th birth anniversary is on 18th July 2022. Let us discover the remarkable life and work of Mandela, a native of South Africa, who cherished the ideal of a free society all his life. He was a South African anti-apartheid revolutionary, political leader, and philanthropist who also served as President of South Africa (1994 to 1999). During his lifetime he published his autobiography "Long Walk to Freedom", and other works like "Conversations with Myself". Let us walk through his life, all the trials and tribulations he faced and the contributions he made, throughout his life.
Early Life
Mandela was born on the 18th of July 1918 in the village of Mvezo, which is located in Transkei, South Africa. He was born into a royal family where his father, Henry, was the chief of a tribe called the Tembu, and his great grandfather was the tribe's king. But sadly, Nelson's father died when he was just twelve years old. Little Nelson was called Rolihlahla – at the age of seven, his teacher at school gave him the name Nelson. He attended the University of Fort Hare and the South African Native College. He then moved to the city of Johannesburg to study law at the University of the Witwatersrand.
Inequality in South Africa
At the time that Nelson Mandela was growing up, there was a huge racial divide in the country. White people ruled the country and led a privileged life with good jobs, homes and access to good schools and healthcare. Most black people, however, worked in low-paid jobs and lived in poor communities with poor facilities. They had no rights and weren't even allowed to vote in elections! It caught Mandela's attention and he deeply felt that every single person deserved to be treated the same, regardless of their skin colour. Thus, in 1944, he joined the African National Congress (ANC) – a political group that fought for equal rights for whites and blacks.
In 1948 the South African government introduced a system called 'apartheid', which aggravated the country's racial divide. Under new racist laws, black people and white people weren't allowed to live in the same areas, share a table in a restaurant, attend the same schools or even sit together on a train or bus!
Nelson Mandela's Plan of Action
He set up a league comprising of youths – the ANC Youth League – to gain support for non-violent protests against the National Party's racist laws, he travelled across the southern African countries. Authorities disliked this form of activism and thus, Nelson was arrested for treason for being an anti-national element.
In the late 1950s, the government banned anti-apartheid groups such as the ANC. But that didn't stop Nelson and his fellow activists.
For a needed big change, in the year 1961 Nelson and other ANC leaders formed a secret military group called Umkhonto we Sizwe, or Spear of the Nation.
Time in Prison
Nelson was aware of the fact that he could get caught for his secret army. Thus, he kept a very low profile thus living in hiding and disguising himself. Unfortunately, in August 1962, he was arrested on his return trip from Algeria in Northern Africa and was sentenced to five years in prison.
In 1963, the police raided and found documents belonging to the secret army, as well as weapons. Thus, Nelson and seven other men were charged and given life sentences.
Nelson was first sent to prison on Robben Island, Cape Town, South Africa's capital city.
He was moved to Pretoria Local Prison to appear in court, then returned to the Island prison for nearly ten years. In 1982, Nelson was transferred to Pollsmoor Prison. In 1988, he was finally transferred to Victor Verster Prison near a town called Paarl.
During his service in the prison, he refused freedom on two occasions and instead chose to stand by his principles. He utilized his time to learn new things, including Afrikaans – A south African language spoken mostly by white people – which earned him respect.
Free Mandela Campaign
Over time, Nelson Mandela became a famous prisoner, and there were calls all around the world to 'Free Nelson Mandela!' Other countries had put pressure on South Africa to end apartheid, now that the anti-apartheid movement had more support than ever.
In 1990, the president of South Africa, FW de Klerk, met with Nelson Mandela and set him free
In 1991, Nelson became President of the ANC and worked with FW de Klerk to bring an end to apartheid, and introduced equal rights for everyone. Their work towards making South Africa a more peaceful nation won the pair the Nobel Peace Prize in 1993.
Finally, in the 1994 general election, all races in South Africa were allowed to vote. The ANC won, and Nelson Mandela became South Africa's first black president.
Life as President
As President, Nelson Mandela worked hard to make South Africa a country of equality, where people of all races and colours could live together in peace and harmony.
Truth and Reconciliation Commission (TRC) was formed in the year 1995 to investigate human rights violations committed during apartheid.
Many economic development initiatives were taken care of to improve the conditions of the black population– like housing and education. Adoption of a new democratic constitution took place in 1996.
In December 1997, Mandela resigned from the ANC and handed the authority to Thabo Mbeki Mandela. Mandela retired from active politics but he remained a strong international advocate for peace, reconciliation, and social justice, often via the work of the Nelson Mandela Foundation (founded in 1999).
After one term as president Mandela stepped down in 1999. He dedicated his post-1999 retirement to charitable work including the Nelson Mandela Children's Fund, The Nelson Mandela Foundation and The Mandela Rhodes Foundation. He was also a founding member of the Elders, an international group of leaders formed in 2007 to promote conflict resolution and problem-solving around the globe.
Nelson Mandela died on December 5, 2013, at the age of 95, after suffering from a long-term respiratory infection.
Major Contributions
Mandela dedicated his entire life to the cause of the nation and to the service of humanity in various spheres such as – conflict resolution; race relations; promotion and protection of human rights; reconciliation; gender equality and the rights of children and other vulnerable groups; the fight against poverty; the promotion of social justice.
So much so that the UN General Assembly declared 18 July as "Nelson Mandela International Day" in November 2009, to recognize the contributions of Nelson Mandela to the culture of peace and freedom.
Significant events in Mandela's life
Significant years
Events
1943

He studied law at the University of Fort Hare and the University of the Witwatersrand before working as a lawyer in Johannesburg.
During that he got involved in anti-colonial and African nationalist politics, joining the ANC in 1943 and co-founding Youth League in 1944.

1952

He established a legal practice, where his self-confidence grew in turn changing his lifestyle and his political leadership.

1960

In Sharpeville Massacre hundred African demonstrators were killed, and both the ANC and the Pan-African Congress were banned.
In this stage, Mandela decided to go underground and create a new armed wing, the Spear of the Nation.
Though Mandela was not a direct actor in any of the non-lethal acts of sabotage, he was not followed in his decision by some influential members of the ANC.

1964

Mandela was pronounced to lifetime imprisonment and spent 27 years and six months in captivity.

1990

Nelson Mandela was freed from prison, and his release followed the relaxation of apartheid laws (including lifting the ban on the African National Congress).

1994

South Africa's first democratic and Black African President.
Conclusion
Nelson Mandela's spirit and values are still very much alive to this day, and he will forever be remembered. People can read about the struggles he faced in his battle against discrimination and fight for equality in his autobiography. We hope the people of South Africa and the world never forget the lessons of equality, bravery, empathy and honesty preached by this great leader and that his legacy lives on.
Akai Negi