How to Avoid Burnout While Preparing for UPSC Civil Services Examination (CSE)? (Pt 1)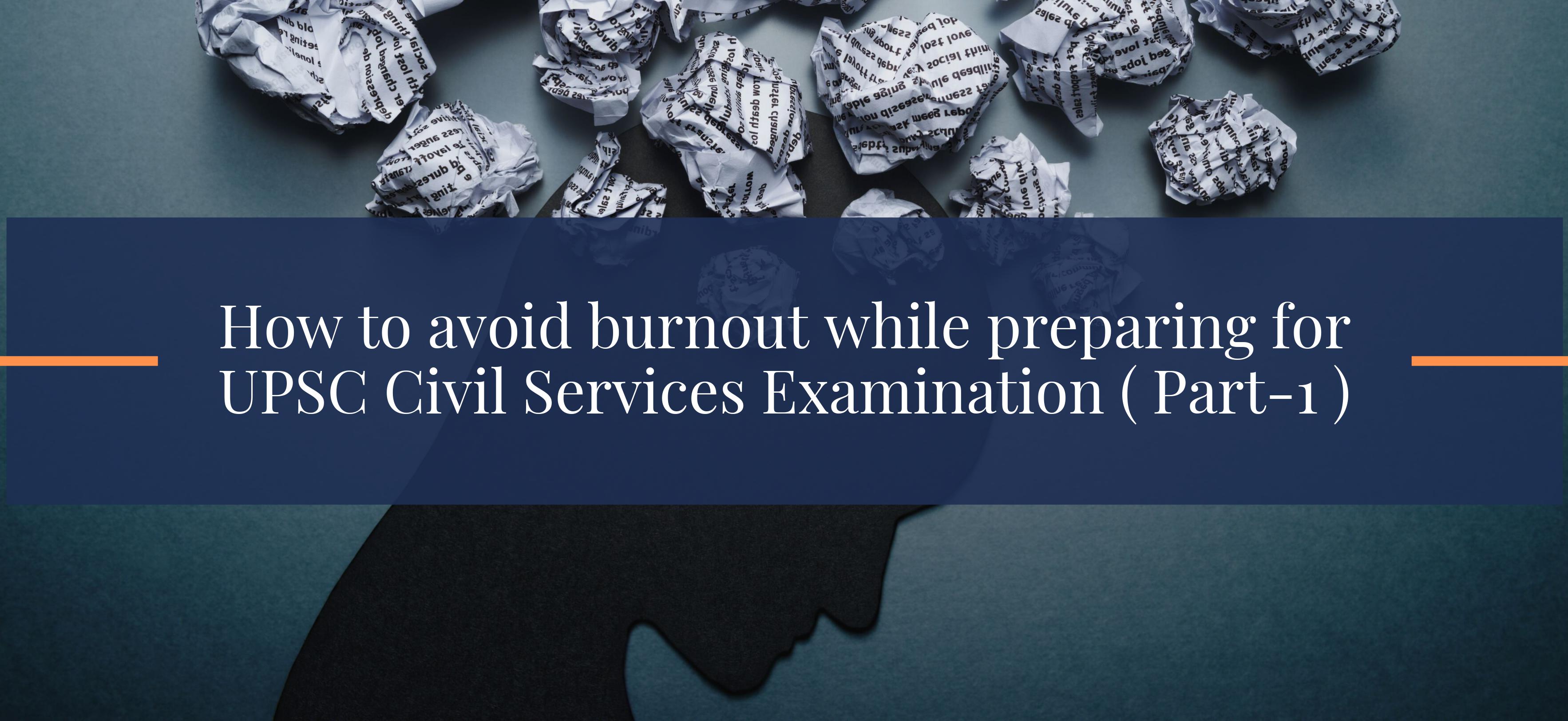 The Preparation
Each year lakhs of aspirants attempt the CSE in order to achieve their goal of becoming a civil servant for the country. Each year the number of applicants, competitiveness, expectations and pressure also increases many folds. And rightly so, because this examination not only requires immense patience, perseverance, consistency, resilience but also regular practice, and 'smart hard work'.
When someone decides to take this examination, it is with prior knowledge and acceptance of the fact that they might not be able to lead their former pre-aspirant lives anymore. A certain amount of change in the personal life and habits are required to clear this exam. Aspiring aspirants, as such, have to undergo many changes, starting with their lifestyle and daily habits, and extending to the kind of people they remain in touch with; and to some extent, managing social pressures from family and friends.
Most serious aspirants are therefore well aware and prepared for the fact that this journey would require them to sacrifice a lot of things. However, what needs to be consciously kept in mind is that in this preparation process one shouldn't get 'burnt out' because if that happens the goal of clearing the CSE will be defeated before it's truly even begun!
The Burnout
It's common practice for CSE aspirants to sit up late at night and study back to back, day after day, which makes the adage 'burning the midnight oil' sound literally right. Aspirants also often let go of their sleep so that they can cover an 'extra chapter' or 'topic'. No doubt, utilising the highest possible number of hours in a day is essential to cover more and more of a vast syllabus but what aspirants must understand is that they should not compromise on their health while doing so.
Always know that when we subject our bodies to high stress, and to rigorous discipline and discomfort, in order to increase our efficiency, we also at the same time need to let the body rest properly. A healthy body, that is well rested and a mind that is free from stress are therefore two of the foremost requirements for any CSE aspirant.
Let us now see how we can avoid a burnout while preparing for the Civil Services Examination.
Time management
Time is the most crucial factor for all CSE aspirants.
Hence, most aspirants end up making tight schedules and try to 'squeeze-in-squeeze-out-time' whenever possible. They tend to think less about their health and more about how to reach their goals. However, here is one place where the age old saying - health is wealth - apply.
Another thing is that when our body fails to keep up with our pace of work we might end up spending more time in unproductive labour. So, first, aspirants should ask themselves, do they want to be winners of the sprint or the marathon? Do they want to become helpless midway and give up on their dreams or do they want to work towards their goals till they reach the final stages? Do they want to burnout or do they want to keep burning until they succeed?
Burnout, as defined by the dictionary, refers to the phenomenon where a person is unable to concentrate on their work or study. Such a person might feel uninterested and distracted from his or her work at hand. To understand it better, the constant feeling of exhaustion, inefficiency and cynicism are the three major symptoms of burning out.
For example, after having studied for long hours at a stretch, one might start feeling physically and emotionally exhausted. Suffocation, helplessness, recurring headaches, fever and fatigue, are some of the other common symptoms of a burnout.
The foremost reason for a person to feel 'burnt out' is when he or she experiences stress for prolonged periods of time. The alarming fact is that it does not show its symptoms until a very long time. Symptoms remain hidden!
Time management is therefore very important and developing an effective time table keeping health in mind is crucial. Allowing breaks in between study sessions to break the monotony is also equally important.
Try these: taking a short walk in the open, deep breathing, or watching a soothing video...
Acknowledge The Situation
There are other emotionally draining experiences too, which CSE aspirants face like homesickness, peer pressure, the inability to maintain a balance between personal/professional lives and study life, constant surges of desperation/exhaustion/anger etc.
The most important thing is to identify when you begin to start feeling these symptoms. Then you have to realize that your body is showing signs that it needs care. Here it is important to understand that acknowledging an issue or problem is always better than closing our eyes to the warning signs and wishing for it to go away. And since prevention is always better than the cure so, start taking precautions. This is because burnout is a situation which is better prevented than cured. And because sometimes it might get too late for a cure. Hence, staying alert on this is very important. One needs to be vigilant here, and be on the lookout for burnout symptoms and take precautionary steps as early as possible.
Major Causes of Burnout
Although many smaller causes can combine to cause a burnout while preparing for the CSE, some of its major causes can still be identified:
Sense of losing self-control

: The feeling of not being able to take decisions or make proper schedules can easily lead an aspirant to burn out. The feeling of not having all the required 'resources' to prepare can also do the same.

Larger than life expectations

: It often happens that when one starts preparing for the CSE, one also starts daydreaming and building castles in the air. But once into the actual process of preparation, all the illusions starts falling apart from the pressures of clearing the various stages of the exam itself.

Feeling of not being enough

: When an aspirant starts feeling less-competent and starts comparing himself with his peers, it can lead to a severe burnout problem.

Extremity of schedules

: Considering the vast syllabus as well as the immense pressure that aspirants face while covering it, a lot of aspirants often make extreme schedules. With about 1-4 hours of sleep, to no sleep at all, aspirants can be quite extreme in their sleep patterns which is harmful to health.

Lack of positive support and motivation

: Many a times, CSE aspirants may have very few or maybe absolutely no people in their circle who can keep them motivated. Also, sometimes the people around them can be so negative that it can lead to extreme levels of burnout. Since negativity in a group spreads pretty fast, this can happen even to aspirants who are living and preparing together in groups.

Imbalance in personal life

: If an aspirant's life starts revolving constantly and only around their CSE preparation, it might force him to ignore his personal and family life, friends and relations, and this could soon start wearing him out.
Signs To Look Out For
Aspirants should periodically ask the following questions to themselves to keep a check on whether they are facing the risk of burnout or not: Of late…
Have you become cynical or critical?

Do you have to drag yourself out of bed every morning?
Have you become irritable or impatient with friends or family members?
Have you been fully productive?
Have you been consistent at what you do?
Have you been as efficient as before?
Are you finding it hard to concentrate?
Are you lacking work satisfaction at the end of the day?
Are your life goals vanishing out of your sight?
Are you indulging in overeating or eating more often?
Are you sleeping very less?
Are you experiencing any unexplained headaches, stomach pain, or other physical ailments?
Are you using or on the verge of using drugs or consuming alcohol to escape a feeling of helplessness?
Risk factors associated with a burnout that one should look out for:
Fatigue: Caused when an aspirant wants to study continuously and spend all of his time preparing.

Sleeplessness and fever: Caused while following water-tight schedules and when working overtime.

Excessive stress: Caused for a variety of reasons and also when faced with high expectations from family and peers.

Anger and irritability: Caused when aspirants start feeling little or no control over their life.

Sadness: Caused when life starts looking monotonous and empty.
Aparajitha Nair