Democratic Means In An Undemocratic Land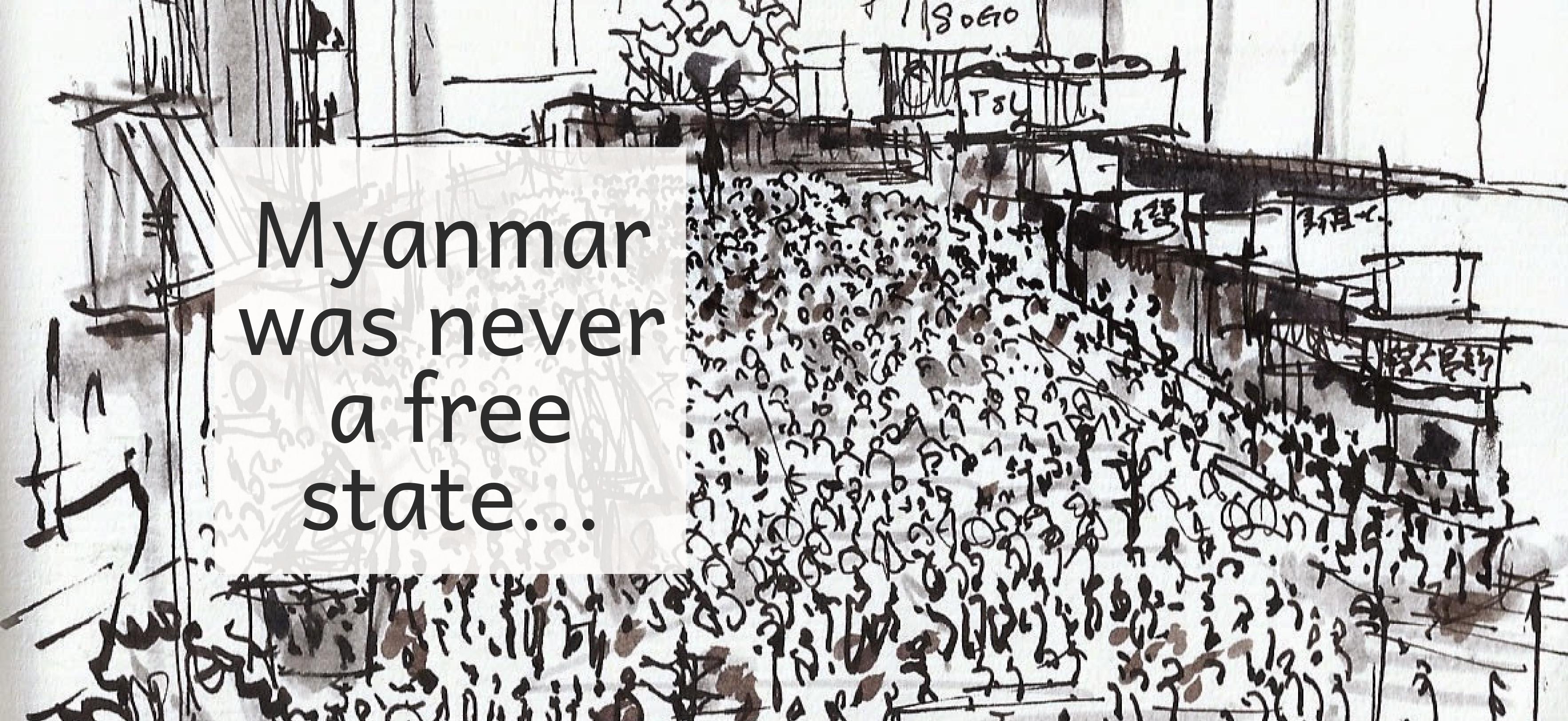 Myanmar was never a free state.
For the past 72 years, since the British left Burma, the country has been under a military regime for almost 60 years directly or indirectly. The nation has seen it all - riots, genocides, ethnic cleansing, human rights violations, massacres and mass murders. Rather, we ought to say that these things have been a very integral part of its independent history.
In 2015, there was a ray of hope when the country's most prominent human rights leader and a global face, Aung San Suu Kyi formed a government in a power-sharing constitution between the military and the government. But it has been well over four years now, but nothing has changed for most of the Myanmarese and the population is still yearning for a free and fair democracy.
It is in these troubling times that a section of Myanmar's civil society and human rights leaders have started a movement as a sign of protest against the incumbent government. The members of this movement are known as Myanmar's Blue Shirts.
There is also no independent judiciary in Burma.
And, as they say in Myanmar, its judiciary "prioritizes military over justice" – which is a cause for torment to the protestors, the blue shirts, who attend court trials & hearings of every pro-democracy activist persecuted by the army.
A photo campaign in 2010 that had activists, including Aung San Suu Kyi, pose with the names of political prisoners written on their raised palms was re-invoked recently. But this time they are up in arms against their former-friend-turned-foe, Aung San Su Kyi, whose party the National League for Democracy (NLD) shares power with military generals under a military-drafted constitution.
Civil society groups such as Athan, Coexist Myanmar, and the Burmese-American Saddha: Buddhists for Peace, formed Doa-A-Yae, have circulated 12 names of those being penalized for 'free speech'. These include journalists, activists, a director, a former military captain, and a monk — all either imprisoned or hounded by the courts in the past months. Activists say the military in April and May brought 30 cases against citizens in Myanmar, where an energized youth movement has promptly answered a clampdown on critics of the Tatmadaw, which is what the Myanmar's military is called.
Kay Khine Tun, 22, was arrested at her nursing job in Yangon Children's Hospital. She is one of seven people jailed for satirizing the army in a street performance put on by the Peacock Generation troupe over the Burmese new year. The imprisonment of the young performers for a centuries-old traditional parody was decisive for coalition of activists. Her father Sein Mya, a 53 year old taxi driver & former army man himself says - "The military has no shame at all. They are showing off their power and authority. They believe that frightening people may lead to success in ruling the country." He has readied himself for an exhausting battle with his former employer, having served as a warrant officer from 1988 to 2007. His younger brother still serves, and has cut ties with the family since Sein Mya's daughter's arrest, a cold reveal of loyalties over which Sein Mya feels "nothing." Raising his spirits are the fresh-faced blue-shirted activists who attend her hearings, along with the trials of several others oppressed by the army. But the blue shirts won't be able to change anything, Sein Mya says, repeating a common line on the subject of the Tatmadaw.
Modern history is inundated with numerous tales of such unusual yet peaceful ways of protesting for democracy and independence. Red Shirt movement was the nickname of the Khudai Khitmatgar, an action started by Abdul Ghaffar Khan of the North-West Frontier Province of India in 1930. His followers were pledged to nonviolence, and they derived their popular title from the red colour of their shirts.
In the recent past, the Hong Kong Protests of 2014 were known as the Umbrella Movement because of their way of showing resistance through umbrellas shielding them against water cannons pointed towards them. The Yellow Vest protest of 2018 in France was another instance of a mass movement adopting a unifying thread, as basic as a Yellow Vest - something which was symbolic towards solidarity with taxi drivers.
The blue shirt activists are inspired by Win Tin, the longest-held political prisoner in Myanmar's history. From his 2008 release to his death in 2014, Win Tin wore his blue prison shirts in solidarity with those others being still held captive. Now blue shirts say their earnest desire is for Daw Aung San Suu Kyi and other NLD leaders to see their campaign and remember the time when they were similarly, persecuted.
Earlier when the country was united in its opposition to the military, Su Kyi was their leader but now after three years as Myanmar's leader, they believe that she has become entangled with her earlier foe. Since her coming to power in 2015, Myanmar has seen a genocidal slaughter against the Rohingyas in Rakhine state along with attacks on freedom of the press. She has remained silent all through this as her once towering stature as a human rights activist degrades in the West with even calls for her to be stripped of her Nobel Peace Prize.
But the Myanmar public is still hopeful of its former champion. Director and human rights activist Min Htin Ko Ko Gyi has denounced the censure of Suu Kyi – even while government prosecutors pursue military complaints against him. Min Htin Ko Ko Gyi has been denied bail despite suffering from liver cancer and there are concerns he may die in prison. In late May, activists donning blue shirts were seen waiting for the director to arrive in a police truck at Insein township court. "The Tatmadaw is suing people unjustly," said a 19 year old student, "Yes, I want there to be justice," remarked another 22 year old activist. Kyal Yi Lin Six, 33, a former student of the director had started a Facebook page where directors and activists from across the world upload photos of themselves holding #FreeMinHtin signs.
Earlier, two Reuters journalists were sentenced to seven years for their reporting on the atrocities in Rakhine state before being freed under a presidential amnesty. The pro-democracy activists had believed that they wouldn't need to protest once the NLD came to power but they had never expected that this (the existing stalemate) would happen. Modest change happened about two years ago when a steady civil society pressure produced amendments to Article-66(d) of Myanmar's Telecommunications Law, which covers online defamation.
These reforms did not go far enough and they did not provide reasonable defenses to defamation, such as reporting the truth or arguing an opinion. Swe Win, the editor of news outlet Myanmar Now is happy with the renewed push for change and he believes it's quite significant because all the movements are being led by the youth. But he has his own defamation battle ongoing, for offending the supporters of the radical nationalist monk Wirathu and is forced to travel the 780 miles round trip from Yangon to Mandalay court twice a month. He opines that "You can learn a lot about how the authoritarian system keeps on ruling quietly, which is good for me as a journalist".
Mandalay-based monk U Thawbita is also being sued under Article-66(d) for online posts that criticized the military. Earlier he had taken part in the 'saffron revolution' of 2007, a monk-led demonstration that failed to change the military's attitude. He says "I have personally come to know the military is sensitive and can't stand being criticized by the public. But active participation of the public today is better than no public interest," adding that people should "get to know the unfairness."
"This unfairness is what made Kay Khine Tun speak out" - believes her father and contemplates - "when there is injustice she will always stand up and speak out."
Rohit Shukla is a student of Journalism at
Delhi School of Journalism, University of Delhi & he aspires to be a humanitarian