Cultural Diplomacy at the G20: Showcasing India's Heritage to the World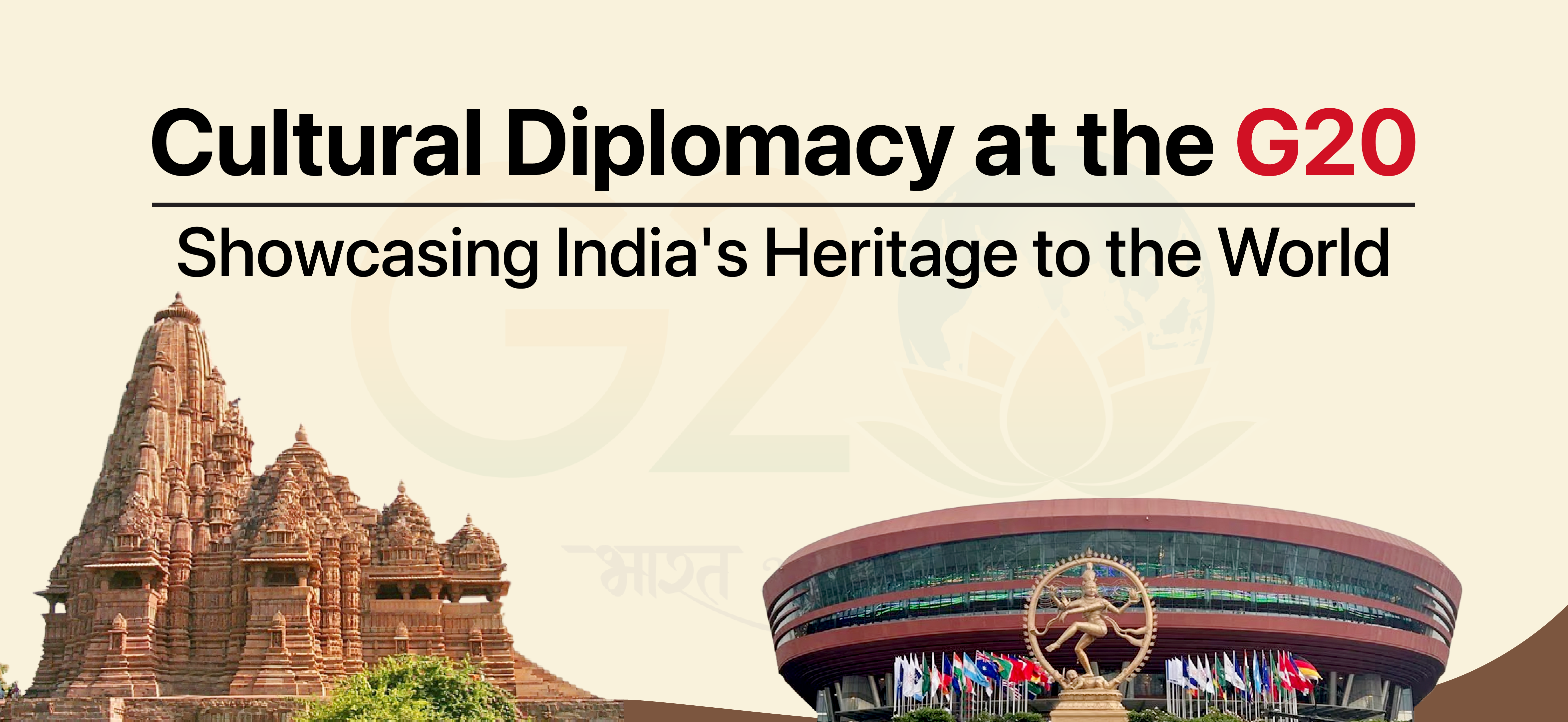 Given India's recent role as the host of the G20 Summit, there has been a significant focus on examining the impact of Cultural Diplomacy on international relations and its role in elevating a nation's global political standing. Cultural Diplomacy in the backdrop of the G20 summit and presidency has been analysed in detail.
Introduction to Cultural Diplomacy:
Cultural Diplomacy can be described as a course of action, based on the exchange of ideas, values, traditions, and other aspects of culture or identity, to strengthen relationships, enhance socio-cultural cooperation, promote national interests, and beyond. In present times, it is extensively used within the international dynamics to facilitate economic and political relations between nations. Cultural diplomacy is frequently regarded as a more gentle form of diplomacy compared to conventional diplomatic approaches like economic sanctions, military alliances, or political negotiations. This is because cultural diplomacy emphasises the promotion of mutual comprehension, which is perceived as a means to nurture enduring relationships and establish trust among nations.
India's Cultural Wealth:
India's cultural wealth is a rich confluence of its ancient history, art, music, dance, architecture, cuisine, and more. It reflects the diversity and unity of the Indian people and their values and traditions. India is one of the oldest civilisations in the world, with a history of over 5,000 years, having seen the rise and fall of many empires and cultures. India's varied artistic tradition, range from ancient paintings, sculptures, and temples to modern forms of art, such as cinema, literature, and fashion, and is influenced by various religions, philosophies, and regions. Believed to have descended from the hymns of Samveda, Indian classical and folk music is based on ragas (melodic modes) and talas (rhythmic cycles). India has a vibrant dance culture, often depicting stories and emotions through forms like Bharatanatyam, Kathak, Odissi, and Bhangra. The monuments of India showcase different eras and influences, known for their intricate designs, geometric patterns, and symbolic motifs. Some of the iconic structures are the Taj Mahal, the Qutub Minar, and the Lotus Temple. India's cultural heritage represents the essence of India's identity and spirit.
The Role of the G20:
The G20 is an international group of 21 members who meet regularly to discuss and cooperate on global economic issues such as financial stability, climate change, development, trade, health, and more. The G20 comprises nations that account for approximately 85% of the world's total GDP, more than 75% of worldwide trade, and roughly two-thirds of the global population.
The G20 serves as a platform for cultural diplomacy and the utilisation of soft power, defined as the capacity to influence the beliefs and choices of others through non-material assets like principles, concepts, and accepted standards. The G20 employs diverse strategies to expand its cultural diplomacy and soft power, including the incorporation of the host country's cultural identity and values into the G20 Presidency logo, the organisation of cultural events to exhibit the artistic and innovative contributions of its member nations, and the active utilisation of digital platforms and social media to interact and involve a worldwide audience in discussions on its objectives and priorities.
India as the Host:
The hosting of the G20 summit by India in 2023 held great importance for the nation. It presented an exceptional chance for India to exhibit its rich cultural heritage on a global stage and to exemplify its leadership and global vision. The core principles and objectives of the G20 platform harmonised with India's cultural prowess, which was prominently showcased and celebrated through various cultural events during the G20 summit. India also used its digital diplomacy to communicate and engage with the global audience and to involve non-state actors in the G20 process.
Highlights of the Summit
Expansion of the India-MERCOSUR Preferential Trade Agreement (PTA), which seeks to maximise the economic partnership and also reflects the historical relations between India and Brazil.
India and Saudi Arabia, along with other countries, jointly announced the launch of the India-Middle East-Europe mega economic corridor, aiming to foster economic growth and enhance collaboration among different cultures and civilisations.
India and Bangladesh renewed their commitment to cultural exchange by extending the Cultural Exchange Program (CEP) for 2023-2025, which is set to enrich the cultural fabric of both nations and foster a deeper understanding and appreciation of their shared heritage.
Brazil, India, and the United States, as leading biofuel producers and consumers, will work together towards the development of a Global Biofuels Alliance along with other interested countries.
Inclusion of the African Union as a permanent member of the Group of 20 (G20).
Cultural Events and Exhibitions:
The G20 summit in India was a cultural extravaganza that allowed world leaders and delegates to experience India's culture firsthand. Some key highlights of the summit are:
The G20 Spouses' Events in which designer Manish Malhotra presented his collection inspired by the traditional crafts of Phulkari, Chikankari, and Zardosi, showcasing 'Culture Corridor-G20 Digital Museum' to foreign delegates.
The G20 leader's retreat, featuring the performance of AR Rahman .
The G20 Culture Gala and Exhibition at the National Museum.
All the events were a testament to India's glorious legacy and heritage.
India's Cultural Showcase:
Bharat Mandapam (inspired from Anubhav Mandapam).
Bronze statue of Lord Nataraja (Chola style).
Konark Chakra of Odisha's Sun Temple and Image of Nalanda University (used as iconic backdrops).
Thanjavur Paintings and Dhokra art.
Brass statue of Lord Buddha sitting under Bodhi tree.
Diverse musical heritage (Hindustani, Folk, Carnatic, Devotional).
Promotion of Tourism:
Showcasing India's tourism can enhance India's reputation as a tourist destination with cultural resources, helping to generate economic benefits for the local industries and traditional businesses. Through large-scale events like the G20 Summit, India's tourism can be boosted by attracting tourists from the G20 countries, which represent the major economies and markets of the world. Tourism can also create employment opportunities, increase income and foreign exchange earnings, support local crafts and industries, and preserve the cultural identity of the local communities.
The Legacy of the Summit:
India organised various cultural events, performances, and exhibitions that displayed its history, diversity, and creativity during the G20 summit. The presidency and the opportunity of being a host country helped India to eliminate any global misconceptions and represent the uniqueness of its people, culture, and values. The G20 summit positively affected aspects of socio-political relations, economic boost, various diplomatic agreements, student exchange programs, and youth development. This summit will serve as a hallmark in strengthening India's position as a bearer of global peace and prosperity. The G20 summit will also expand the engagement of the international bodies, forums, and individuals toward Indian Culture and Heritage.
Challenges and Opportunities:
Using cultural diplomacy on a large scale can have both challenges and opportunities. Some challenges that prevail are balancing the promotion of one's own culture with respect for other cultures, measuring the impact and effectiveness of cultural diplomacy in the background of political factors, media movements, and social feedback, and coordinating and collaborating among different actors and stakeholders without bias and injustice. There are numerous opportunities like strengthening global image, promotion of culture and local industries, fostering mutual understanding, and the balance of influence on a global level.
The G20 summit in India faced some criticisms and controversies, such as the use of 'Bharat' instead of 'India' in Modi's nameplate, which sparked a debate on India's identity and sovereignty, the protests and security measures in Delhi ahead of the summit, which some critics accused of creating inconvenience for the residents and the difficulty of reaching a consensus on the summit declaration, especially on the issue of the war in Ukraine.
Conclusion:
Thus, the G20 summit has given India an excellent opportunity to progress in the international arena through the medium of its cultural diplomacy, which is enriched with a diverse culture and heritage. The summit will be beneficial for the socio-economic enhancement of India in the long term, strengthening its student exchange, tourism, local craft, agriculture and food sectors.
Sources:
Tanmaya Kshirsagar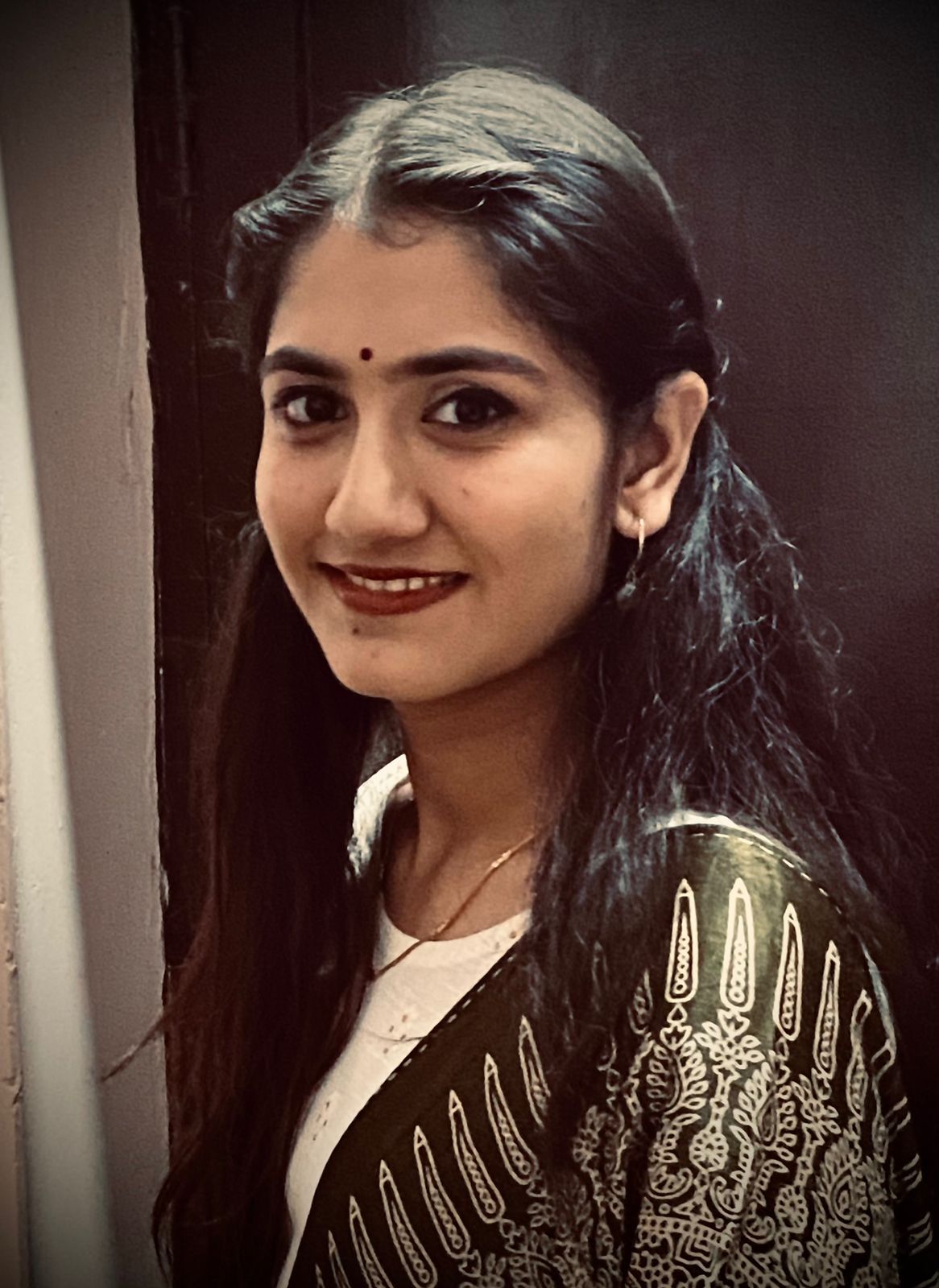 Tanmaya Kshirsagar is an artist, writer and musician. She works with UN Women as a Youth Ambassador and her work has found a place on platforms like Times of India, Indian Review, Women's Web and Medium to name a few.