Contributions of Famous Indian Classical Dancers to the Art Form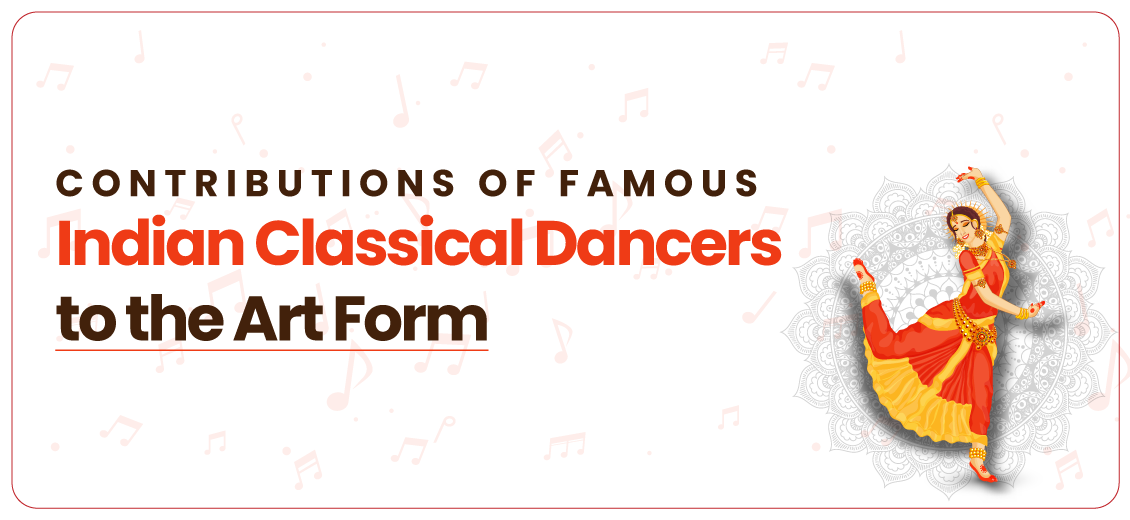 Classical Dances of India are an inevitable aspect of the Indian Cultural Heritage and Traditions. Many artists across the nation have made a mark across the globe with their art and skill, specialising in Kathak, Bharatnatyam and other dance forms. Their invaluable contribution to the field has been discussed in detail and enriches the Indian heritage.
Ushering Innovations in Traditional Movements:
Pandit Birju Maharaj was one of the most revered figures in the Indian classical dance form of Kathak. He essentially revitalised and reconfigured the art form by introducing innovative movements while also maintaining the essence of tradition. Birju Maharaj not only infused new movements into the form but also brought in elements from Bharatnatyam as well as Western styles to create an innovative and novel mix of artistic expression. One of the major contributions of Panditji has been storytelling. By involving mudras, i.e., hand gestures, and abhinaya, i.e., facial expression, he crafted narratives via the dance form. He also introduced tukdas and tihais that challenge the dancer and add a layer of sophistication to the form. He also made use of lighter dress material and flexible clothing while keeping the traditional style intact, making it possible for the dancers to have more flexibility in their movements. He also collaborated with musical stalwarts like Pandit Jasraj and impacted Bollywood dance styles. He also instructed Bollywood stars such as Madhuri Dixit, Sushmita Sen, and Rani Mukerji, while Uma Sharma too benefited from his tutoring. Pandit Birju Maharaj continues to inspire generations of artists to innovate their craft, not only nationwide but across borders as well.
Revival of Rare Dance Styles:
Odissi has been an integral part of the Indian classical dance tradition but has stayed at the margins. Figures such as Kelucharan Mohapatra significantly contributed to reviving and renewing the art form. He preserved the traditional elements of the style by paying great attention to the details of Odissi, such as its unique mudras and expressions. Moreover, with collaborations across different artistic realms, Odissi was reframed in a contemporary context, and Guru Mohapatra revived the almost faded tradition. Guru Kelucharan Mohapatra's teachings and choreography have been documented and archived for future generations to benefit, thus preserving the extremely intricate art of Odissi.
Incorporating Contemporary Themes:
Any art form requires constant addition and reconfiguration to mark its presence and relevance among contemporary audiences. Important figures like Alarmel Valli have incorporated contemporary themes such as social justice issues, environmental awareness, gender equality, and more within traditional art forms like Bharatnatyam to cater to the modern audience. The fusion of these contemporary ideas into traditional dance garners depth and relevance within performances. Another factor of importance is the narrativized perspectives presented by Alarmel Valli that resonate with her audiences, bringing tradition and modernity to an interesting point of merger. Not only the dance movements but also her attire and style contribute to this incorporation. Moreover, significant contributions from artists in various fields add to the dynamic. However, the experiments of Alarmel Valli are configured within the bounds of traditional and historical understanding of the dance form, which leads to respect for the art while being accessible to its contemporary audiences.
Promoting National and Cultural Identity:
Indian classical dance forms are not merely limited in their cultural significance within national boundaries but have a global outreach as well. Artists like Sonal Mansingh have served as social ambassadors for the country, extending their influence beyond their field of art. Dance, like many other art forms, has a language that is universal in its expression. By fostering an intercultural dialogue between Indian classical dance techniques and the global stage, artists promote the aesthetic sensibility of Indian culture and promote the national forms at the international level. Mansingh, through her prowess in Bharatnatyam and Odissi, stands as a figure of prominence in preserving the cultural heritage of the arts in India, and her belief that a great contribution impacts not only the art form being practised but also other artistic expressions are significant in understanding how cultural boundaries can be expanded and presented on the global stage.
Education and Guru-Shishya Parampara:
One of the most important factors in cultural and artistic preservation is the treasured tradition of the master and student, i.e., the Guru-Shishya Parampara (Master-Apprentice Tradition). Stalwarts of specific dance traditions have been instrumental in the preservation of this tradition; artists such as Rukmini Devi Arundale have been of immense importance. She was at the forefront of founding the famous dance institution Kalakshetra in 1936. She ensured that the tradition of classical dance was accessible and widespread among the public. Moreover, her sincere efforts led to the establishment of dance as an academic discipline, fostering the widespread study and preservation of the art form. The Guru-Shishya Parampara also ensures that knowledge of these dance forms is imparted precisely and traditionally, keeping intact sanctity and purity while also allowing innovation and access within these institutions.
Breaking Gender Stereotypes:
Several women dancers have contributed immensely to breaking stereotypes and building a progressive narrative for the women who potentially want to pursue any dance form as a passion or a profession in the future.
Cross-Cultural Collaborations:
Cross-cultural collaborations are significant for the presence, preservation, evolution, and relevance of any art form, including classical dance. Drs. Raja and Radha Reddy were the first Indian dancers to perform globally at the International Dance Festival of Avignon in France and Austria. Moreover, they also inaugurated the Play House Theatre in Durban, South Africa. They are also widely known for conducting workshops globally and instructing people from several cultural backgrounds, setting the stage for impactful cross-cultural collaboration and the establishment of intercultural art forms. Their captivating vocabulary and grip over the dance form of Kuchipudi have led to several significant transitions and the all-over evolution of the field, which garners a great worldwide audience and spreads amongst different cultures.
Dance as a Medium for Social Change:
Classical dance does not just limit itself to aesthetic perception but also contributes to social impact and change. Mallika Sarabhai is a renowned Indian classical dancer and activist who has significantly contributed to driving social change through her dance performances. Gender equality, environmental preservation, cultural diversity promotion, and human rights and justice are a few recurrent themes in her performances. For instance, the performance titled Sita's Daughters challenged gender norms and stereotypical roles while bringing forth the resilience and power of women. She has also attempted to educate the masses through her art.
Preservation of Authenticity:
One of the most important factors in a long-running art form, such as classical dance, is the preservation of the authenticity of the medium of expression. Indeed, a dance form and its style may and must undergo change and evolve to remain relevant, but the conservation of authentic touches and traditions is an absolute necessity. Tanjore Balasaraswati was a well-known classical dancer, specifically performing Bharatnatyam. She made immense contributions and had a remarkable impact by advocating for authentic dance performances of Bharatnatyam. She was also at the forefront of promoting the Sadir tradition, i.e., the Devadasi style. This tradition was rooted in the one-to-one instruction of the Gurukul system, which has been running since ancient times.
Documentation and Archiving:
Furthermore, it is of utmost importance to document and archive these rich cultural traditions in order to preserve them for the coming generations, as these are symbols and styles of immense cultural value that uphold a cultural identity. A very well-known Indian classical dancer, Yamini Krishnamurthy, has archived and preserved Kuchipudi and other art forms which future generations can access and have a sense of. Not only that, but these archives are important sources for students to learn from as well as for the public to access in order to understand the rich cultural heritage of Indian classical dance. Moreover, these also serve as important documents for research purposes and furthering the understanding of culture and dance, both nationally and globally.
Cultural Diplomacy and Soft Power:
By the virtue of dancers and stalwarts of classical dance, a culture is not only preserved but also promoted and propagated. Due to this, the Indian cultural identity is reconfigured and remarked upon by cultures across the world. This leads to the establishment of cultural diplomatic relations as well as soft power. Padma Subrahmanyam is an Indian Classical Bharatnatyam Dancer who by her contemporary performances and significant innovation in Bharatnatyam has been able to resonate with modern audiences worldwide. She represents an important cultural enterprise through her dances and artists such as her reconfigure the very idea of Indian culture and its diversity that has a global outreach.
Influence on Dance Pedagogy:
Not only dance performances but also their teachings and the continuation of these traditions are important cultural markers. Dance pedagogy is a crucial element for the relevance and presence of any art form, including classical Indian dance. Mrinalini Sarabhai has made an immense contribution to the dance forms of Kathakali and Bharatanatyam. She has dedicated her life to practising and conserving these artistic forms. Along with her husband, Dr. Vikram Sarabhai, she founded the Darpana Academy of Performing Arts, which trains and tutors artists and performers in various disciplines of dance and performance. It also enables students to nurture sensibilities for artistic expression and understand the rich cultural traditions of Indian classical dance.
Sources:
https://www.thehindu.com/news/cities/Visakhapatnam/yamini-krishnamurthy-honoured/article19482957.ece
https://lifestyle.livemint.com/news/talking-point/tanjore-balasaraswati-the-empress-of-bharatanatyam-111646995353315.html
https://www.britannica.com/biography/Mallika-Sarabhai
https://indianexpress.com/article/lifestyle/art-and-culture/shovana-narayan-interview-kathak-dancer-journey-evolution-pandemic-8912724/
https://www.indiatoday.in/india-today-insight/story/from-the-archives-rukmini-arundale-rhythm-in-repose-1896480-2022-01-05
Tanmaya Kshirsagar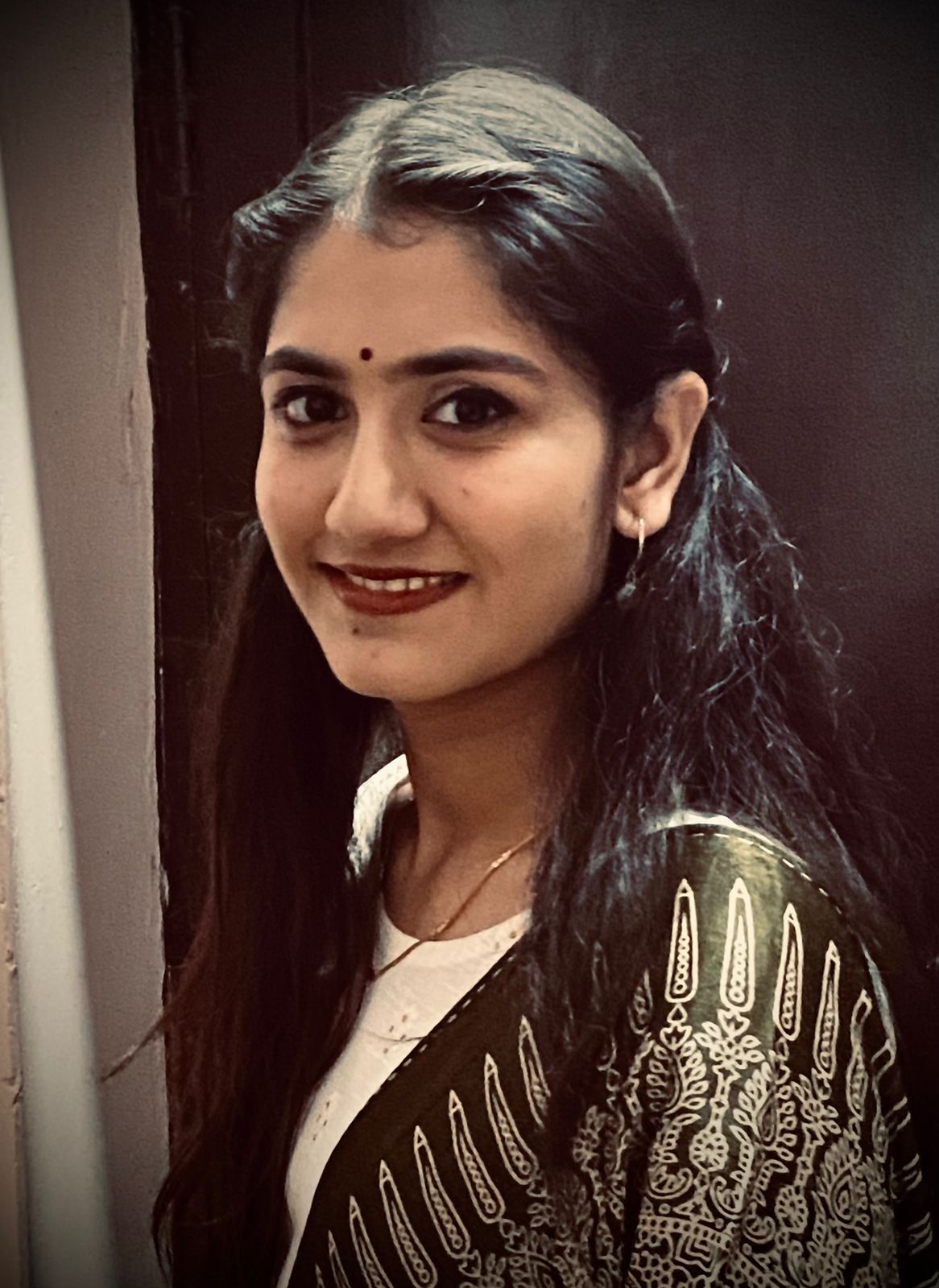 Tanmaya Kshirsagar is an artist, writer and musician. She works with UN Women as a Youth Ambassador and her work has found a place on platforms like Times of India, Indian Review, Women's Web and Medium to name a few.