7 Folk Tales About Diwali That Will Astound You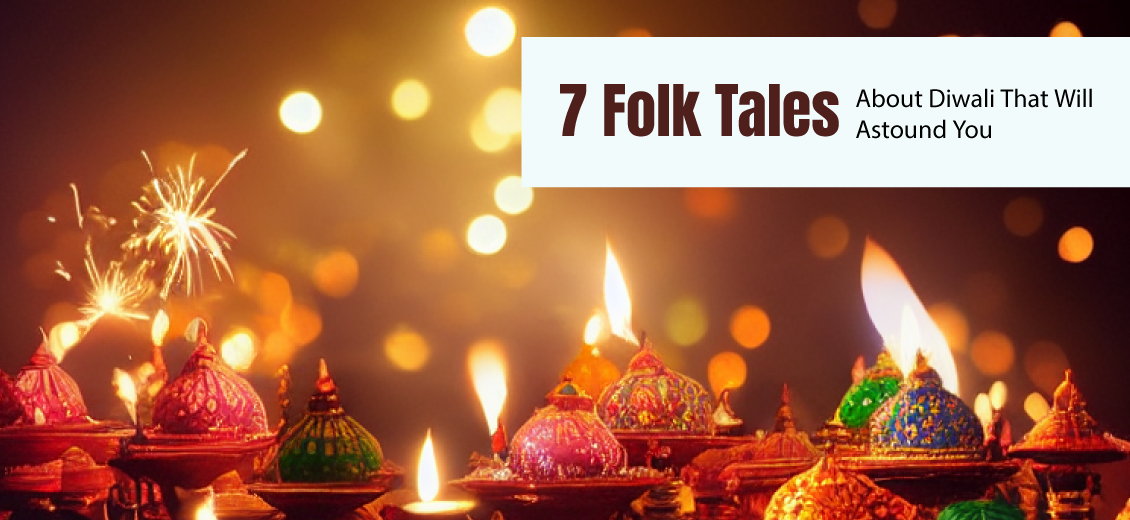 "When you light up another's path, your own path gets lit up effortlessly too."
The grand festival of Diwali is just around the corner and everyone across the country is busy decorating their houses and buying new clothes. Popularly termed the festival of lights, the festival is the celebration of hope, and the triumph of truth. The event commemorates the victory of good over evil and of light prevailing over darkness. Going back to the roots, the festival of Diwali is derived originally from the word 'Deepawali' in Sanskrit, meaning 'row of lights. In India, it is celebrated across the country, with diverse traditions from different cultures.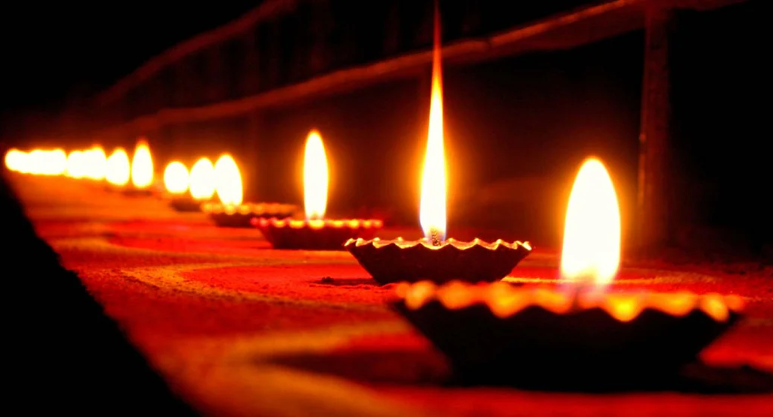 The Why Re-examined
Before delving into the melting pot of cultures, there should be a better glance into the primary and central idea behind the celebration of Diwali. The festival marks the return of 'Maryada Purushottam' Lord Rama, along with his wife Sita and brother Lakshmana to Ayodhya, after fourteen long years of exile. The tithi of Diwali falls on Amavasya (new moon day), a fortnight after Dushhera when Lord Rama defeated Ravana. This day of 'the return', is a symbolic representation of the victory of good over evil.
The Generic Traditional Way
The festivities of Diwali go on for almost a week in India, beginning from Vasu Baras or Vagh Baras, which falls on Krishna Paksha Dwadashi, or the twelfth day of the fortnight of Ashwin month. This day is celebrated to honour cows. The next day is Dhanteras or Dhanatrayodashi, considered to be very auspicious for buying gold. People buy new gold for the family, a way to worship the God and Goddess of wealth- Kuber and Lakshmi. Dhanteras is followed by Naraka Chaturdashi or better known as Kali Chaudas. It is believed that the demon Narkasura was defeated and killed on this day by Lord Krishna. The 4th day is the day of Lakshmi Puja or Kali Puja, the actual day of Diwali, signifying the return and triumph. The next day after Diwali has various names across India. It is called Annakut, Padva, Balipratipada, or Gowardhan Puja depending on the region and culture. The festivities end with the Bhai Dooj or Bhau Beej, a day to strengthen the bond between a brother and a sister.
Significance of Folk Tales
It is an interesting fact that many of the traditions and rituals we follow today have all been passed on to us through folk tales and folk legends. India has subsets of diversity. It has sub-cultures within cultures and different traditions changing every few kilometres. These folk tales are originally believed to have been transmitted verbally through generations and later transcribed when the tradition of writing them down started. Folk tales connect you to a very authentic culture that is slowly becoming extinct. They are the best possible reflection of a past society and the story of its evolution. In the Land of Festivals, that is India, there are numerous folk tales associated with every festival and its grandeur. The successive chronicles are a glance at these glorified folk tales.
Pathar- Ka- Mela
The tradition of Pathar ka Mela is popular in the Dhami town of Himachal Pradesh. This tradition is based on a folk tale saying that human sacrifice used to be offered to the Goddess Kali, the other name for which is Narbali, which was a ritual included in Kali Puja. Later, a prince abolished this practice considering it too gore and violent, and moreover, inhumane. Stone pelting was introduced as an alternative to that ancient tradition. According to this Pathar-Ka-Mela ritual, getting struck by a stone is considered lucky. The blood from the wound inflicted by stones is later offered to the Goddess.
The Celebrated Ramlila

North India is a beautiful amalgamation of similar cultures and rituals. One famous ritual without which Diwali is incomplete in any town or city is the enaction of Ramacharitmanas- The Ramlila. Most people assume it to be a depiction of the Ramayana, but in reality, it is more profound and involves singing and enacting the verses. This tradition has been going on ever since villages turned into towns and towns converted into cities. But the tradition is actually a representation of ancient folklore and culture, which promoted the arts of singing, dramatics and dance.
Dhanatrayodashi in Maharashtra
Dhanatrayodashi is the Maharashtrian name for Dhanteras. In many other states, people worship the goddess of wealth and buy gold as an offering. But as an old legend goes, Dhanatrayodashi is celebrated a little more uniquely in Maharashtra. Marathi women light diyas (earthen lamps) in the name of each male for a long and prosperous life on this day. This tradition dates back to the folk tale about a young prince who was fated to die on the fourth day of his marriage. But that day, his wife kept him awake all night by lighting diyas at the door. As destiny would have it, the God of death, 'Yama,' disguised as a serpent, attempted to enter the Prince's chamber but was touched and thwarted by compassion for the young wife who had lit the diyas as a prayer to him. This day is thus known as Yamandeepdaan, and a diya is kept lit all night in Yama's honour. Yamandeepdaan involves burning specially kneaded flour diyas in honour of the Hindu god of death.
The Sikh-Style Diwali
The Sikhs celebrate Diwali as a victory in the Sikh Battle for Freedom. History has it that Emperor Jahangir had imprisoned the sixth Guru Nanak, Guru Hargobind Singh, due to the fear of the Guru's rising popularity and influence. The Sikh festival of Bandi Chhor Diwas commemorates his release from the Gwalior Fort along with 52 Hindu kings, which coincides with the Hindu festival of Diwali. Bandi Chhor Diwas is celebrated by the lighting of diyas in houses and gurudwaras and bursting crackers, gifting, and feasting. Some people even sprinkle milk dipped in a silver coin in their homes, symbolising prosperity.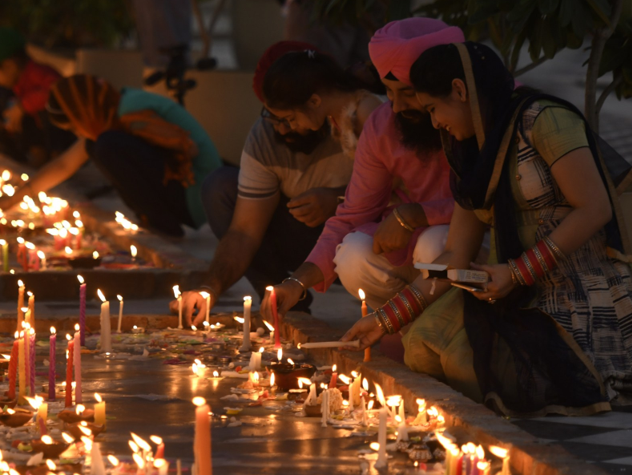 The Carnatic Diwali
A day before the Diwali puja, also known as Narkachaturdashi or Kali Chaudas, people take an oil bath. This tradition has evolved from a folklore legend saying that Lord Krishna took an oil bath after destroying Narkasura, the son of Dharitri (the earth goddess), who later became a demon. Krishna did this to wash off the bloodstains from his clothes and body. This tradition holds the spiritual meaning of washing away your sins.
Diwali is also a devotional day to King Bali in coastal Karnataka, called Balipadyami. Farmers rejoice and offer food from their paddy fields as part of the ritual. A folk-tale myth also states that 'gambling' is a must on Balipadyami. It stems from the story of Shiva and Parvathi's dice game on this day. Shiva was defeated by Parvathi. Later, Kumaraswami won a dice game with Parvathi, followed by Lord Ganesh defeating Lord Kumaraswami in a game. Since then, it has been customary for families to be involved in gambling on this day.
The Bhai Dooj Versatility
The festival of Bhai Dooj is one of the last solaces of the week-long Diwali festivities. It is celebrated diversely in all the states. There are many folk tales and legends associated with each state's Bhai Dooj celebrations.
The Legend of Lord Vishnu:
According to this legend, when Lord Vamadev was pleased with Bali Maharaj, he appeared disguised as Vishnu. Bali then asked for a boon that Lord Vishnu would be on every door of Patalaloka. Vishnu agreed to it and became a Dwarpalaka of Bali. Hearing about this from Narada, Goddess Lakshmi was upset and decided to outwit Bali so that her husband could return home. She went to Bali Maharaj as a poor woman asking for help and said that she did not have a brother and would dearly like to have one. Bali accepted her as his sister and asked her to wish for a boon. Lakshmi earnestly replied that since he had everything at his command, he would better release Lord Vishnu. Thus, Lord Vishnu became free from the service of Bali.
The Yama Folk Tale
As the tale goes, according to Vedas, Yama or Yamraj is the son of Vivasvat. He had a twin sister called Yami or Yamuna. Yami, Yama's twin sister, took the form of the sacred river Yamuna. Similarly, Yama was given an equally important role and made the God of Death. On Bhai Dooj day, Yamaraj was invited to his sister Yamuna's home, where she offered him an aarti while he offered her a small gift in return. Lord Yama then told her that on this day, brothers would be invited to their sisters' homes, and in return, the brother would bring a gift for his sister. Till today this tradition is maintained thoroughly. Again, as Yama's sister fed him to his satisfaction, he said that from now on, any brother who visits his sister on BhaiDhuj day would escape death by Yamaraj.
There is beauty in myths, in legends, in stories that have been passed along the generations. Folk tales are many, and the cultures are abundant. Each tradition brings with it generations and decades of folklore, continuously evolving on the way. The festival of grandeur has too many stories to give and an equally large number to receive. Time to embrace and rejoice in the folklore of where we belong!
Tanmaya Kshirsagar
Tanmaya Kshirsagar is an artist, writer, musician & a TED speaker. Her work has been published on TOI E-blogs, Medium & Women's Web along with poetry featured on Indian Review & All Poetry. She is pursuing BA Hons. (Eng. Lit) along with being a writer & editor.