3 Movies to Watch Before a Competitive Exam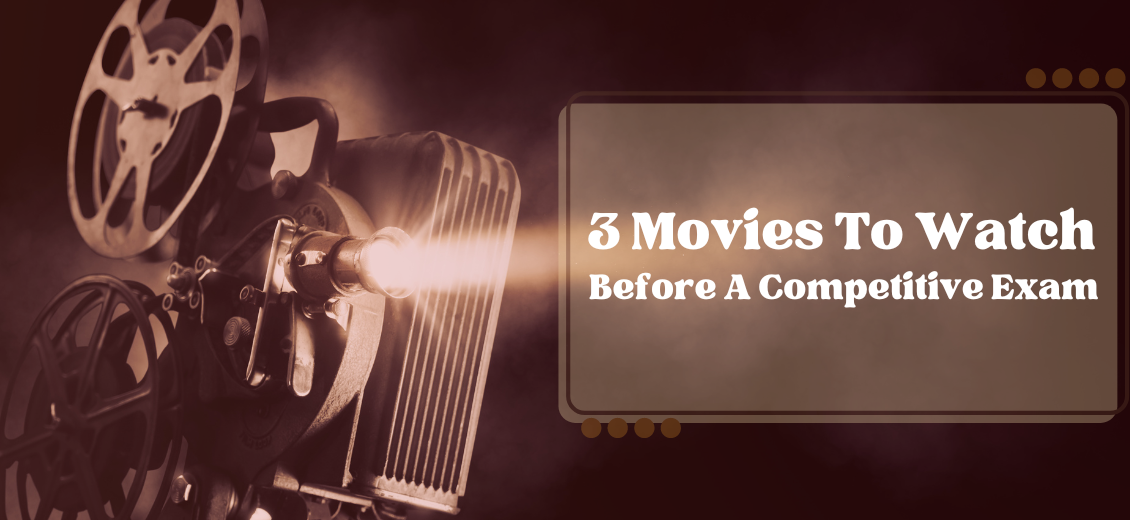 Finding motivation while dealing with study burnout can be pretty difficult. The constantly building up pressure often takes its toll on students. The combination of boredom and a rigorous academic routine can never be good. The upcoming CUET exams seem to be doing just that to a lot of students.
Well, we are here to ease things a bit for you! Check out this short list of movies that you can watch and not feel guilty about afterwards.
1. Bhaag Milkha Bhaag (2013)
IMDb rating: 8.2/10
Length: 3 hours 6 minutes
Famous quote: "Utaar ke phenk de sab janjaal, Beete kal ka har kankaal. Tere talve hai teri naal, Tujhe to karna hai har haal, Daant se kaat le bijlee taar, Chaba le taambe ki chhankaar, Phoonk de khud ko jwaala-jwaala, Bin khud jale hoye naa ujaala, Lapat hai aag Milkha, aag Milkha, aag Milkha."
Random fun fact: During the shoot of Bhaag Milkha Bhaag, Milkha Singh presented the shoes he wore to the Rome Olympics to Farhan Akhtar.
Trailer link: Bhaag Milkha Bhaag - Official Trailer 2013
Bhaag Milka Bhaag follows the story of Milkha Singh, also known as the Flying Sikh. During times of the India-Pakistan partition, Singh overcame his family's massacre and fueled it with his running drills. He emerged to be one of the most iconic runners of time. This movie never fails to motivate its viewers and fuels them up every time it is watched.
2. Chak De! India (2007)
IMDb rating: 8.1/10
Length: 2 hours 33 minutes
Famous quote: "This is the story of a team and they're playing for their one and only dream. To win the world cup so you better back up. Cause they're coming on now and they're coming on how. Get out of the way cause they're screaming "Chak De"!"
Random fun fact: Hockey stick sales went up by 30% after the release of this film.
"Chak De! India" follows the story of Kabir Khan, an ex-hockey member of the men's national team, who rises from the fall of fame and becomes the coach of a girl's hockey team. The girls in the team have forgotten what it feels like to play for the love of the game rather than playing for government flats and pensions. They are all against each other and need to be reminded of why they truly started.
This patriotic movie doesn't follow a love story as most Bollywood movies do. Instead, it reminds you why you love your nation and what it has been through in all those years of neglect.
3. Whiplash (2014)
IMDb rating: 8.5/10
Length: 1 hour 46 minutes
Famous quote: "There are no two words in the English Language more harmful than 'good job'."
Random fun fact: This film was shot in 19 days.
This remarkable movie follows the story of nineteen-year-old Andrew Neimann, who aspires to become the greatest jazz drummer in the world. With no musical background, Niemann is elated when he gets accepted into the Shaffer Conservatory of Music, the best music school in the United States. In the Conservatory, only the best get to play in Terence Fletcher's studio band, which represents the school at jazz competitions.
When Niemann gets asked to join, although as an alternate drummer, he jumps to take the position. However, he soon realises that Fletcher operates on intimidation and fear. He seems to be violent and doesn't stop at anything to realise the student's potential.
Whiplash follows Niemann and Fletcher's story of pain, hard work and dedication that crossed all rationality.
We hope these movies will give the much-needed boost for your preparation and relieves your stress. Let us know how you feel about these movies in the comments!
Jess Doshi
Sources
12 Remarkably Inspirational Bollywood Dialogues for the Soul. (2017, July 12). Akash Gautam. https://akashgautam.com/2017/07/12/12-remarkably-inspirational-bollywood-dialogues-for-the-soul/
Mehra, R. O., Joshi, P., Akhtar, F., Singh, J., & Dutta, D. (2013, July 12). Bhaag Milkha Bhaag. IMDb. https://www.imdb.com/title/tt2356180/
Motivational Bollywood Movies for Students. (2021, May 24). Leverage Edu. https://leverageedu.com/blog/motivational-bollywood-movies-for-students/
Quotes from "Chak De! India." (n.d.). IMDb. Retrieved May 14, 2022, from https://www.imdb.com/title/tt0871510/quotes/?ref_=tt_trv_qu
Amin, S., Sahni, J., Khan, S. R., Malvade, V., & Ghatge, S. (2007, August 10). Chak De! India. IMDb. https://www.imdb.com/title/tt0871510/?ref_=nv_sr_srsg_0
Bhaag Milkha Bhaag (2013) - IMDb. (n.d.). Www.imdb.com. Retrieved May 14, 2022, from https://www.imdb.com/title/tt2356180/trivia/?ref_=tt_trv_trv
Whiplash. (n.d.). Www.imdb.com. https://www.imdb.com/title/tt2582802/?ref_=fn_al_tt_1
Whiplash (2014) - IMDb. (n.d.). Www.imdb.com. Retrieved May 14, 2022, from https://www.imdb.com/title/tt2582802/trivia/?ref_=tt_trv_trv