12 Movies To Watch To Find Inspiration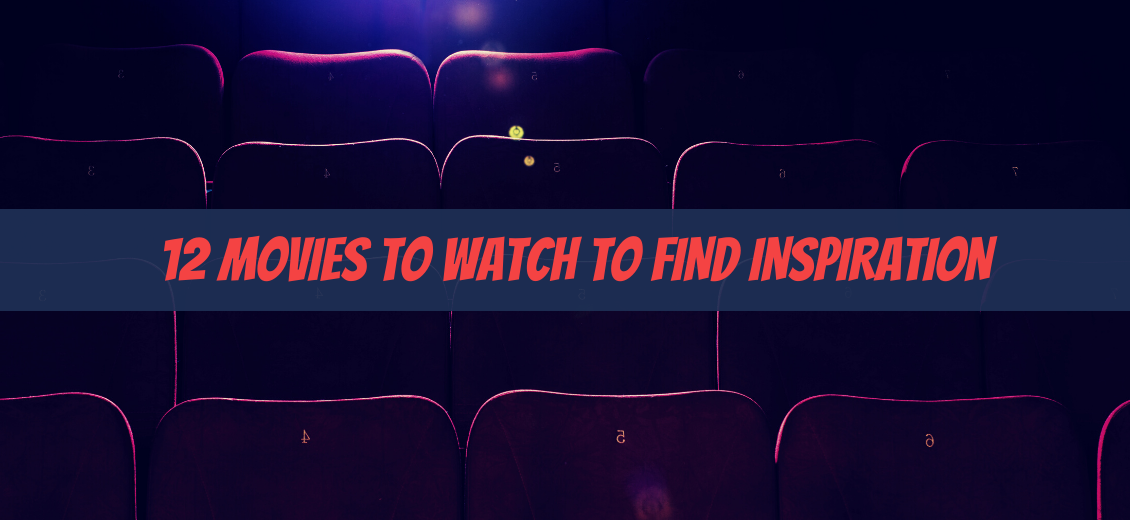 With the fast-paced buzz of life and constant unexpected bumps, a break is definitely needed! What better way than to indulge in cinematic masterpieces?
Stress in moderate amounts is healthy and essential to increase one's productivity. However, in case of an overdose, it is necessary to calm down, take a soda, order some pizza and treat yourself to a couple of relaxing movies!
1. Pursuit of Happyness (2006)
IMDb: 8/10
Length: 1 hour 57 minutes
Trailer:
Quote: "And I remember thinking how did he know to put the pursuit part in there? That maybe happiness is something that we can only pursue, and maybe we can actually never have it. No matter what. How did he know that?"
Based on the true story of Christopher Gardener, The Pursuit of Happyness goes in-depth about the highs and lows of life. With determination and unwavering resilience, Gardener invested heavily in a device called "body density scanner." He believed that they would sell hundreds as they were slightly better than x-rays. However, they did not sell as much, and his wife kicked him out. Gardener and his son took to the streets and discovered the ways of life with an optimistic yet realistic attitude. Watch their journey that makes you question life and "happiness."
2. The Perks of Being a Wallflower (2012)
IMDb: 7.9/10
Length: 1 hour 43 minutes
Trailer:
Quote: "So, I guess we are who we are for a lot of reasons. And maybe we'll never know most of them. But even if we don't have the power to choose where we come from, we can still choose where we go from there. We can still do things. And we can try to feel okay about them."
When Charlie, a depressed teenager, is released from a mental asylum, he joins college with the hope of finding a place to fit in. This movie tells his story of overcoming depression with smiles, laughter and real friends. The Perks of Being a Wallflower, adapted from a book, is like a bright light at the end of a dark tunnel. When an introvert Charlie finds mentors in his two seniors, he learns to deal with his tumultuous life.
3. 127 Hours (2010)
IMDb: 7.5/10
Length: 1 hour 34 minutes
Trailer:
Quote: "I've been moving towards it my entire life. The minute I was born, every breath that I've taken, every action has been leading me to this crack on the out surface.!"
This inspirational movie takes us through a rocky road as Aron Ralston gets trapped in the canyon of Utah for 127 hours. A boulder fell on his arm and he got trapped for 5 days. Once again, based on a true story, this movie reminds us how precious life is and inspires us to 'carpe diem' in tough times. Today is what we have now; who knows about tomorrow?
4. Back To The Future (1985)
IMDb: 8.5/10
Length: 1 hour 56 minutes
Trailer:
Quote: "Wait a minute, Doc. Are you telling me you built a time machine...out of a DeLorean?"
An American science fiction movie where a slightly crazy scientist finds a way to make a time machine that sends Marty McFly back in time. He has to make sure his parents meet since it's the only way to make it back to his own time. A series of laughs and contentment will hit you through this dazzling movie.
5. Into The Wild (2007)
IMDb: 8.1/10
Length: 2 hours 28 minutes
Trailer:
Quote: "I will miss you too, but you are wrong if you think that the joy of life comes principally from the joy of human relationships. God's place is all around us; it is in everything and in anything we can experience. People just need to change the way they look at things."
Christopher McCandless graduated from Emory University and decided to leave his whole life behind. He gives his savings account to a charity and sets off to live in the wilderness. In his journey, he meets people who shape his life and enlighten him on the ways of this world. Based on a true story, this movie will leave you inspired, overwhelmed and grateful in life.
6. Inside Out (2015)
IMDb: 8.1/10
Length: 1 hour 35 minutes
Trailer:
Quote: "Crying helps me slow down and obsess over the weight of life's problems."
Are you a fan of animated movies? Inside Out is the one for you! This movie revolves around a girl called Riley, who goes through a rough patch in life. Her five core emotions, Fear, Anger, Joy, Disgust and Sadness, are portrayed through tiny individual characters who struggle to cope with her new life in Minnesota. It is a marvellous animation that appeals to children and adults alike.
7. Soul Surfer (2011)
IMDb: 7/10
Length: 1 hour 52 minutes
Trailer:
Quote: "I don't know why terrible things happen to us sometimes. But I have to believe something good is going to come out of this."
Soul Surfer takes us through the life of 13-year-old Bethany Hamilton, who loved to surf. She belongs to the waves. However, after an accident that involved a shark biting off her arm, she was forced to take a break. After some time, she musters the courage to surf again with her family and friends' love and support.
8. Lady Bird (2017)
IMDb: 7.4/10
Length: 1 hour 34 minutes
Trailer:
Quote: "Just because something looks ugly doesn't mean that it's morally wrong."
Christine "Lady Bird" McPherson is the kind of high-school student who gets labeled as the "wrong type of crowd." She wishes for a life filled with adventure and sophistication but finds neither in her Sacramento Catholic high school. Enjoy your popcorn as you watch this coming-of-age story of a teenager who takes you through important life lessons.
9. Good Will Hunting (1997)
IMDb: 8.3/10
Length: 2 hours 6 minutes
Trailer:
Quote: "You don't know about real loss cause it only occurs when you've loved something more than you love yourself."
A young janitor solves a math problem that had been contested for centuries. He possesses an unmatchable ability to solve any question put in front of him except for the purpose of his life. He sets on a journey with a psychologist to figure out who he is and how he fits into the bigger picture of this world. On his way, he finds love and loses himself to the happiness and sorrows of life.
10. A Beautiful Mind (2001)
IMDb: 8.2/10
Length: 2 hours 15 minutes
Trailer:
Quote: "I've always believed in numbers and the equations and logics that lead to reason. But after a lifetime of such pursuits, I ask: What truly is logic? Who decides reason?"
John Forbes Nash was a genius mathematician who won a Nobel Prize. He made an astonishing, life-changing discovery very early in his career. However, he had to deal with schizophrenia in his personal life. Though not an accurate depiction of his delusions, the movie is loosely based on his battle with schizophrenia, and is a must watch for an insight into mental illness.
11. Dead Poets Society (1989)
IMDb: 8.1/10
Length: 2 hours 8 minutes
Trailer:
Quote: "And medicine, law, business, engineering, these are noble pursuits and necessary to sustain life. But poetry, beauty, romance, love, these are what we stay alive for."
A cinematic masterpiece urges viewers to "seize the day" and "suck the marrow out of life." This movie revolves around Todd Anderson, a shy newcomer who lives behind his brother's shadow, and Neil Perry, an academic overachiever who lives under his father's thumb. When they meet their new English professor, John Keating, they set off to find their purpose in life and begin the tradition of Dead Poets Society once again.
12. The Theory Of Everything (2014)
IMDb: 7.7/10
Length: 2 hours 3 minutes
Trailer:
Quote: "There should be no boundaries to human endeavor. However bad life may seem, while there is life, there is hope."
'The Theory Of Everything' follows the personal life of Stephen Hawking, the most brilliant and celebrated physicist of our times. With Jane Wilde, the love of his life, he achieved what some could never dream of. He was diagnosed with ALS at the age of 21 and had two years to live. But, he never gave up and used his brain to blow the minds of billions of people with his theories. This movie is a must-watch for everyone!
So, next time you take a break, skip the meaningless scrolling, grab an extra-large tub of popcorn and pizza, and delve into these meaningful movies!
Jess Doshi