Why In News?
Chhattisgarh has received three national awards for the excellent implementation of Ayushman Bharat Scheme in the Arogya Manthan-2023 program organized in New Delhi on September 25, 2023.
Key Points:
Union Minister of State for Health and Family Welfare S.P. Singh Baghel honored the states doing excellent work under the Ayushman Bharat Scheme in the programme.
Director, Health Services and CEO of State Nodal Agency, Jaiprakash Maurya received these awards on behalf of the state in the Arogya Manthan program organized in New Delhi.
Chhattisgarh has received these three national awards in the category of large states due to gender equality in providing services under Ayushman Bharat Scheme, 100 percent utilization of the amount allocated to the state and more than 90 percent of the families in the state having at least one Ayushman card. Given to ensure availability.
It is noteworthy that under Ayushman Bharat Digital Mission, AIIMS Raipur was also honored in the program for providing facilities to patients through digital cards and digital health records. Aabha ID is being used under the Digital Health Mission, which is facilitating the patients in providing health services in OPD.
Chief Minister Bhupesh Baghel said that in the last 5 years, many innovative schemes have been implemented in the state to provide easy access to quality health services to the public, which have been appreciated at the national level.
Through 'Chief Minister Haat-Bazaar Clinic Scheme', free health facilities have become available to the people in remote forest areas of the state. Through this, till now more than 1 crore 40 lakh people have been given free medicines along with health check-up and treatment. Teams of doctors in mobile medical units are regularly reaching 1814 haat-bazaars in the state to check and treat the health of needy villagers.
Similarly, through 'Mukhyamantri Slum Swasthya Yojana', people in urban areas are getting health facilities at home.
'Dai-Didi Clinic' is an innovative scheme of the Government of Chhattisgarh, through which free health check-up and treatment facilities are being provided to women and adolescent girls. In Dai-Didi Clinic, there are women from doctors to the paramedical team, so that there is no hesitation in getting women and adolescent girls treated.
Chhattisgarh is the only state where maximum assistance of Rs. 25 lakh is being given for the treatment of serious diseases under the 'Chief Minister Special Health Assistance Scheme'.
Through 'Shri Dhanvantari Generic Medical Store Scheme', quality medicines are being provided to the people of the state at 50 to 72 percent discount on MRP. Due to this scheme, people have so far got a discount of Rs 129 crore on the purchase of medicines.
'Dr. Under 'Khubchand Baghel Health Assistance Scheme', treatment facility up to Rs 5 lakh is being provided every year to more than 64 lakh BPL ration card holding families and up to Rs 50 thousand to other card holding families.
By upgrading the primary health centers and sub-health centers of the state, 5233 health and wellness centers are being operated, where 12 types of primary services are being provided to the patients free of cost. Telemedicine e-Sanjeevani services are operated in more than 4 thousand health and wellness centers.
Free dialysis services are being provided to the patients in the district hospitals. With the establishment of Hamar Lab in district hospitals and community centers, various types of testing facilities have become accessible to the patients.
'Malaria Free Chhattisgarh Campaign' has got better success. Due to this, the annual parasite index has decreased from 2.63 to 0.94 in the last 5 years.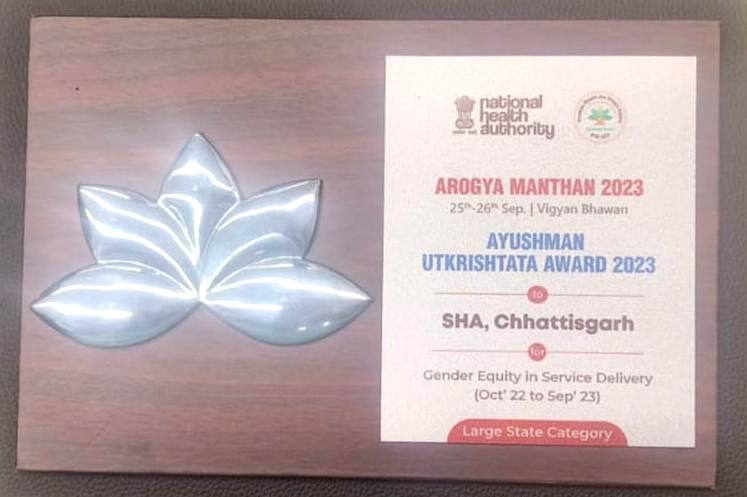 ---
Switch to Hindi