Madhya Pradesh Public Service Commission (MPPCS) GK
Madhya Pradesh GK
| | |
| --- | --- |
| Formation | 1st november, 1956 |
| Capital | Bhopal |
| Population | 7,26,26,809 |
| Region | 3,08,252 sq. km. |
| Population density in state | 236 persons per sq.km. |
| Total Districts | 52 (52nd District – Niwari) |
| Other Name of State | Hriday Pradesh, Soya State, Tiger State, Leopard State |
| High Court | Jabalpur (Bench – Indore, Gwalior) |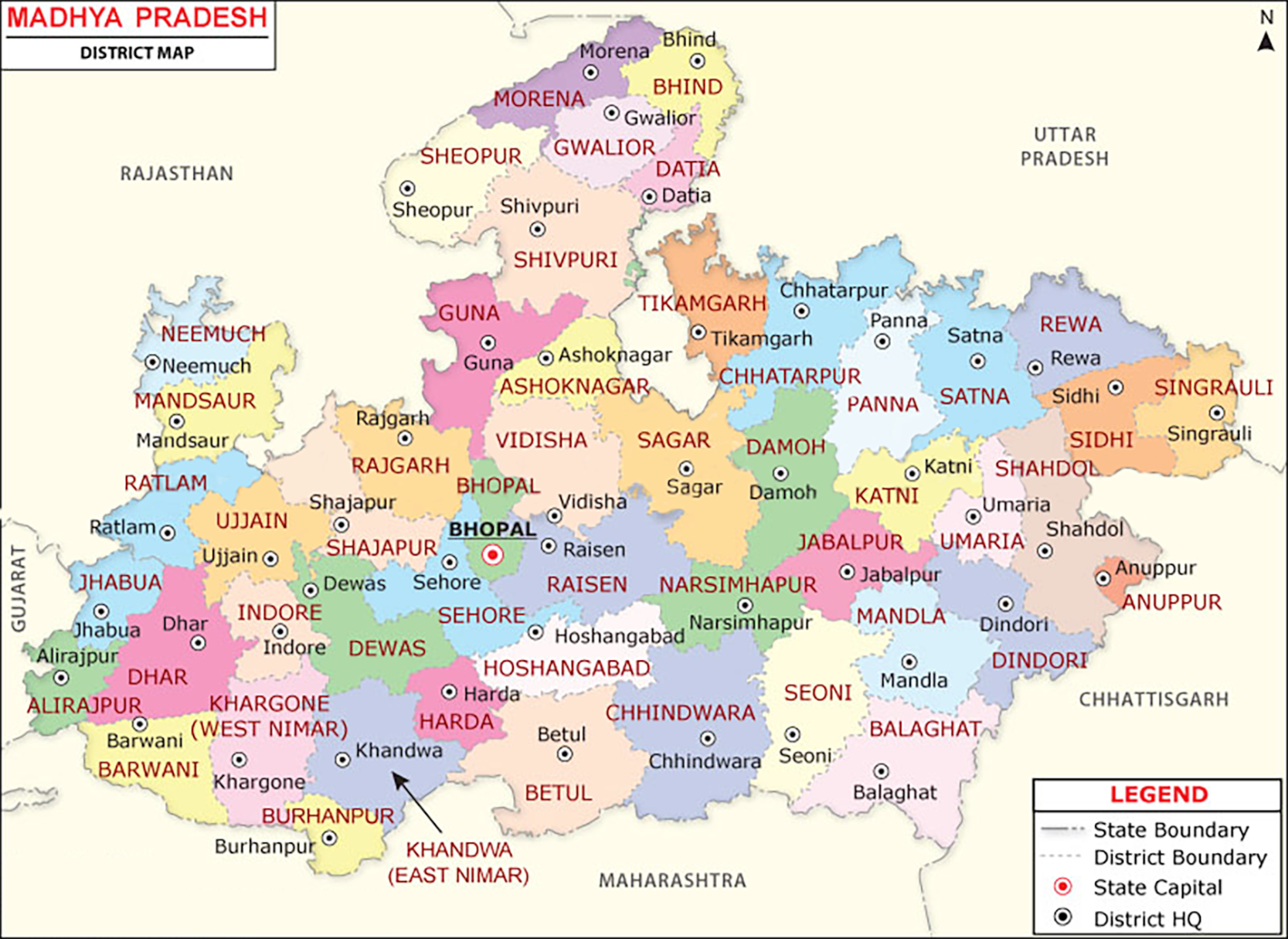 State Symbol

State Animal:
Barahsingha (reindeer)
State Flower:
White Lily
State Bird:
Dudhraj (Shah Bulbul)
State Dance:
Rai
State Tree: Banyan
Official Game:
Malkhamb
Madhya Pradesh : General Information
State – Madhya Pradesh
Constitution – 01 November, 1956 (Present Form – 1 November 2000)
Area – 3,08,252 sq. km.
Population – 7,26,26,809
Capital – Bhopal
Total District – 52
No. of Divisions – 10
Block – 313
Tehsil (January 2019) – 424
The largest tehsil (area) of the state – Indore
The smallest tehsil (area) of the state – Ajaygarh (Panna)
Town/city – 476
Municipal Corporation (2018-19) – 16
Municipality – 98
City Council – 294
Municipality – 98 (As per Government Diary 2021: 99)
Total Village – 54903
Zilla Panchayat – 51
Gram Panchayat – 22812 (2019–20)
Tribal Development Block – 89
State Symbol – A circle inside the 24 stupa shape, in which there are earrings of wheat and paddy.
State River – Narmada
State Theater – Mach
Official Anthem – Mera Madhya Pradesh Hai (Composer – Mahesh Srivastava)
State fish – Mahasheer (announced in 2013)
State Crop – Soybean
Official language – Hindi
State legislature – Unicameral (assembly)
Number of Assembly Members – 231 [230 + 1 Anglo-Indian Member]
Number of seats reserved for Scheduled Castes in the Legislative Assembly – 35
Number of seats reserved for Scheduled Tribes in the Legislative Assembly – 47
Number of members in Lok Sabha – 29
Lok Sabha seats reserved for Scheduled Castes – 4
Lok Sabha seats reserved for Scheduled Tribes – 6
Seats for Rajya Sabha – 11
Census
Male Population – 3,76,12,306
Female Population – 3,50,14, 03
Rural Population – 5,25,57,404
Rural Male – 2,71,49,388
Rural Female – 2,54,08,016
Urban population – 200,69,405
Urban Male – 1,04,62,918
Urban Women – 96,06,487
Madhya Pradesh's place in the country in terms of area – Second
Most malnourished district – Sheopur
Least malnourished district – Bhopal
The population density of the state of Madhya Pradesh is – 236 sq. km.
District with highest population density – Bhopal (855 persons per sq. km.)
The district with the lowest population density – Dindori (94 persons per sq. km.)
Largest division in terms of area – Jabalpur
The smallest division in terms of area – Narmadapuram (Hoshangabad)
Most densely populated division – Indore
Most sparsely populated division – Shahdol
Largest district in terms of area – Chhindwara
Smallest district in terms of area – Niwari
Largest district in terms of population – Indore
Smallest district in terms of population – Harda
District with highest sex ratio in the state – Balaghat (1021)
The district with the lowest sex ratio in the state – Bhind (837)
Literacy rate in Madhya Pradesh – 69.3 percent
Male Literacy – 78.7 percent
Female literacy – 59.2 percent
Most Literate Division – Jabalpur
Least Literate Division – Indore
Most literate district of the state – Jabalpur (81.01%)
Least literate district in the state – Alirajpur (36.1%)
District with highest male literacy – Indore
District with highest female literacy – Bhopal
The largest tribe of the state – Bhil
Geographical and Other Features of the State
Geographical location of the state – 21° 6' to 26° 30' North Latitude and 74° 9' to 82° 48' East Longitude
Length from North to South – 605 km.
Width from East to West – 870 km.
States bordering the state – 5, [U.P. (North-East), Maharashtra (South-West), Chhattisgarh (South-East), Rajasthan (North-West) and Gujarat (West)]
State meeting the maximum limit of the state – Uttar Pradesh
State meeting the minimum limit of the state – Gujarat
The line passing through the middle of the state – Tropic of Cancer (passes through 14 districts.)
Percentage of Madhya Pradesh in the total area of ​​India – 9.38%
Highest point of the state – Dhupgarh hill (located in Mahadev hill)
Lowest place in the state – Narmada–Son Valley
Hottest place – Khajuraho
Coldest place – Shivpuri
The largest river of the state – Narmada river (1312 km.)
Districts Bordering Neighbouring States
Border states
Numbers
Districts
Uttar Pradesh
14
Bhind, Tikamgarh, Chhatarpur, Panna, Satna, Rewa, Sidhi, Datia, Shivpuri, Sagar, Singrauli, Ashoknagar, Morena, Niwari
Chhattisgarh
6
Sidhi, Shahdol, Dindori, Balaghat, Singrauli, Anuppur
Rajasthan
10
Morena, Shivpuri, Guna, Rajgarh, Neemuch, Mandsaur, Ratlam, Jhabua, Sheopur, Agar Malwa
Gujarat
2
Jhabua, Alirajpur
Maharashtra
9
Alirajpur, Barwani, Khargone, Khandwa, Burhanpur, Betul, Chhindwara, Seoni, Balaghat
States and their districts bordering Madhya Pradesh

Border states
Border districts
Uttar Pradesh (11 Districts)
Agra, Etawah, Jalaun, Jhansi, Lalitpur, Banda, Mirzapur, Allahabad (Prayagraj), Mahoba, Sonbhadra, Chitrakoot
Rajasthan (10 Districts)
Pratapgarh, Banswara, Baran, Jhalawar, Sawai– Madhopur, Kota, Dholpur, Chittorgarh, Bhilwara, Karauli
Maharashtra (8 Districts)
Dhule, Nagpur, Amravati, Bhandara, Buldhana, Gondia, Nandurbar, Jalgaon
Chhattisgarh (7 Districts)
Rajnandgaon, Kabirdham, Bilaspur, Mungeli, Surajpur, Korea, Balrampur
Gujarat (2 Districts)
Dahod, Vadodara
Major Waterfalls of Madhya Pradesh

Waterfalls
Location (river)
Kapil dhara Waterfall
Amarkantak, Anuppur (Narmada River)
Dugdha dhara Waterfall
Amarkantak, Anuppur (Narmada River)
Dhuandhar Waterfall
Bhedaghat, Jabalpur (Narmada River)
Sahastradhara Waterfall
Maheshwar (Narmada River)
Mandhar Waterfall
Khandwa (Narmada River)
Dardi Waterfall
Khandwa (Narmada River)
Bhalkund Waterfall
Sagar (Bina River)
Patalpani Waterfall
Indore (Chambal River)
Jhadidaha Waterfall
Indore (Chambal River)
Chuliya Waterfall
Mandsaur (Chambal River)
Rahatgarh Waterfall
Sagar (Chambal River)
Kevati Waterfall
Rewa (Mahana River)
Chachai Waterfall
Rewa (Beehad River)
Bahuti Waterfall
Sailor River (Rewa)
Pandava Waterfall
Panna (Ken River)
Apsara Waterfall
Pachmarhi
Silver Fall
Pachmarhi
Duchess Fall
Pachmarhi
Bea Fall
Pachmarhi
Note: At present the highest waterfall of Madhya Pradesh is Bahuti Falls, which is located in Rewa district. Its height is 198 meters (650 ft). Whereas before this, Chachai Falls was the highest waterfall in Madhya Pradesh, whose height is 130 meters.
Major Cities Situated on the Banks of Rivers

River
Town
Narmada
Omkareshwar, Amarkantak, Hoshangabad, Jabalpur, Maheshwar
Chambal
Sheopur, Mhow, Ratlam, Morena
Tapti
Multai, Burhanpur
Betwa
Orchha, Sanchi, Vidisha, Guna
Parvati
Shajapur, Ashta, Rajgarh
Sindh
Shivpuri, Datia
Kali sindh
Bagli, Dewas, Sonkachh
Kshipra
Ujjain
Khaan
Indore
Mahi
Kukshi, Dhar
First in State
First Governor – Dr. NS. Pattabhi Sitaramayya
First Woman Governor – Ms. Sarla Grewal
First Chief Minister – Pt. Ravi Shankar Shukla
First Woman Chief Minister – Ms. Uma Bharti
First Speaker of the Legislative Assembly – Pt. Kunjilal Dubey
First Deputy Speaker of the Legislative Assembly – Vishnu Vinayak Sarwate
First Leader of Opposition – Shri Vishnunath Yadavrao Tamaskar
First Chief Justice of High Court – Mohammad Hidayatullah
First Lady Judge – Smt. Sarojini Saxena
First Chief Secretary – Shri H.S. Kamath
First Election Commissioner – N.B. Lohani
First Lokayukta – P.V. Dixit
First State Information Commissioner – T.N. Srivastava
Chairman of the first Finance Commission – Dr. Sawai Singh Sisodia
First Woman Leader of Opposition – Jamuna Devi
The first Nobel Peace Prize recipient – Kailash Satyarthi
State's first nuclear power station – Chutka village (Mandla)
State's first I.T. Park – Bhopal
State's first international airport terminal – Bhopal
State's first craft village – Chhatarpur
State's first agricultural university – Jabalpur
State's first university – Dr. Harisingh Gour University, Sagar (1946)
The first ISO certified SP Office – Dewas
State's first national park – Kanha Kisli
State's first dry port – Pithampur
State's first open jail – Navjeevan Ashram (Hoshangabad)
State's first Information Technology (IT) University – Gwalior
State's first DNA laboratory – Sagar
Herbal bank of the state – Panar water (Pachmarhi)
First in Madhya Pradesh in India
The largest mosque in the country – Taj-ul-Masjid (Bhopal)
First establishment of optical fiber in the country – Mandideep (Bhopal)
The first state to establish village swaraj system – Madhya Pradesh
India's first state to produce diamond in the country – Madhya Pradesh
India's first declared tourist city – Shivpuri
Country's first microchip factory – Bhopal
State to set up India's first Malkhamb Academy – Ujjain (Madhya Pradesh)
First state to conduct DNA test (of tigers) – Madhya Pradesh (Satpura Tiger Reserve)
State to set up country's first cow sanctuary – Agar Malwa (Madhya Pradesh)
First National Park to get ISO 9001:2008 Award – Van Vihar (Bhopal)
The first state in the country to submit agro–economic survey – Madhya Pradesh
Country's largest soybean producing state – Madhya Pradesh
State to establish country's only human museum – Bhopal (Madhya Pradesh)
First state on the basis of Scheduled Tribe population in the country – Madhya Pradesh
The first state in the country to do complete nationalization of forests – Madhya Pradesh
Asia's first physical education university – Gwalior (Lakshmibai National Institute/University of Physical Education)
Asia's first laser research center – Indore (Madhya Pradesh)
Sanctuary for Babbar lion – Koon Palpur (Madhya Pradesh)
The first marble building in India – Hoshang Shah's Tomb, Dhar (Madhya Pradesh)
Transport and Communication
Longest National Highway – NH–3
Shortest National Highway – NH–339B
State's largest railway junction – Itarsi
Road Transport (August, 2020)
Total length of roads maintained
70900 kms
Length of paved roads
67200 kms
Length of unpaved roads
2000 kms
Length of national highways
8858 kms
Historical Forts of Madhya Pradesh

Name/Place
Construction Period
Constructed By
Gwalior Fort (Gwalior)
8th sanctuary
Raja Surajsen
Chanderi Fort (Ashoknagar)
11th sanctuary
Pratihara king Kirtipal
Ginnorgarh Fort (Raisen)
13th sanctuary
Maharaj Uday Varman
Asirgarh Fort (Burhanpur)
14th sanctuary
Asa (Ahir King)
Dhar Fort (Dhar)
1344 A.D
Mohammed bin Tughlaq
Bandhavgarh Fort (Umariya)
14th sanctuary
Kings of Baghelkhand
Mandsaur Fort (Mandsaur)
14th sanctuary
Alauddin Khilji
Narwar Fort (Shivpuri)
14th sanctuary
King Nal
Raisen Fort (Raisen)
16th sanctuary
Raja Rajbasanti
Mandala Fort (Mandala)
16th sanctuary
Raja Narendra Shah
Garh Kundar Fort (Teekamgarh)
16th sanctuary
Kate Singh
Orchha Fort (Niwari)
17th sanctuary
Raja Veer Singh Bundela
Ajaygarh Fort (Panna)
18th sanctuary
Raja Ajaypal
Major Palaces of Madhya Pradesh

Palace Name
Location
Dayi Palace
Mandu (Dhar)
Asharfi Palace
Mandu (Dhar)
Rani Roopmati Palace
Mandu (Dhar)
Ship palace
Mandu (Dhar)
Hindola (carousel) palace
Mandu (Dhar)
Kharbuja (cantaloupe) palace
Mandu (Dhar)
Chappan Mahal
Mandu (Dhar)
Andhra (blind) palace
Mandu (Dhar)
Gujari palace
Gwalior
Jai Vilas palace
Gwalior
Karna palace
Gwalior
Vikram palace
Gwalior
Shahjahan palace
Gwalior
Chanderi palace
Chanderi (Ashoknagar)
Rajmahal
Ashoknagar
Badal palace
Gwalior
Raja Rohit palace
Raisen
Itradar palace
Raisen
Kaliyadeh palace
Ujjain
Madan palace
Jabalpur
Satkhanda palace
Datiya
Raja Aman palace
Ajaygarh (panna)
Baghelan palace
Mandala
Jahangir palace
Orchha (Niwari)/Gwalior
Moti palace
Dindori/Burhanpur
Shaukat palace
Bhopal
Crown palace
Ratlam
Tarabai palace
Shajapur
Sheesh palace
Neemuch/Tikamgarh
Dhubela palace
Chhatarpur
| | |
| --- | --- |
| Festivals | Location |
| Kalidasa Ceremony | Ujjain |
| Khajuraho Dance Festival | Khajuraho |
| Tansen Ceremony | Gwalior |
| Malwa Festival | Indore, Ujjain, Mandu |
| Ustad Alauddin Khan | Maihar (Satna) and in different cities |
| Aamir Khan Music Festival | Indore |
| Orchha Festival | Tikamgarh |
| Madhya Pradesh Celebrations | Delhi |
| Tulsi Ceremony | Chitrakoot (Satna) |
| Muktibodh Ceremony | Bhind |
Major Irrigation Projects of Madhya Pradesh

Project Name
River
Beneficiary Districts
Special Note
Chambal Project
Chambal
Neemuch, Mandsaur, Bhind, Morena, Gwalior, Sheopur
This is the first project of the state and joint multipurpose project of Madhya Pradesh and Rajasthan.
Rani Avantibai Sagar (Bargi Project)
Narmada
Jabalpur, Seoni Mandla
The Bargi Dam constructed under this project is the first dam constructed on the Narmada River.
Tawa Project
Narmada
Hoshangabad
Under the Tawa project, a dam has been built in Ranipur village of Hoshangabad district.
Indira Sagar Project
Narmada
Khandwa
This is the biggest project in Madhya Pradesh, which has the highest water storage capacity in India.
Omkareshwar Project
Narmada
Khandwa, Khargone, Dhar
This project is 40 km from Indira Sagar Project near Mandhata village of Khandwa district.
Maheshwar Project
Narmada
Khargone
Maheshwar Project is an important part of Narmada Valley Project located in Khargone.
Man Project
Man
Dhar
The tribal dominated tehsils Manawar, Kukshi and Gandhwani of Dhar district will be benefited by this project.
Jobat Project
Hathni
Jhabua
It is also called Shaheed Chandrashekhar Azad Sagar Project.
Sardar Sarovar Project
Narmada
—
The states of Madhya Pradesh, Rajasthan, Gujarat and Maharashtra are included in this project.
Pench Project
Pench
Chhindwara, Balaghat
It is a joint project of Madhya Pradesh and Maharashtra.
Thavar Project
Wainganga
Mandala
The project is situated on Wainganga, a tributary of the Godavari.
Urmil Project
Urmil River
Chhatarpur
It is an interstate project of Madhya Pradesh and Uttar Pradesh.
Matatila Dam/Rajghat
Betwa
Madhya Pradesh and parts of Uttar Pradesh

It is an interstate project of Madhya Pradesh and Uttar Pradesh.

Rani Laxmibai Dam has been built under this project.

Bansagar Project
Son
Rewa, Sidhi, Satna, Shahdol
It is a joint project of Madhya Pradesh, Uttar Pradesh and Bihar.
Ken-Betwa Project
Ken-Betwa
Chhatarpur, Panna, Tikamgarh and other major districts of Bundelkhand (Total 9 districts).
It is a joint project of Madhya Pradesh and Uttar Pradesh.
Choral Project
Choral
Indore
This is an inter valley project.
Halali Project
Halali River
Vidisha, Raisen
This project is also known as Samrat Ashok Sagar Project.
Forest/Wildlife/National Park
Recorded forest area of Madhya Pradesh according to State Forest Report, 2019
Recorded Forest Area
Area (sq.km.)
Reserved area
61,886 (65.36%)
Protected area
31,098 (32.84%)
Unclassified area
1,705 (1.80%)
Total
94,689
District wise Forest Cover of Madhya Pradesh (ISFR-2019)

On the basis of percentage of geographical area
Highest
Balaghat (53.44%), Sheopur (52.38%), Umaria (49.62%), Mandla (44.44%)
Lowest
Ujjain (0.59%), Shajapur (1.02%), Ratlam (1.23%), Bhind (2.39%)
Area-wise (in sq. km)
Highest
Balaghat (4932.06), Chhindwara (4588.01), Betul (3663.70), Sheopur (3460)
Lowest
Ujjain (36.22), Ratlam (59.85), Shajapur (63.35), Bhind (106.75)
Protected Area for Specific Animals/Birds

Animals/Birds
Area
Location
Alligator/Crocodile
Chambal National Sanctuary
Morena
Son River Sanctuary
Sidhi
Ken River Sanctuary
Chhatarpur
Asian paradise flycatcher (State Bird)
Sailana Sanctuary
Ratlam
Lesser florican Bird
Sailana Sanctuary
Ratlam
Sardarpur Sanctuary
Dhar
Great Indian Bustard
Ghatigaon Sanctuary
Gwalior
Karera Sanctuary
Shivpuri
Asiatic Lion
Kuno Palpur Sanctuary (Kuno National Park)
Sheopur
National Parks and Sanctuaries included in Project Tiger

National Park / Sanctuary
District
Year
Kanha kisli
Mandala–Balaghat
1973–74
Pench
Seoni–chhindwara
1992–93
Bandhavgarh
Umariya
1993–94
Panna
Panna–Chhatarpur
1993–94
Satpura
Hoshangabad
1999–2000
Sanjay Dubari
Sidhi
2008–09
Ratapani
Raisen–Sehore
2013 (in some sources 2012)
Biosphere Reserve area of ​​Madhya Pradesh
Pachmarhi Biosphere Reserve
Pachmarhi, Hoshangabad (March 1999)
Achanakmar – Amarkantak Biosphere Reserve
Amarkantak, Anuppur (March 2005)
Panna Biosphere Reserve
Panna (August 2011)
National Park of Madhya Pradesh

Name
Districts
Area (Square Kms.)
Established
Kanha–Kisli
Mandala–Balaghat
940
1955
Madhav
Shivpuri
354.61
1958
Bandhavgarh
Umariya
448.842
1968
Panna
Panna and Chhatarpur
576
1975
Sanjay
Sidhi
467
1975
Satpura
Hoshangabad
524
1981
Pench
Seoni–chhindwara
293
1983
Ghughua/ Ghughua fossil (fossil)
Dindori
0.270
1983
Van Vihar
Bhopal
4.43
1983
Dinosaur fossil
Dhar
0.8974
2010
Kuno
Sheopur
404
2018
Major Sanctuaries of Madhya Pradesh

Name
District
Major Wild Animal
Narsinghgarh
Rajgarh
Peacock, Leopard, Sambar, Chital, Wild Boar
Gandhisagar
Mandsaur/Neemuch
Nilgai, Leopard, Chital, Chinkara, Waterfowl
Bori
Hoshangabad
Lion, Leopard, Sambar, Chital, Gaur, Deer, Wild Boar
Pachmarhi
Hoshangabad
Lion, Leopard, Chital, Sambar, Gaur, Nilgai, Deer, Chinkara
Dubari (Sanjay)
Sidhi
Lion, Leopard, Chital, Nilgai, Sambar, Chinkara
Ratapani
Raisen/Sehore
Lion, Sambar, Leopard, Chital, Nilgai, Langur
Singhori
Raisen
Leopard, Lion, Sambar, Chital, Nilgai
Nauradehi (Largest)
Sagar
Lion, Leopard, Chital, Sambar, Gaur, Nilgai, Wild Dog
Pench (Mogali)
Seoni
Lion, Black antelope, Leopard, Sambar, Chital, Gaur
Chambal
Muraina
Alligator, Crocodile, Turtle, Beaver, Dolphin
Ken (Ghadiyal)
Chhatarpur/Panna
Alligator, Crocodile
Son (Ghadiyal)
Sidhi
Alligator, Crocodile, Tortoise, Migratory Birds
Karaira
Shivpuri
Sambar, Chital, Nilgai, Golden bird
Ghatigaon
Gwalior
Chinkara, Sambar, Nilgai, Golden bird
Bagdara
Sidhi
Leopard, Chital, Sambar, Nilgai
Pen
Mandala
Lion, Leopard, Chital, Sambar
Panpatha
Umaria / Shahdol
Lion, Leopard, Chital, Sambar, Nilgai, Chausinga, Deer
Sardarpur
Dhar
Kharmor Bird
Sailana
Ratlam
Kharmor Bird, Dudhraj
Gangau
Panna/Chhatarpur
Leopard, Wild Boar, Sambar, Chital, Nilgai, Chinkara
Ralamandal (Smallest)
Indore
Tiger, Leopard, Chital, Sambar, Gaur, Bear
Veerangana Durgavati
Damoh
Sambar, Nilgai, Krishna Deer, Chital
Orchha
Niwari/Tikamgarh
Chital, Nilgai, Peacock
Khivni
Dewas/Sehore
Chital, Sambar, Chausinga
Industry/Minerals/Energy
Detroit of India – Pithampur (Dhar)
India's first optical fiber factory – Mandideep (Raisen)
Asia's largest soybean plant – Ujjain
India's first National Soybean Research Center – Indore
India's first Gemstone Refining Center – Jabalpur
State's first special economic zone – Indore
Industrially developed districts of the state – Bhopal, Indore, Jabalpur
State Mega Food Parks – Khargone and Dewas
Largest center of automobile industry in the state – Pithampur (Dhar)
The only watch factory in the state – Betul
The only umbrella industry in the state – Mhow (Indore)
Auto Cluster in the State – Pithampur (Dhar)
Dry port in the state – Mangaliya (Indore)
Industrial Health Laboratory in the State – Indore
State's first data center park (proposed) – Indore
Nail and wire making factory in the state – Vidisha
State's largest coal deposit area – Sohagpur
State's first nuclear power station – Chutka village (Mandla)
Establishment of state's first wind power farm – Dhar
World's largest floating solar plant (proposed) – Omkareshwar
The state to establish the first electricity board in the country – Madhya Pradesh
Bio Energy Park – Rewa
Copper mines in the state – Malanjkhand
Diamond mines in the state – Panna
National Power Training Institute (Proposed) – Shivpuri
State Mining Corporation Headquarters – Bhopal
State Mineral Corporation Headquarters – Bhopal
Energy Development Corporation Headquarters – Bhopal
Uranium reserves in the state – Shahdol
Highest graphite reserves in the state – Betul
Energy Capital of India – Singrauli
| | | |
| --- | --- | --- |
| S.No. | Industrial Center | Area |
| 1. | Pithampur | Dhar |
| 2. | Meghnagar | Jhabua |
| 3. | Pilukhedi | Rajgarh |
| 4. | Puraina | Panna |
| 5. | Malanpur–Ghirongi | Bhind |
| 6. | Maneri | Mandala |
Important Industries Established in Madhya Pradesh

Industry/Factory
Place
Watch factory
Betul
Marble carving center
Jabalpur, Chhatapur
Diamond factory
Panna
Biscuit factory
Gwalior
Lac factory
Umariya
PVC pipe factory
Satna
Vegetable oil unit
Shajapur
Sulfuric acid plant
Nagda
Soybean plant
Ujjain
Electronic complex
Indore
Match industry
Gwalior
Asbestos cement factory
Kaimur
Embroidery industry
Bhopal
Leather complex
Devas
Leather toy
Indore
Stainless Steel Complex
Sagar
Metal sculpture industry
Hoshangabad
Agriculture Complex
Chhindwara
Central Public Sector Industries

Establishment
Location
Year
Description
Government Ordnance Ordnance Manufacturing) factory
Khamariya (Jabalpur)
1942
War equipment
Gun Carriage factory
Jabalpur
1943-44
War equipment
Telecom factory
Jabalpur
1943-44
Telephone and telegraph equipment
Security Paper Mills
Hoshangabad
1967-68
Banknote printing paper
Heavy Vehicle (Heavy Vehicle) factory
Jabalpur
1969
Defensive and Heavy Commercial Vehicles
Currency printing press
Devas
1974
Paper currency
Gray iron foundry
Jabalpur
1972
Raw iron
Hindustan Copper Project (Malaj–Khand)
Balaghat
1982
Copper production center
Burhanpur Tapti Mills
Burhanpur
1906-07
Cotton fabric and yarn
The New Bhopal Tactile Ltd.
Bhopal
1938-39
Cotton fabric and yarn
Indore Malwa United Mills
Indore
1907-08
Cotton fabric and yarn
National Newsprint & Paper
Nepanagar (Burhanpur)
1959-60
Newsprint
Bharat Heavy Electricals Ltd.
Bhopal
1964
Switchgear, Control, Gear Transformer, Turbine, Traction
| | |
| --- | --- |
| Park/Industrial Complex | Location |
| Spice Park | Chhindwara |
| Biotechnology Park | Depalpur (Indore) |
| Data Center Park (Proposed) | Indore |
| Country's second women's park (proposed) | Indore |
| Biotechnology Park (Proposed) | Indore |
| Export Fertilizer Industrial Park | Dewas |
| Eco Tourism Park | Reva |
| Bio Energy Park | Reva |
| First archaeological park | Sangrampur (Damoh) |
| Central Food Park (at 7 locations) | Mandsaur, Khargone, Dewas, Mandla, Hoshangabad, Chhindwara and Bhind |
| First IT park | Bhopal |
| Plastic park | Tamot (Raisen) |
| Gems & Jewellery Park | Indore |
| Electronics Complex | Indore |
| Leather Complex | Dewas |
| Agro Complex | Chhindwara |
| Stainless Steel Complex | Sagar |