Contraction in August Core Industry Output: IIP
Why in News
India's eight core industrial sectors contracted by 8.5% in August 2020 compared to August 2019, marking the sixth month in a row of shrinking output.
The eight core sector industries are coal, crude oil, natural gas, refinery products, fertilisers, steel, cement and electricity.
These eight industries account for 40.27% in the Index of Industrial Production (IIP).
Key Points
Contraction:


The cumulative growth of Core Industries during April to August, 2020-21 has been (-) 17.8%.
Except for coal and fertilisers, production continued to decline in most core sectors in August.


Coal production increased 3.6% on-year in August after four months of contraction, due to improvement in offtake level.


An offtake agreement is an arrangement between a producer and a buyer to purchase or sell portions of the producer's upcoming goods.

The steepest decline in August was observed in refinery products, which dropped 19.1%. This was followed by cement, and natural gas.

Reason: The drop in August is due to factors like:


Low demand in the economy.
Unavailability of equipment for setting up newer production platforms.
Seasonal and lockdown restrictions.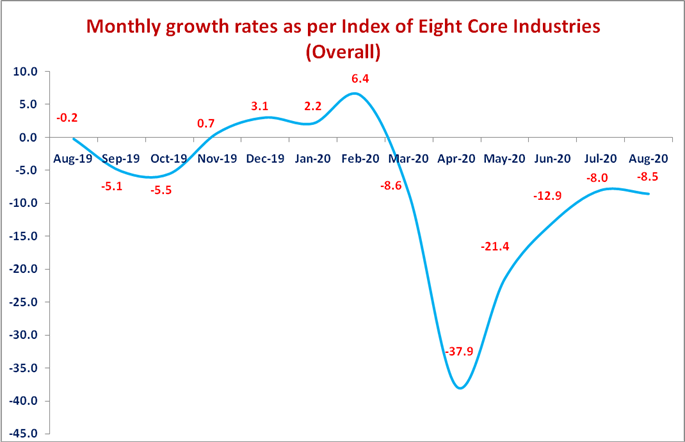 Index of Industrial Production
The Index of Industrial Production (IIP) is an index that shows the growth rates in different industry groups of the economy in a fixed period of time.
It is compiled and published monthly by the National Statistical Office (NSO), Ministry of Statistics and Programme Implementation.
IIP is a composite indicator that measures the growth rate of industry groups classified under:


Broad sectors, namely, Mining, Manufacturing, and Electricity.
Use-based sectors, namely Basic Goods, Capital Goods, and Intermediate Goods.

The eight core sector industries represent about 40% of the weight of items that are included in the IIP.

The eight core industries in decreasing order of their weightage: Refinery Products (28.04 %)> Electricity (19.85 %)> Steel (17.92 %) > Coal (10.33 %)> Crude Oil (8.98 %)> Natural Gas (6.88 %)> Cement (5.37 %)> Fertilizers (2.63 %).

Base Year for IIP calculation is 2011-2012.
Significance of IIP:


IIP is the measure on the physical volume of production.
It is used by government agencies including the Ministry of Finance, the Reserve Bank of India, etc, for policy-making purposes.
IIP remains extremely relevant for the calculation of the quarterly and advance Gross Domestic Product (GDP) estimates.