Still Fresh and Growing: Drishti@23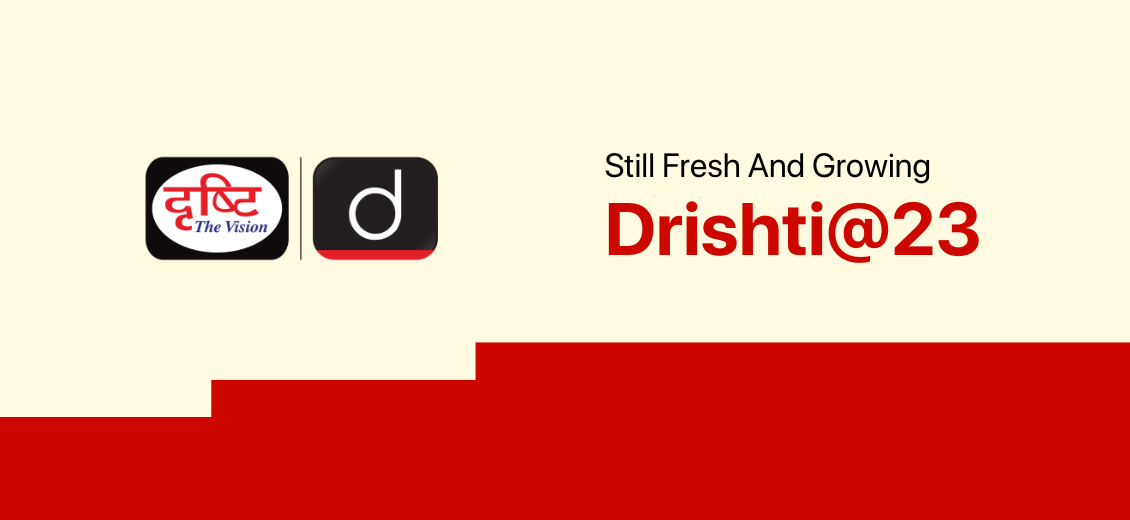 "Education need not only be a tool for survival but for enhancing perception. The children must blossom and flower into great human beings" — Sadhguru
It has been rightly said that all good things take time. There is no such thing as 'overnight success'. These lines definitely justify the adventurous and humbling journey of Drishti: The Vision Institute. On 1st November, when the institute completes its 23rd year, it won't be wrong to say that it has reached the pinnacle of success and still aims to do better and keep moving forward.
What began as an experiment of teaching Hindi literature to a few students by the Managing Director (MD) and Founder of Drishti Dr Vikas Divyakirti, over the years, has grown up to be a name which is no less than hope for Hindi medium aspirants today. After achieving success in the field of guiding UPSC and State PCS aspirants of Hindi medium, Drishti then set foot for the first time in the grooming of English medium UPSC and State PCS aspirants in September 2021 at the Karol Bagh Centre.
Over a span of 23 years, Drishti has been able to cater to the UPSC and State PCS preparation needs of numerous students across the four centres - Mukherjee Nagar (Delhi), Karol Bagh (Delhi), Prayagraj (UP) and Jaipur (Rajasthan). Their team of dedicated counsellors has helped the aspirants to clear their doubts regarding the courses and classes, thus helping them to make informed decisions.
Drishti as an educational institute has been able to inspire, motivate and guide students not just through their classes, but also via their Open Seminars and Webinars, Mock interview, YouTube channels and much more. Their programmes like Asmita-Saarthi, Mentorship, Manthan and Interview Guidance programs have helped so many aspirants in realising their dreams.
With their affordable Online courses and Test Series, Drishti has made it possible for aspirants residing in remote areas to prepare effortlessly, giving wings to their dreams of becoming Civil Servants. Moreover, with an Academic Support Team to clear the doubts of students who opt for Online Courses, Drishti has radicalised the Civil Services exam preparation.
It has always been Drishti's aim to provide the best possible facilities to aspirants and to groom them into fine Civil servants. After 23 years of doing the same, Drishti is now venturing into other fields of education like CUET (UG) preparation and a few others. Recently the MD announced
that his team is planning to open a University in Delhi NCR. We can hope that this university will bring a breath of fresh air to the field of higher education and create a unique identity of its own in this educational arena like Drishti has in the world of UPSC and state PCS exam preparation.
Nobody can say for sure what the future holds in its chest of mysteries, but one thing that can be predicted well is that Drishti will continue to surprise students of our country with their distinctive methods of pedagogy. We hope that in the times to come, Drishti will continue to gift the country with 'good' Civil Servants and also set up an environment where students and aspirants can get intellectual and moral growth.
Sanchayita Pattanayak