India, Turkmenistan Bilateral Meet | 04 Apr 2022
For Prelims: Location of Turkmenistan and Central Asian Nations, TAPI Pipeline, Ashgabat Agreement.
For Mains: Significance of Central Asian countries for India and related challenges.
Why in News?
Recently, the Indian President for the first time visited Turkmenistan, where he signed four agreements, including in financial intelligence and disaster management and agreed to expand bilateral trade and energy cooperation to further strengthen the multifaceted partnership.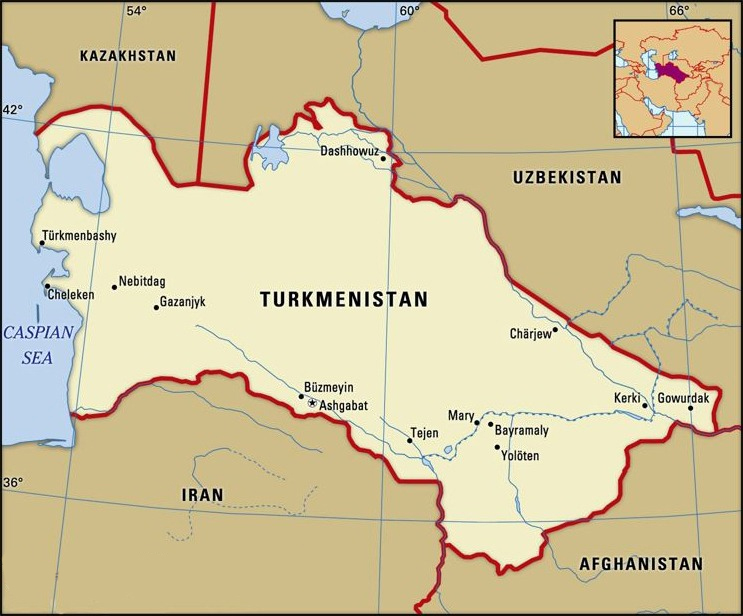 What are the Highlights of the Bilateral Meet?
Highlighted the significance of the International North South Transport Corridor (INSTC) and the Ashgabat Agreement on International Transport and Transit Corridor.
The Chabahar port built by India in Iran could be used to improve trade between India and Central Asia.
Discussing the Turkmenistan-Afghanistan-Pakistan-India (TAPI) pipeline, India suggested that issues related to the security of the pipeline and key business principles may be addressed in Technical and Expert level meetings.
India expressed its readiness to partner with Turkmenistan in its drive towards digitalisation and noted that Space can be another area of mutually beneficial cooperation.
Underlined the importance of holding regular cultural events in each other's territory since both countries share centuries-old civilisational and cultural linkages.
Emphasised on the need for both countries to cooperate closely on the effective management of the Covid-19 pandemic that has affected their population.
Agreed to further enhance cooperation under the framework flowing from the India-Central Asia Summit.
India thanked Turkmenistan for its support to India's permanent membership in a reformed and expanded UN Security Council as well as for India's initiatives as a non-permanent member of UNSC for the period of 2021-22.
Both share a broad 'regional consensus' on the issues related to Afghanistan, which includes formation of a truly representative and inclusive government, combating terrorism and drug trafficking, central role of the UN, providing immediate humanitarian assistance for the people of Afghanistan and preserving the rights of women, children and other national ethnic groups and minorities.
What are the Key Points of India -Turkmenistan Relations?
Turkmenistan shares borders with Kazakhstan in the north, Uzbekistan in the north and North-east, Iran in the South and Afghanistan in the Southeast.
India's 'Connect Central Asia' policy 2012 envisages deeper mutual relations with the region and energy linkage is an important component of the policy.
India has joined the Ashgabat agreement, which envisages setting up of an international transport and transit corridor linking central Asia with the Persian Gulf to significantly ramp up trade and investment.
India considers the TAPI pipeline (Turkmenistan, Afghanistan, Pakistan and India) a 'key pillar' in its economic relations with Turkmenistan.
In 2015, Hindi Chair was established in Azadi Institute of World languages, Ashgabat where Hindi is being taught to university students.
India provides training for Turkmen nationals under ITEC (Indian Technical and Economic Cooperation) programme.
Turkmenistan supports India's permanent position in the UN Security Council.
Turkmenistan is a USD 40 billion plus economy, but the bilateral trade with India is below its potential. India can increase its economic presence in Turkmenistan, particularly in the Information and communication technologies (ICT) sector. This would help maintain the future balance of trade.
Recently, the 3rd meeting of the India-Central Asia Dialogue was held in New Delhi.
Turkmenistan possesses very large reserves of natural gas.
Turkmenistan is also strategically placed in Central Asia and connectivity is something on which India feel a partnership with Turkmenistan will pay dividends.
UPSC Civil Services Examination, Previous Year Questions (PYQs)
Consider the following pairs: (2019)
Sea Bordering Country
Adriatic Sea : Albania
Black Sea : Croatia
Caspian Sea : Kazakhstan
Mediterranean Sea : Morocco
Red Sea : Syria
Which of the pairs given above are correctly matched?
(a) 1, 2 and 4 only
(b) 1, 3 and 4 only
(c) 2 and 5 only
(d) 1, 2, 3, 4 and 5
Ans: (b)
The Adriatic Sea is a part of the Mediterranean Sea positioned between the eastern coastline of Italy, and countries of the Balkan Peninsula, from Slovenia, through Croatia, Bosnia and Herzegovina, Montenegro, and to Albania. Hence, pair 1 is correctly matched.
The Black Sea is an inland sea located between far southeastern Europe and the far western edges of the continent of Asia and the country of Turkey. It is bordered by Turkey, Bulgaria, Romania, Ukraine, Russia and Georgia. Hence, pair 2 is not correctly matched.
The Caspian Sea is an enclosed body of water between Asia and Europe. It is bordered by Iran, Turkmenistan, Kazakhstan, Azerbaijan and Russia. Hence, pair 3 is correctly matched.
There are 21 countries which border the Mediterranean Sea. These are Spain, France, Monaco, Italy, Malta, Slovenia, Croatia, Bosnia and Herzegovina, Montenegro, Albania, Greece, Turkey, Cyprus, Syria, Lebanon, Israel, Egypt, Libya, Tunisia, Algeria and Morocco. Hence, pair 4 is correctly matched.
There are six countries (Saudi Arabia, Yemen, Egypt, Sudan, Eritrea, and Djibouti) bordering the Red Sea. Hence, pair 5 is not correctly matched.
Therefore, option (b) is the correct answer.