Kushinagar International Airport | 20 Oct 2021
Why in News
The Kushinagar Airport in Uttar Pradesh is the latest entrant in India's list of international Airports. The airport is expected to provide seamless connectivity to people from South east and East Asian countries for Buddhist Pilgrimage Tourism.
Key Points
Spread of Buddhism in Sri Lanka
Buddhism was first brought to Sri Lanka by a mission sent out from eastern India during the reign of the Mauryan emperor Ashoka (c. 273–232 BCE).
The leader of the mission to Sri Lanka, Mahendra (Mahinda), is described as Ashoka's son.
Buddhist Circuit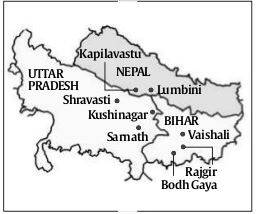 Buddha Path
Buddha was born in 563 BC at Lumbini, in Nepal.
He preached that one should avoid the excess of both luxury and austerity. He advocated the "madhyam marg" (middle path).
The eight-fold path (extraorbdinary Teachings of the Buddha) comprised the following:

Right view.
Right resource.
Right speech.
Right conduct.
Right livelihood.
Right effort.
Right mindfulness.
Right concentration.

The 'Buddha Path' also refers to the Eight Great Places of Buddhist Heritage (referred in Pali as Aṭṭhamahāṭhānāni). They are:

Lumbini (Nepal)- Buddha was born.
Bodh Gaya (Bihar)- Attained enlightenment.
Sarnath (Varanasi, U.P.)- First sermon.
Kushinagar (Gorakhpur, U.P.)- Buddha died.
Rajgir (Bihar)- Where the Lord tamed a mad elephant.
Vaishali (Bihar)- Where a monkey offered honey to him.
Sravasti (U.P)- The Lord took his seat on a thousand petaled lotus and created multiple representations of himself.
Sankasya (Farrukhabad, Uttar Pradesh)- He descended from heaven.