Genome Editing | 01 Apr 2022
For Prelims: Site Directed Nuclease, Genetic Engineering Appraisal Committee, Deoxy-Ribonucleic Acid, GMO, Genome Editing.
For Mains: Genetic Engineering.
Why in News?
Recently, the Government has allowed genome-edited plants without the cumbersome GMO (Genetically Modified Organisms) regulation at the Genetic Engineering Appraisal Committee (GEAC).
What is the Genetic Engineering Appraisal Committee?
It functions under the Ministry of Environment, Forest and Climate Change (MoEF&CC).
It is responsible for the appraisal of activities involving large-scale use of hazardous microorganisms and recombinants in research and industrial production from the environmental angle.
The committee is also responsible for the appraisal of proposals relating to the release of genetically engineered organisms and products into the environment including experimental field trials.
GEAC is chaired by the Special Secretary/Additional Secretary of MoEF&CC and co-chaired by a representative from the Department of Biotechnology (DBT).
What is Genome Editing?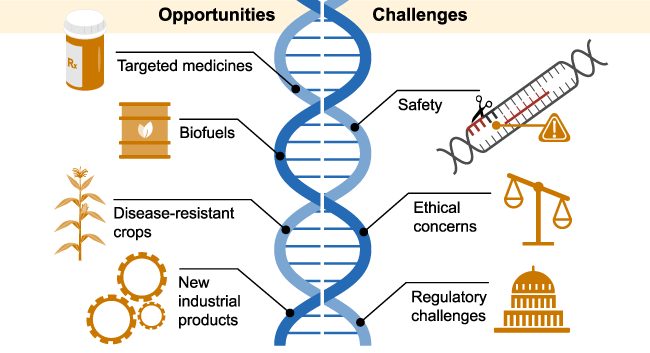 How is Gene Editing different from GMO development?
What are the Regulatory Issues Preventing the Technique?
UPSC Civil Services Examination, Previous Year Questions (PYQs)
Q. What is Cas9 protein that is often mentioned in news? (2019)
(a) A molecular scissors used in targeted gene editing
(b) A biosensor used in the accurate detection of pathogens in patients
(c) A gene that makes plants pest-resistant
(d) A herbicidal substance synthesized in genetically modified crops
Ans: (a)
EXP:
CRISPR-Cas9 is a unique technology that enables geneticists and medical researchers to edit parts of the genome by removing, adding or altering sections of the DNA sequence.