Budget 2021 Highlights: Minimum Government, Maximum Governance and Fiscal Position | 03 Feb 2021
Why in News
Recently, the Minister of Finance presented the Union Budget 2021-22. This was the first digital budget.
This section deals with the theme 'Minimum Government, Maximum Governance' and Fiscal Position of the government.
Key Points
Minimum Government, Maximum Governance:


National Commission for Allied Healthcare Professionals already introduced to ensure transparent and efficient regulation of the 56 allied healthcare professions.
The National Nursing and Midwifery Commission Bill introduced for the same in the nursing profession.
Proposed Conciliation Mechanism with mandate for quick resolution of contractual disputes with Central Public Sector Enterprises (CPSEs).
Rs. 3,768 crore allocated for first digital census in the history of India.
Rs. 300 crore grant to the Government of Goa for the diamond jubilee celebrations of the state's liberation from Portuguese.
Rs. 1,000 crore for the welfare of Tea workers especially women and their children in Assam and West Bengal through a special scheme.

Fiscal Position:


Fiscal deficit stands at 9.5% of the Gross Domestic Product (GDP), and is estimated to be 6.8% in 2021-22.
Plan to continue on the path of fiscal consolidation, achieving a fiscal deficit level below 4.5% of GDP by 2025-2026 with a fairly steady decline over the period.

The Contingency Fund of India is to be augmented from Rs. 500 crore to Rs. 30,000 crore through Finance Bill.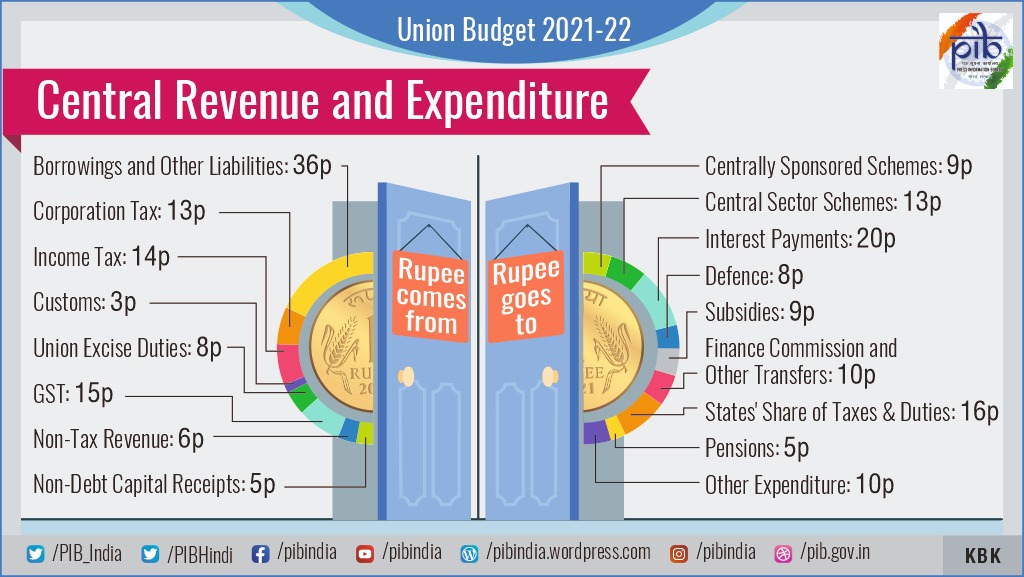 Recommendations of Fifteenth Finance Commission:


The final report covering 2021-26 was submitted to the President, retaining vertical shares of states at 41%.
Funds to UTs of Jammu and Kashmir and Ladakh would be provided by the Centre.
On the Commission's recommendation, Rs. 1,18,452 crore have been provided as Revenue Deficit Grant to 17 states in 2021-22, as against Rs. 74,340 crore to 14 states in 2020-21.

Tax Proposals:


No exemption on interest, if Provident Fund PF contribution is more than Rs. 2.5 lakh.
Exemption from filing tax returns for senior citizens over 75 years of age and having only pension and interest income; tax to be deducted by paying the bank.
Income Tax settlement commission abolished.
Higher Tax Collection at Source rate for non-filers.
Reducing time to file belated returns.
Agriculture Infrastructure and Development Cess (AIDC) on a small number of items.
Dispute Resolution Committee to be set up for taxpayers with taxable income up to Rs. 50 lakh and disputed income up to Rs. 10 lakh.
National Faceless Income Tax Appellate Tribunal Centre to be established.