Smart cities and Academia Towards Action & Research | 06 Jan 2022
Why in News
Recently, the Ministry of Housing and Urban Affairs (MoHUA) has launched "Smart cities and Academia Towards Action & Research (SAAR)" program.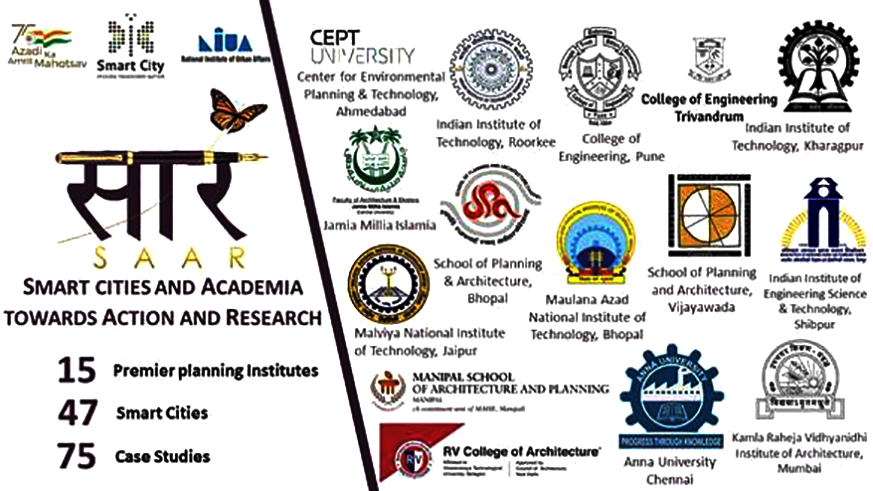 Key Points
About:


Under the program, 15 premier architecture & planning institutes of the country will be working with Smart Cities to document landmark projects undertaken by the Smart Cities Mission.
The documents will capture the learnings from best practices, provide opportunities for engagement on urban development projects to students, and enable real-time information flow between urban practitioners and academia.


MoHUA and NIUA will facilitate linkages between the Institutions and Smart Cities for specific landmark projects that are to be documented under the program.

The first activity envisaged under SAAR is to prepare a compendium of 75 landmark urban projects in India under the Smart City Mission.
National Institute of Urban Affairs
NIUA is an institute for research, training and information dissemination in urban development and management. It is located in New Delhi, India.
It was established in 1976 as an autonomous body under the Societies Registration Act.
The Institute is supported by the Ministry of Housing and Urban Affairs, Government of India, State Governments, urban and regional development authorities and other agencies concerned with urban issues.
Smart City Mission:

About

It is a Centrally Sponsored Scheme under MoHUA to drive economic growth and improve the quality of life of people by enabling local development and harnessing technology as a means to create smart outcomes for citizens.

Objective:

To promote cities that provide core infrastructure and give a decent quality of life to its citizens, a clean and sustainable environment and application of Smart Solutions.

Focus:

On sustainable and inclusive development and to look at compact areas, create a replicable model which will act like a lighthouse to other aspiring cities.

Strategy:

Pan-city initiative in which at least one Smart Solution is applied city-wide.
Develop areas step-by-step with the help of these three models:

Retrofitting.
Redevelopment.
Greenfield.

Performance So Far:

Since the start of the Mission in 2015, the 100 Smart Cities have been developing a total of 5,151 projects with an investment of Rs. 2,05,018 crore.
Initiatives Related to Urban Development