Recovery of Coral Reefs in Great Barrier Reef | 08 Aug 2022
For Prelims: Great Barrier Reef (GBR), Corals, Acropora corals, Coral bleaching.
For Mains: Significance of Coral Reefs in Marine Ecosystem.
Why in News?
According to the Australian Institute of Marine Science's (AIMS) annual long-term monitoring report, Australia's northern and central Great Barrier Reef (GBR) has experienced high levels of coral reef cover over the past 36 years.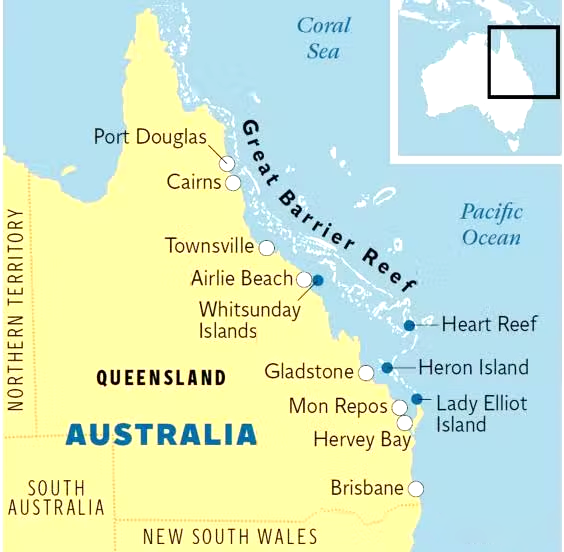 What are the Key highlights of Report?
What are the Issues Highlighted by the Report?
What are Coral Reefs?
What is Australia's Great Barrier Reef?
Way Forward
UPSC Civil Services Examination Previous Year Question (PYQ)
Prelims
Q. Which of the following have coral reefs? (2014)
Andaman and Nicobar Islands
Gulf of Kachchh
Gulf of Mannar
Sunderbans
Select the correct answer using the code given below:
(a) 1, 2 and 3 only
(b) 2 and 4 only
(c) 1 and 3 only
(d) 1, 2, 3 and 4
Ans: (a)
Exp:
India with its coastline extending over 7,500 kilometres and subtropical climatic conditions has very few coral reef areas.
The major coral reef formations in India are,

Gulf of Mannar, hence, 3 is correct.
Palk Bay,
Gulf of Kuchchh, hence, 2 is correct.
Andaman and Nicobar Islands, hence, 1 is correct.
Lakshadweep Islands.

While the Lakshadweep reefs are atolls, all the others are fringing reefs. Patchy coral is present in the intertidal areas of the central west coast of the country.
Coral reefs require clean and clear water, warm surface water and sunlight to survive. Since, most of these requirements are not met in Sunderbans region, coral reefs are not found here. Other disadvantage to reef growth are the heavy monsoonal rains and the high human presence on the coastline. Hence, 4 is not correct. Therefore, option (a) is the correct answer.
---
Mains
Q. Assess the impact of global warming on the coral life system with examples (2019)