4th Quad Foreign Ministers' Meeting | 14 Feb 2022
For Prelims: QUAD, NATO, Indo-Pacific, Quad Vaccine initiative, 5G, COVOVAX, CORBEVAX
For Mains: Groupings & Agreements Involving India and/or Affecting India's Interests, Bilateral Groupings & Agreements, QUAD and its Significance.
Why in News?
Recently, the fourth meeting of the foreign ministers of the QUAD grouping (India, the US, Australia and Japan) was held in Melbourne , Australia.
What is QUAD?
It is the grouping of four democracies –India, Australia, the US, and Japan.
All four nations find a common ground of being democratic nations and also support the common interest of unhindered maritime trade and security.
The Quad is billed as four democracies with a shared objective to ensure and support a "free, open and prosperous" Indo-Pacific region.
The idea of Quad was first mooted by Japanese Prime Minister Shinzo Abe in 2007. However, the idea couldn't move ahead with Australia pulling out of it, apparently due to Chinese pressure.
Finally in 2017, India, Australia, the US and Japan, came together and formed this "quadrilateral" coalition.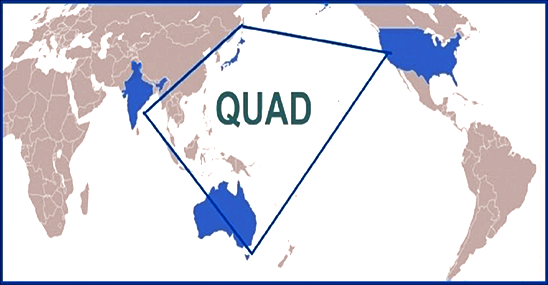 What were the Discussions on Security and Intelligence?
What was their Stand on the Vaccine Initiative?
What is QUAD's Stand on Myanmar Crisis?
What did the Leaders Say on Emerging Technologies?
What was India's Stand in the Meeting?