Cases under Unlawful Activities (Prevention) Act
Why in News
As per the National Crime Records Data (NCRB), more than 35% cases registered under the Unlawful Activities (Prevention) Act (UAPA) were recorded in Manipur.
Key Points
Of all cases registered under UAPA in 2017, Jammu and Kashmir (J&K) recorded 17%, Assam recorded 14%, Uttar Pradesh recorded 12% and Bihar accounted for 5% of total cases.
Uttar Pradesh topped the States in the number of arrests made with 382 arrests (nearly one-fourth) of the 1,554 persons.
It is followed by Assam-374, Manipur-352, J&K-35 and Jharkhand-57.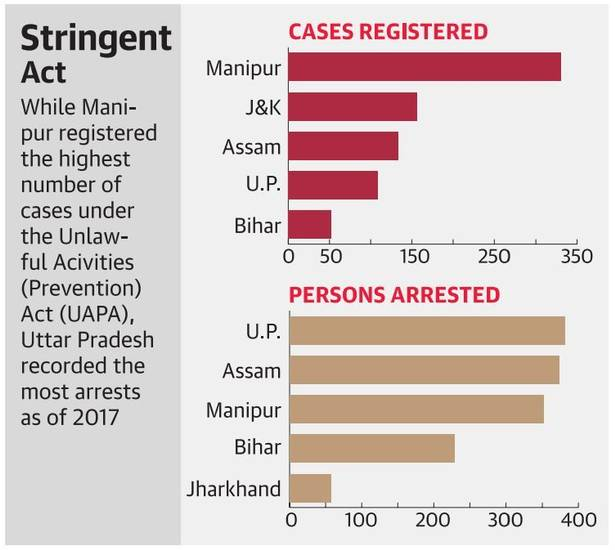 Unlawful Activities (Prevention) Act
It was passed in 1967 and aims at effective prevention of unlawful activities associations in India.
The 2004 amendment, added "terrorist act" to the list of offences to ban organisations for terrorist activities, under which 34 outfits were banned.


Till 2004, "unlawful" activities referred to actions related to secession and cession of territory.

Under the UAPA, the investigating agency can file a charge sheet in maximum 180 days after the arrests and the duration can be extended further after intimating the court.
The Act assigns absolute power to the central government, by way of which if the Centre deems an activity as unlawful then it may, by way of an Official Gazette, declare it so.
It has death penalty and life imprisonment as highest punishments.
In August, Parliament cleared the Unlawful Activities (Prevention) Amendment Bill, 2019 to designate individuals as terrorists on certain grounds provided in the Act.