Trade Infrastructure for Export Scheme | 04 Jul 2019
The Department of Commerce, under the Union Ministry of Commerce and Industry, has approved financial assistance for three trade promotion centres under the TIES.
The following are the approved projects with their implementing agencies:


Establishment of Main Exhibition Building (Phase-II) at Trade cum Permanent Exhibition Centre at Imphal, Manipur by Manipur Industrial Development Corporation (MANIDCO).
Expansion of Chennai Trade Centre by Tamil Nadu Trade Promotion Organisation
Establishment of Trade Promotion Centre at Minto Hall, Bhopal by M.P. State Tourism Development Corporation
Trade Infrastructure for Export Scheme (TIES)
Union Ministry of Commerce and Industry launched the Trade Infrastructure for Export Scheme (TIES) in March, 2017.


After delinking of the Assistance to States for Development of Export Infrastructure and Allied Activities (ASIDE) Scheme in 2015, the State Governments had been consistently requesting the support of the Centre in creation of export infrastructure.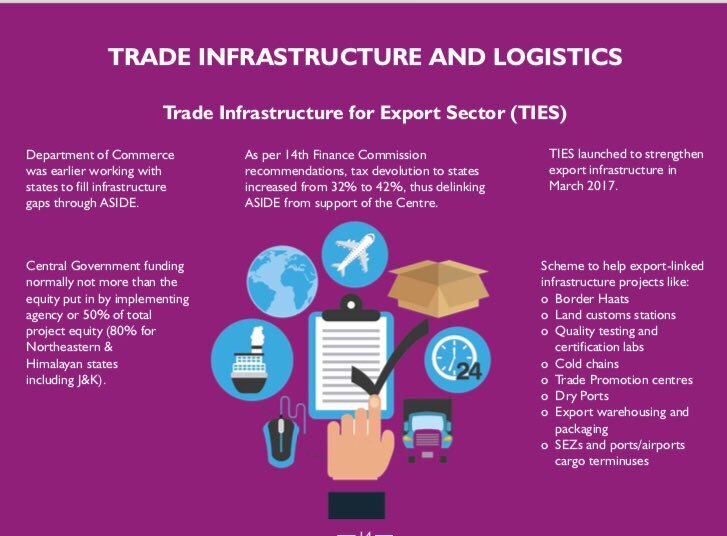 The scheme would provide assistance for setting up and up-gradation of infrastructure projects with overwhelming export linkages like the Border Haats, Land customs stations, quality testing and certification labs, cold chains, trade promotion centres, dry ports, export warehousing and packaging, SEZs and ports/airports cargo terminuses.
The Central and State Agencies, including Export Promotion Councils, Commodities Boards, SEZ Authorities and Apex Trade Bodies recognised under the EXIM policy of Government of India; are eligible for financial support under this scheme.
The proposals of the implementing agencies for funding will be considered by an inter ministerial Empowered Committee.
An Empowered Committee has to periodically review the progress of the approved projects in the Scheme and will take necessary steps to ensure achievement of the objectives of the Scheme.
The Central Government funding will be in the form of grant-in-aid, normally not more than the equity being put in by the implementing agency or 50% of the total equity in the project.


In case of projects located in North Eastern States and Himalayan States including J&K, this grant can be up to 80% of the total equity.
The grant in aid shall, normally, be subject to a ceiling of Rs 20 Cr for each infrastructure project.

In June, 2018, the Commerce Ministry approved 16 projects for export infrastructure under TIES

The implementing agencies of these projects included Karnataka Fisheries Development Corporation Ltd; Visvesvaraya Trade Promotion Centre, Bengaluru; Cochin SEZ; Airport Authority of India, Coffee Board, Exports Inspection Council and Andhra Pradesh Med Tech Zone (AMTZ).