Godavari River | 19 Aug 2022
Why in News?
Recently, Officials issued the second warning with the flood level crossing 50 feet in Godavari River at Bhadrachalam, Telangana, and the flow in the river crossing the 13-lakh cusecs mark.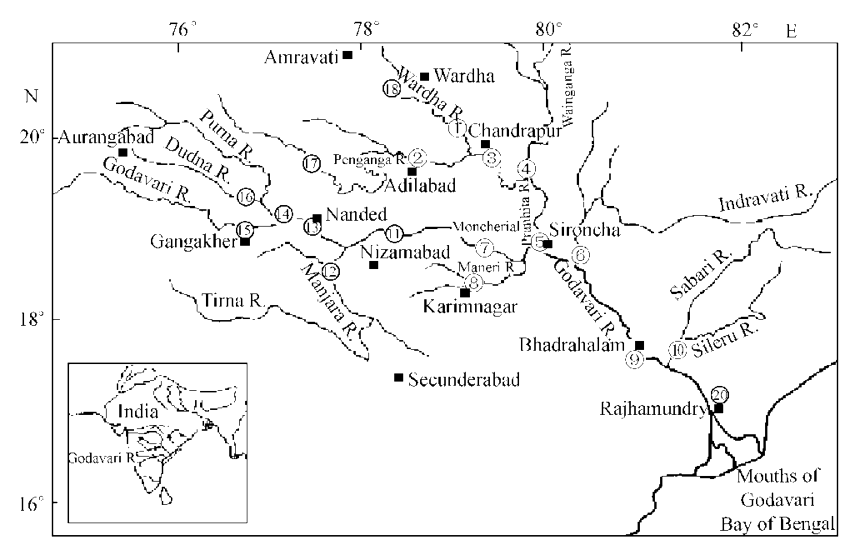 Why is the River Overflowing?
Due to heavy rains in the catchment areas in Upper Godavari Basin.
Discharge of water from Medigadda Barrage, receding with inflow coming down into all reservoirs.
Discharge of water from projects in the Krishna Basin, Almatti, Narayanpur, and Tungabhadra in Karnataka, which get most of the inflows into projects in Telangana and Andhra Pradesh.

Further, Srisaialam reservoir (Hydro-electric Power plant) was getting over 3.60 lakh cusecs flood and discharge was over 3.17 lakh cusecs.
What are the Key Points of Godavari River?
About:

The Godavari is the largest Peninsular River system. It is also called the Dakshin Ganga.
The basin is bounded on the north by the Satmala hills, on the south by the Ajanta range and the Mahadeo hills, on the east by the Eastern Ghats and on the west by the Western Ghats.

Source:

Godavari River rises from Trimbakeshwar near Nasik in Maharashtra and flows for a length of about 1465 km before outfalling into the Bay of Bengal.

Drainage Basin:

The Godavari basin extends over states of Maharashtra, Telangana, Andhra Pradesh, Chhattisgarh and Odisha in addition to smaller parts in Madhya Pradesh, Karnataka and Union territory of Puducherry.

Tributaries:

Pravara, Purna, Manjra, Penganga, Wardha, Wainganga, Pranhita (combined flow of Wainganga, Penganga, Wardha), Indravati, Maner and the Sabri.

The Pravara, Manjira and Maner are right bank tributaries.
The Purna, Pranhita, Indravathi and Sabari are important left bank tributaries

Cultural Significance:

Kumbh Mela also takes place on the banks of the Godavari River in Nashik.

Other locations for Kumbh are the Shipra River in Ujjain, the Ganges in Haridwar, and the confluence of the Ganges, Yamuna, and the mythical Saraswati River in Prayag.

Urban Centers:

Nagpur, Aurangabad, Nashik, Rajhmundry.

Industries:

Nashik and Aurangabad have a large number of industries, especially automobiles.
The industries in the basin are mostly based on agricultural produce such as rice milling, cotton spinning and weaving, sugar and oil extraction.
Cement and some small engineering industries also exist in the basin.

Important Projects on Godavari:

Polavaram Irrigation Project
Kaleshwaram.
Sadarmatt Anicut
Inchampalli project
Sriram Sagar Project (SRSP)
UPSC Civil Services Examination Previous Year Question (PYQ)
Q. Consider the following rivers: (2015)
Vamsadhara
lndravati
Pranahita
Pennar
Which of the above are tributaries of Godavari?
(a) 1, 2 and 3
(b) 2, 3 and 4
(c) 1, 2 and 4
(d) 2 and 3 only
Ans: (d)