Food Safety Index: FSSAI | 08 Jun 2022
Why in News?
On the occasion of World Food Safety Day, the Union Health Minister released Food Safety and Standards Authority of India (FSSAI)'s 4th State Food Safety Index (SFSI) to measure the performance of States across five parameters of food safety.
What is State Food Safety Index (SFSI)?
About:

SFSI was started from 2018-19 with the aim of creating a competitive and positive change in the food safety ecosystem in the country.
The index is developed by FSSAI (Food Safety and Standards Authority of India) to measure the performance of states on five significant parameters of Food Safety.

The parameters include Human Resources and Institutional Data, Compliance, Food Testing – Infrastructure and Surveillance, Training & Capacity Building and Consumer Empowerment.

The Index is a dynamic quantitative and qualitative benchmarking model that provides an objective framework for evaluating food safety across all States/UTs.
The first State Food Safety Index for the year 2018-19 was announced on the first-ever World Food Safety Day on 7th June 2019.

Significance:

The index will help in providing safe and nutritious food to our citizens.
How did the States Perform?
Overall:

Tamil Nadu topped the State Food Safety Index followed by Gujarat and Maharashtra.

Among Smaller States:

Goa stood first, followed by Manipur and Sikkim.

Among UTs:

Jammu and Kashmir, Delhi and Chandigarh secured first, second and third ranks.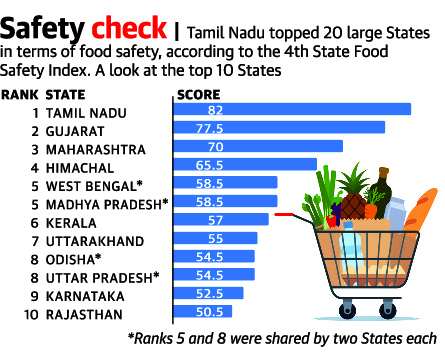 What is Food Safety Day?
About:

The World Health Organization (WHO) and the Food and Agriculture Organization of the United Nations (FAO) jointly facilitate the observance of World Food Safety Day, in collaboration with Member States and other relevant organizations.
It was first celebrated in 2019, to strengthen the commitment to scale up food safety made by the Addis Ababa Conference and the Geneva Forum in 2019 under the umbrella of "The Future of Food Safety".
The theme for 2022 was Safer Food, Better Health.

Other Initiatives launched on the Occasion:

Various innovative initiatives by the FSSAI, launched includes the Eat Right Research Awards and Grants – Phase II, Eat Right Creativity Challenge – Phase III, a school-level competition, and the logo for AyurvedaAahar.

This logo contains the initials of Ayurveda and Aahar with five leaves symbolising the five elements of nature, would be beneficial in creating a unique identity for food products and in their easy identification.

A guidance document on Food Borne Disease Outbreak Investigation and Microbiological Process Control, and Sampling and Testing of Fish and Fishery Products was released.