EASE 2.0 Banking Reforms Index | 10 Sep 2020
Why in News
Recently, the EASE (Enhanced Access and Service Excellence) 2.0 Banking Reforms Index on performance of Public Sector Banks (PSB) from March 2018-2020 was released and best performing banks on EASE were felicitated.
Union Minister of Finance & Corporate Affairs also inaugurated Doorstep Banking Services by PSBs on the occasion.
In February, 2020, EASE 3.0 (2020-21) for smart, tech-enabled banking was also unveiled.
Key Points
EASE Reforms Agenda: It was launched in January 2018 jointly by the government and PSBs.


It was commissioned through Indian Banks' Association and authored by Boston Consulting Group.


Indian Banks' Association, formed on 26th September 1946 is an association of Indian banks and financial institutions based in Mumbai.

EASE Agenda is aimed at institutionalizing CLEAN and SMART banking.

EASE Reforms Index: The Index measures performance of each PSB on 120+ objective metrics.


The Index follows a fully transparent scoring methodology, which enables banks to identify their strengths as well as areas for improvement.
The goal is to continue driving change by encouraging healthy competition among PSBs.

EASE 1.0 : The EASE 1.0 report showed significant improvement in PSB performance in resolution of Non Performing Assets (NPAs) transparently.
EASE 2.0 : EASE 2.0 builds on the foundation of EASE 1.0 and introduces new reform Action Points across six themes to make reforms journey irreversible, strengthen processes and systems, and drive outcomes.


The six themes of EASE 2.0 are -


Responsible Banking;
Customer Responsiveness;
Credit Off-take;
PSBs as UdyamiMitra (SIDBI portal for credit management of MSMEs);
Financial Inclusion & Digitalisation; and
Governance and HR
Performance of PSB on EASE 2.0 Index
Overall Score: Increased by 37% between March-2019 and March-2020, with the average EASE index score improving from 49.2 to 67.4 out of 100.
Top Performing Banks: Bank of Baroda, State Bank of India, and erstwhile Oriental Bank of Commerce
Major improvements:


Digital Banking: Nearly 4 crore active customers on mobile and internet banking.


50% of financial transactions through digital channels.

Customer service: Increase in number of call centres and inclusion of 13 regional languages in customer service, enhanced doorstep banking support by 75,000+ Bank Mitras etc.
Easy loans: Turnaround time for retail loans reduced by from nearly 30 days to nearly 10 days.
NPAs and Frauds: Gross NPAs reduced from Rs. 8.96 lakh crore in March-2018 to Rs. 6.78 lakh crore in March-2020.


A sharp decline in fraud occurrence from 0.65% of advances during FY10-FY14 to 0.06% in FY19-20
Record recovery of Rs. 2.27 lakh crore in FY19-FY20
Banks have taken steps like instituting data-driven risk assessments and introducing Early Warning Signals (EWS) systems.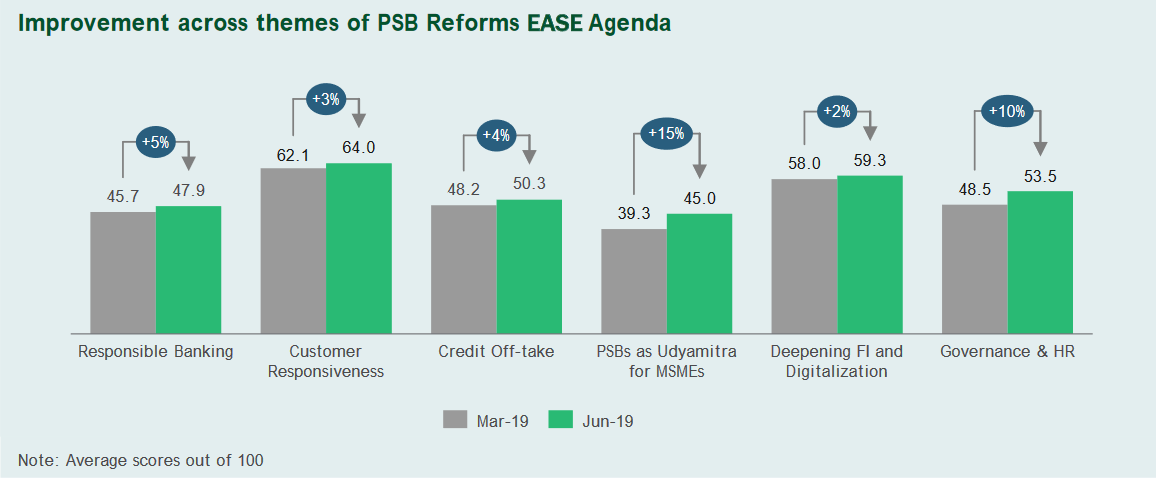 EASE 3.0
A comprehensive agenda for smart, tech-enabled banking has been adopted for FY 2020-21, under which PSBs have initiated eShishu Mudra (app-based lending for instant sanction of working capital up to Rs. 50,000) for straight-through processing of loans to micro-enterprises.
EASE 3.0 seeks to enhance ease of banking in all customer experiences, using technology viz. Dial-a-loan, Partnerships with FinTechs and E-commerce companies, Credit@click, Tech-enabled agriculture lending, EASE Banking Outlets etc.
Doorstep Banking Services
As part of the EASE Reforms, Doorstep Banking Services is envisaged to provide convenience of banking services to the customers at their doorstep through the universal touch points of Call Centre, Web Portal or Mobile App.
At present, only non-financial services viz. request for account statement, delivery of cheque book, demand draft, pay order etc are available to customers. Financial services shall be made available from October 2020.
The services shall benefit all customers, particularly Senior Citizens and Divyangs who would find it at ease to avail these services.